VIEW OF 12TH STREET, ALTOONA, PENNSYLVANIA, USA
UPDATED: 08 AUGUST 2020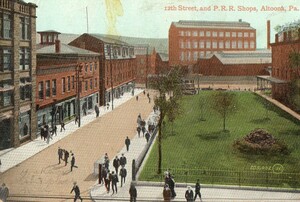 Sent by:- Esther (Lewis) Hatch (1874-1970) in Altoona, Pennsylvania, USA
To:- Lizzie- Elizabeth Ann (Rowlands) Thomas (1883-1910) in Glyneath, Glamorgan, Wales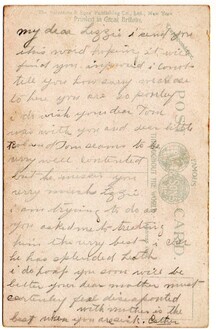 TRANSCRIPTION
My Dear Lizzie,
I send you this word hoping it will find you improved. I cannot tell you how sorry we all are to hear you are so poorly. I do wish your dear Tom was with you and dear little Roland.
Of Tom seems to be very well contented but he misses you very much Lizzie. I am trying to do as you asked me treating him the very best-I xxx he has splendid health.
I do hope you soon will be better. Your dear mother must certainly feel disappointed.
With mother is the best when you are sick.
Esther
---
1.Post card is undated. It was sent between August 1910 & October 1910.
2.According to the 1910 United States Federal Census, Lizzie was living at 1906 Ninth Street, Altoona Ward 11, Blair, Pennsylvania.
3.Lizzie sailed back to Wales with Roland on the Maurentania in August 1910 leaving her husband Tom in Altoona.
4.Lizzie died on the 3rd October 1910 in Glyneath, Glamorgan, Wales at the home of her parents.
5.It may have been the case that Lizzie had died before the postcard was received.
6.Photograph of 12th Street was processed (including colouring) in England, sent to New York and then distributed in Altoona!
---
Esther (Lewis) Hatch (1874-1970) - she died at 1008 21st Avenue, Altoona. She was a cousin of Tom's stepmother Mary Elizabeth Bowles (1854-1918)* who died in Mountain Ash, Wales
Lizzie- Elizabeth Ann (Rowlands) Thomas (1883-1910) *
Tom Thomas William Thomas (1881-1923)*
Roland William Rowland Thomas (1909-1994)*
Mother- Ruth Thomas Rowlands (1862-1932)
* Profiles to follow
---
SEE ALSO THOMAS.W.THOMAS (1881-1923)