William Young (1788-1832)
Master Mariner of South Shields and Shadwell
A story of coincidences, tragedies, churches, gravestones and the ship 'Nancy'
UPDATED: 15 JUNE 2020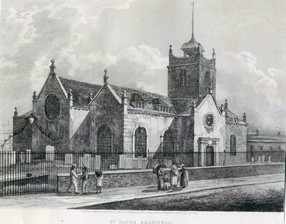 Part 3: Events Following the Death of William Young
William Young died intestate in Shadwell. The application for Probate was applied for by Elizabeth Young, William Young's widow and Tyne Pilots, John Harrison (1785-1865) and William Tinmouth (1791-1869) and was granted on the 22nd November 1832. The document is stored in the Durham Archives, at Palace Green in Durham(6).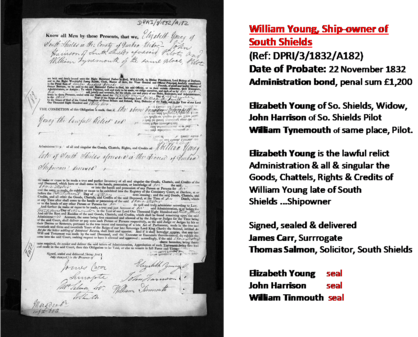 IMAGE 1
PROBATE RECORD
(Probate record from Durham Wills on-line)
All three witnesses were literate with seals; including Elizabeth Young, William Young's widow (in 1832, female literacy was at a level of approximately 51%). Thomas Salmon (1794-1871) Attorney & Solicitor; Ship Owner; 1st Town Clerk of South Shields and James Carr (1793-1866), as Surrogate, acted on behalf of the Bishop of Durham.
William Young's estate was valued at approximately £600, which suggests that was not a ship-owner of substance with a fleet of ships for his wife and children to inherit. However, this was a significant sum at that time and if Elizabeth had been left without resources, she would have been entitled to apply for support for herself and four children to Trinity House; there is no evidence of an application John Harrison (1810-1881) and William Tynemouth/Tinmouth (1791-1869) resided in the Lawe Top area of South Shields, both living in the Lawe Buildings. According to the 1841 census. Elizabeth Young's home was also in this area; a terrace house in Greens Place, overlooking the River Tyne.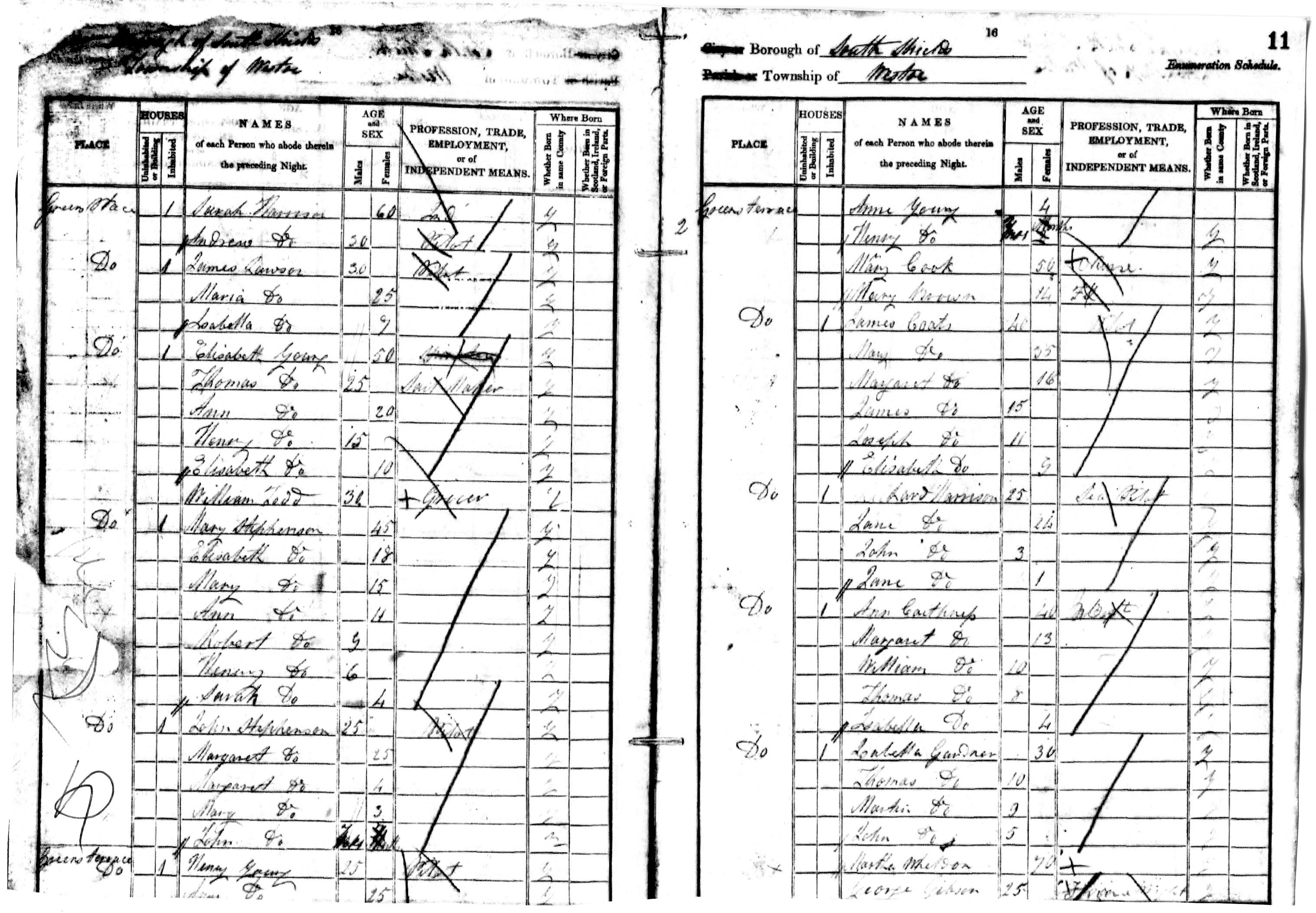 IMAGE 2: 1841 Census
Greens Place and Greens Terrace, South Shields
Greens Place: Elizabeth (50), Thomas(25) Sailmaker, Ann(20), Henry(15) & Elizabeth(10) Young with William Todd, Grocer
Another coincidence is the listing for my 2x great grandparents, Henry Young (1811-1897), a Tyne Pilot, his wife Ann (Evans) Young (1812-1880) and their young children. Greens Terrace: Henry(27) Pilot, Ann(25), Ann(4) & Henry Young (7months), with Mary Cook (50) Nurse & Mary Brown(14) Female Servant(7).
In 1839, James Evans (5x great grandfather) Ship Builder, Ship Owner and grandfather of Ann, died in this house(. I think it is feasible to assume that the two families would be acquainted although there is no evidence of blood relationship.
There is a strong possibility that the William Youngs in Shadwell were in my bloodline; my reasons for thinking this is that there was a close connection with the Tyne Pilots especially with regard to the location of his family in South Shields. However, I could not make a direct connection. It was through Ann (Annie) Young (1820-1902)(3), the daughter of the elder 'Shadwell' William Young that I was entitled to include him in my tree. She had married John Pollard a distant ancestor although not via my Young ancestry. I had recorded the poignant inscription on a grave in Westoe Cemetery in South Shields, which provides the inextricable link between South Shields and Shadwell, the cemeteries of Sea Captains approximately 300 miles apart.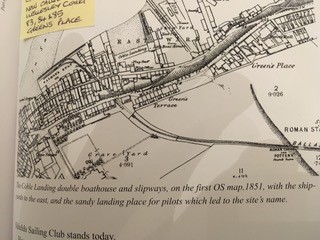 IMAGE 3: 1851 Map
Greens Place and Greens Terrace, South Shields
Courtesy of Stephen Landells (8)
The graveyard was attached to St Stephen's Church.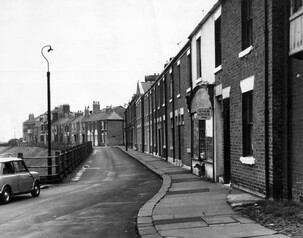 IMAGE 4
Green's Terrace pre-1939: from Henry Street with Baring Street; 1 Green's Place in mid-distance.
Courtesy of South Tyneside Libraries
In 1939/40 all the sections of the road, that became ''Greens Place'', were joined together and renumbered as one street. These were (from Mile End Road) Military Road (up to Henry St.), Green's Terrace (up to Baring St.), Green's Place (up to Roman Rd.) and Blumer's Terrace (up to Lawe Rd.). Bone's Hall/Pilot Office changed from 11 Green's Place to 83 Greens Place. I am grateful to Jim Bartnett for this information.
Ship Owners
The term 'ship-owner' in the probate record for William Young is rather ambiguous because there is no indication of the magnitude of the ships owned.
One of the most prominent families of ship-builders and ship-owners in South Shields between 1780 and 1886 were the 'Young' family. They originated from Ryton-on-Tyne and then settled near Portsea, Hampshire before relocating to South Shields in the late 18th century and developing a successful shipbuilding yard at the West Docks(9).
However, there is no connection and as I have already suggested, the association is more likely to be with the pilot families who lived on the riverside and on the Lawe Top where Elizabeth Young resided at the time of her death and had done so for the previous three decades.
It may well be that William Young owned only one ship, Nancy a brig of which he was also the Captain. After his death in 1832, ownership was transferred to his wife Elizabeth. It is the fascinating history of the Nancy, that I will relate in the next part.
Please note, photographs taken on my mobile phone: Referencing at end of Part 5