William Young (1788-1832)
Master Mariner of South Shields and Shadwell
A story of coincidences, tragedies, churches, gravestones and the ship 'Nancy'
UPDATED: 06 SEPTEMBER 2020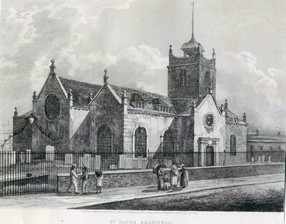 Part 6: Family, death and more coincidences!
William Young's family were indeed proud of his status as a shipowner: recorded in the Shadwell Churchyard, Westoe Cemetery and on the death announcement for his wife, Elizabeth (Hutchinson) Young in the Shields Gazette in 1861 (1).

By the time of her death, Elizabeth had been a widow for almost 30 years. When William died in 1832, she had four children to support, ranging in age from six to 15 years. Evidently, she was an independent woman with the benefit of financial assets: Elizabeth became manager for almost twenty years of the Turk's Head Public House in Military Road. This was a short walking distance (with the River Tyne in view) from her 1841 home in Green's Place.
1851 Census: Military Road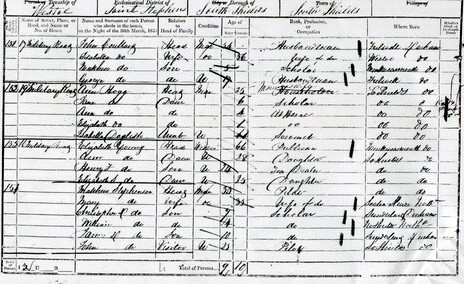 According to this census, Elizabeth Young lived with three of her four surviving children, Ann (Annie) aged 28, Henry Hutchinson, a tea-dealer aged 24 and Elizabeth Sarah aged 25 at this address (2).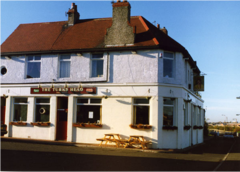 The Turk's Head, 17 Military Road, South Shields
It was a popular Public House with residential accommodation, catering and meetings facilities, which opened after the development of the land following the closure of Green's Ropery, after 1840. It was located at the top of the Pilot Stairs, providing a quick route to the Coble Landing where the Pilots' boats were berthed (3).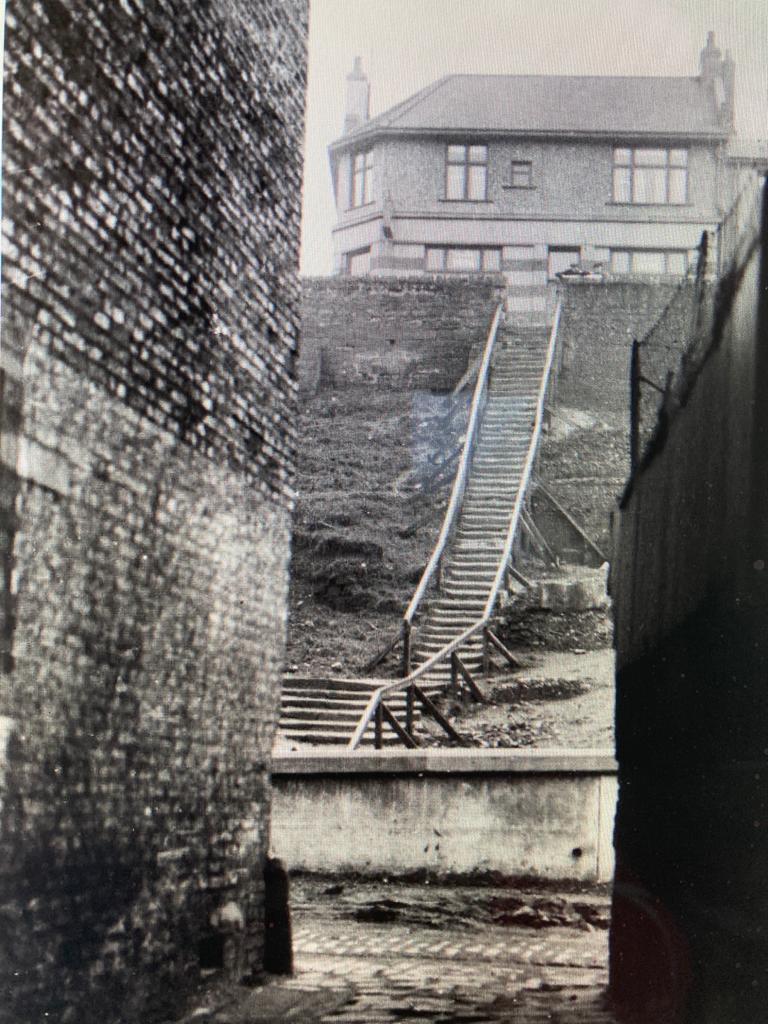 This image provides a view from the riverside, leading up to the Turks Head in 1934 (4). It closed in 2004, to make way for a housing development.
1861 Census
Elizabeth died just before the 1861 census; however, the family occupancy of the Turks Head was retained with her daughter Ann Young, as the head of the family, described as the Victualler. Both Elizabeth Sarah and Henry Hutchinson had married and were also residing there. Elizabeth Sarah was alone as her husband was at sea. Henry Hutchinson was living with his wife Eleanor (Moat) Young (1833-1910) and their children William aged 6, Thomas Wilson aged 4 and Elizabeth aged 1. Thomas, a sailmaker had returned to the family home with his wife Mary Ann (Cockburn) Young (1829-).
By the time of the 1881 census, the family had dispersed with only Ann and Elizabeth Sarah continuing to live in South Shields at the Mariner's Cottages.
Military Road/Mile End Road
In 1781, Robert Green (1757-1819) whose family at one time owned major parts of High Shields and Laygate married Sarah Fairles (1757-1856) whose family owned or leased an area of South Shields known as the Shields Heugh which included what is now the central area of South Shields, stretching to the banks of the Tyne. Sarah's dowry included a strip of land on the riverbank at the top of the Lawe (this explains the naming of Green's Terrace and Green's Place).
Robert Green died in 1819 in the premises of his ropery on the riverside; he had lived with his family at his house in Westoe and also at Cleadon Meadows in Cleadon Village, his Summer residence. Sarah then bought Mile End House at the top of Military Road, (later Mile End Road) in effect above the riverside ropery and moved there with nine of her thirteen surviving children. The 1841 census for this house, lists Sarah and seven of her unmarried daughters in residence; this record is only four pages away from that of the families of Elizabeth (Hutchinson) Young and Henry Young (my 2x great grandfather) referenced in Part 3.
Later, the building became Green's Home after it was gifted by Sarah's son Reverend Robert Green (1789-1877) as the Wellesley training facility for boys preparing for a life at sea (5).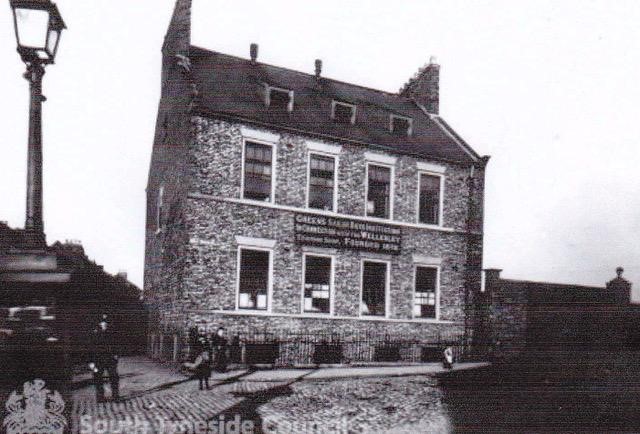 1851 Census: Military Road
1. Barbara (Fairles) Dinning (1765-1835) died at Mile End House on the Military Road on the 28th February 1835, the home of her sister Sarah (Fairles) Green. Elizabeth (Hutchinson) Young died almost 30 years later also on the Military Road.
2. Barbara was buried in the Fairles family vault in St Hilda's Church in South Shields, the attached churchyard where several of Elizabeth and William Young's children were interred.
3. Both the respective husbands of Barbara and Elizabeth, Charles Dinning (1758-1806), an Army Surgeon and William Young (1788-1832) a Master Mariner were buried in the Shadwell Church yard of St Paul's Church, three hundred miles away from the Military Road and the starting point for my writing.
Post Script
Throughout my research, I had hoped that I would be able to establish that I have a shared bloodline with William Young via my Tyne Pilot heritage emanating from William Young born in South Shields in 1620. This I had anticipated could be proved one way or another through DNA testing. The sting in the tail, to this possibility, is that there are no known living descendants of William Young and in fact, this had been the case for almost sixty years.
Of the thirteen children born to Elizabeth and William Young, only five survived into adulthood. Four married; Henry Hutchinson, Thomas, Elizabeth Sarah and Ann with only Henry Hutchinson fathering children. Elizabeth Sarah was widowed a year after her marriage, during which time her husband, Thomas Wilson was at sea and Ann married well passed child-bearing age.
Eleanor Moat (1833-1910) and Henry Hutchinson Young (1823-1884) were parents to 6 children; two died during their early years and three, William, Elizabeth and Eleanor all married in Sunderland, the elder two were childless. Eleanor married Thomas Archer Hull (1861-1939) and they had two daughters Hilda Ann (1894-1961) and Winifred (1900-1901); Hilda Ann married Charles Edward Coates (1895-1967) but was childless so when she died in 1961 she was probably the last of the descendants (as a great grandchild) of Elizabeth Hutchinson and William Young.
However, I have been unable to establish what happened to Thomas Wilson Young: the son of Eleanor Moat and Henry Hutchinson Young. There are only three records for him: his birth in South Shields on the 8th August 1856, his christening in Stockton on Tees on the 14th September 1856 and the 1861 Census which includes him, his parents and siblings at the Turks Head. I can find neither subsequent census records nor a death record for him.