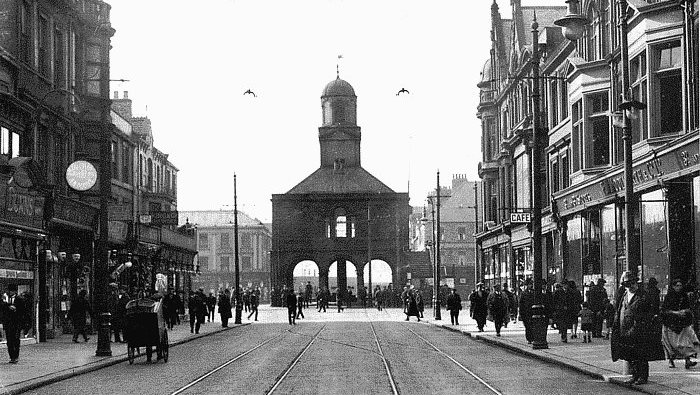 Alfred Ernest Young (1878-1961)
CHILDREN'S VERSION
UPDATED: 28 February 2021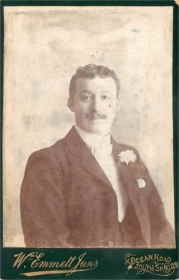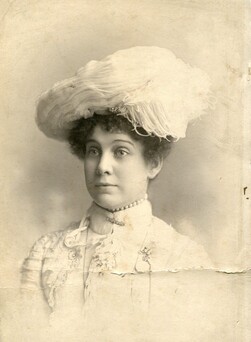 Alfred Ernest Young and Thomasina Johnston Fenwick on their Wedding Day in 1902 at Christ Church, Tynemouth.
Alfred was born in South Shields on the 6th May 1878. He had a sad early life as his parents died when he was only 5 years old. Thomas Young, his father, a Tyne Pilot drowned during a dreadful storm on rocks at the south side of the mouth of the Tyne in his coble boat 'Pilots' on the 14th Oct 1881, 137 years ago. His death was recorded at the Lifeguard Station on the Pier. On the memorial stone in Westoe Cemetery, there is a relief of the coble.
Sarah, Alfred's Mother died on Christmas Day 1883, leaving five children as orphans. Alfred remembered the decorated Christmas tree being removed from the family home on the Lawe Top.
Before WW1 he owned and managed a shop in Ocean Road, South Shields, which was not far from the beach. The shop was called J W Pollard and it was a mini B&Q. Alfred mixed paints and glazed windows. He also sold special soap; in fact he was the first shop in the town to sell Pears soap, which was one of the first perfumed soaps.
Alfred was happy with his life; married to Thomasina, he had a daughter Muriel who at the start of WW1 was aged 5. He did not want to go to war, but by 1916, two years after the war started there was conscription, which meant that if men were fit they had no choice, they had to join the army and fight to stop the United Kingdom from being invaded especially by the German Army.
In 1916, Alfred had to close his shop and leave his family so he could join the army and help to defend the country. He was aged 38 and Muriel was just 7 years old.
Alfred joined a battalion of the Durham Light Infantry in Bolingbroke Street in South Shields, near the Town Hall. Alfred was an ordinary soldier, a Private.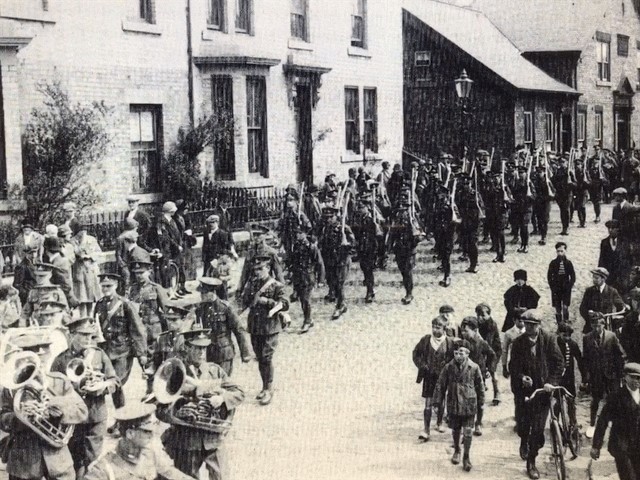 He may have been one of the soldiers in the photo taken in Bolingbroke Street in 1916. The boys are watching the men, possibly their fathers marching behind the band.
Once he had finished training to be a soldier. Alfred boarded a ship in Liverpool with lots of other soldiers and sailed to France. Eventually he fought in The Battle of Arras in 1917 when the British army on the Western Front attacked German army defences (soldiers in trenches) and helped to move the Germans out of France and back to Germany.
One of the stories Alfred told was of marching around a hill near Arras for 8 hours so that the German aircraft flying above thought there were hundreds of men rather than about 30. Alfred hated the food especially the dry biscuits and the kharki uniform was very uncomfortable especially the trousers.
Whilst he was in France, his daughter Vera was born on the 3rd November 1916. When the war ended in 1918, Alfred returned home and brought Vera a lovely silver bracelet.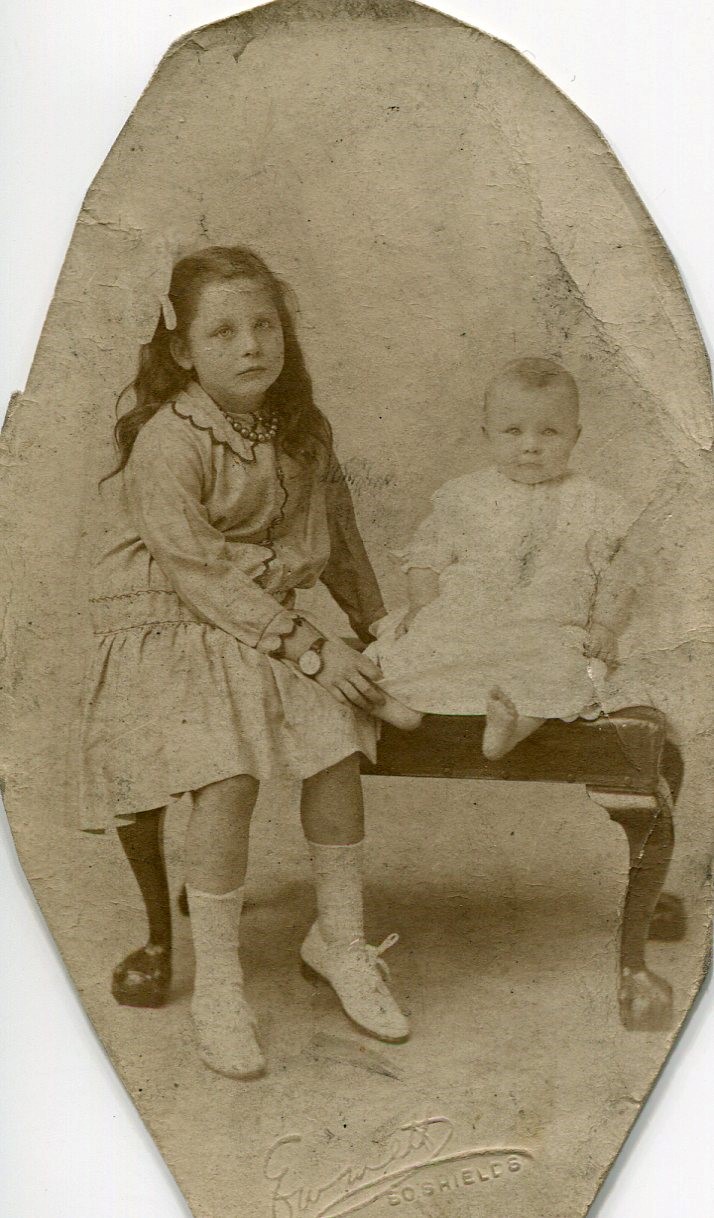 This is a photograph of Muriel and Vera taken in 1918. The photographer was William Emmett, who was Alfred's brother in law. His business 'Speed Print' was also in Ocean Road, South Shields.
Alfred was very fortunate in not being injured so he was able to continue with his happy life with his wife Thomasina and 2 daughters, Muriel and Vera.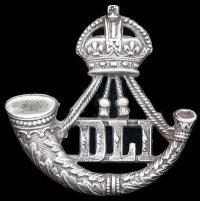 Badge of the Durham Light Infantry
Alfred was awarded medals of which he was very proud. He continued running his business, J W Pollard until 1950 when he was able to spend more time with Thomasina, Muriel, Vera and his grandchildren Neil, Heather and Lynda.
Alfred was awarded medals of which he was very proud. Unfortunately, none of the records about Alfred's service on the Western Front remain.
Alfred continued running his business, J W Pollard until 1950 when he moved to Harton Village.
It was on the 25th September 1961 that Alfred died at 1 Clifton Avenue, close to St Peter's Church, where he is buried in the Churchyard. He was aged 83 years. Thomasina died when she was 93 in 1974 and she too is buried in the churchyard.