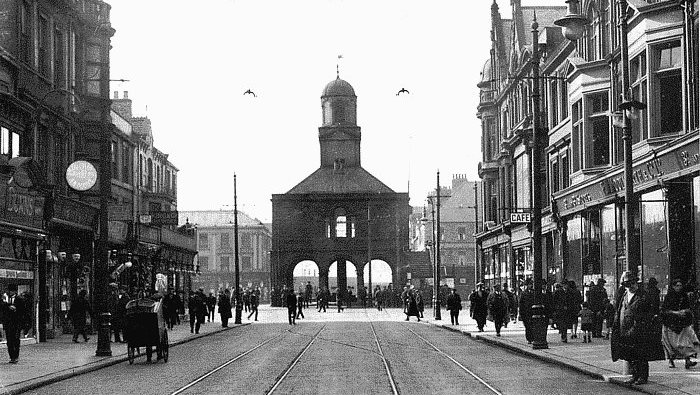 Barnard Castle
Nostalgia and 20th Century Coincidences
UPDATED: 28 FEBRUARY 2021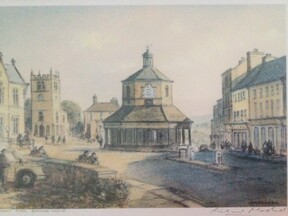 This painting was noticed, by my husband Nigel, in our local Antique shop in Cleadon five years or so ago; the subject was nostalgic for him and then, when I noted the signature of the artist that of 'Richard Marshall', it was immediately nostalgic to me too.
Richard William Marshall was born in South Shields on the 11th May 1944. His parents, Hilda (Ramsey) (1911-1996) and Richard (Dick) Marshall (1912-1979) were friends of my maternal Aunt and Uncle as well as my parents. Margaret G Marshall, his sister was born in 1940.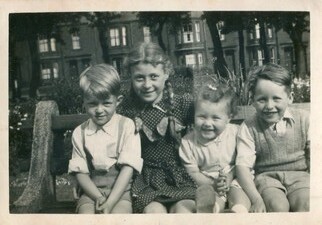 Richard, Margaret, Heather (me) and Neil my cousin
The family moved to Peterlee in County Durham in the mid-1950s where Richard, senior developed his insurance business. I recall visiting Peterlee on several occasions whist Richard and his sister Margaret enjoyed visits to their birth town with their parents.
Richard was a talented artist from an early age. If my recall is correct, after graduating from West Hartlepool College of Art he was accepted to study at The Slade in London. At a gathering of the families at my Aunt's house, Hilda told us that Richard was friendly with two local brothers at the art college and then at the Slade who had lived in Harton House Road, South Shields (parallel to my Aunt's house). They were Ridley and Tony Scott, eventually of course, distinguished film producers/directors such as Gladiator and Top Gun.
Richard Marshall was a British Post-war & Contemporary painter. Many of his paintings were of significant beauty spots in North Yorkshire, especially the coast near Whitby. Currently, none of Richard's work is for sale. However, 'Overlooking Staithes Beck' was sold for approximately £500 in 2019. For further information and some delightful images of Richard's work, I suggest searching via Google to avoid my infringement of copywrite in including any of these in my writing.
Hilda and Richard Marshall attended my wedding to Nigel in 1975 and I recall meeting-up again with Richard and Margaret in 1979/80 prior to their father's funeral. It is sadly, a fact of life, that as the years roll by contact is so often lost with the family relationships of my childhood.
This is where my husband Nigel lived for several months 1970/1971 in a small, rented flat. He moved from London where he worked as an International Marketing Executive to commence his career in education. Prior to studying for a Post Graduate Certificate in Education at The University of Durham, he taught German at the local secondary school. He has happy memories of living in Barnard Castel which resonated with him when he discovered the painting.
5 Galgate, was the place where Gertie Emma Clark Pollard (1890-1914), the cousin of my grandfather (Alfred Ernest Young (1878-1961) died in 1914. She was born in South Shields, moving with her parents, Adeline Mary (Clarke) Pollard (1863-1925) and John Crowell Pollard (1859-1906) and three siblings: Ethel Adeline Victoria Pollard (1887-1956), Elsie Christabel Pollard (1894-1956) and John Crowell Pollard (1897-1970) to Hove, East Sussex in 1904.
Gertie's death was reported in the Shields Daily News, Tuesday, June 30th, 1914.
'Pollard -At Barnard Castle on June 26th, 1914. Gertie, second daughter of the late Mr John Crowell Pollard (late of South Shields) and of Mrs Pollard. Hove, Sussex. Interment Barnard Castle Cemetery to-day, at 1pm'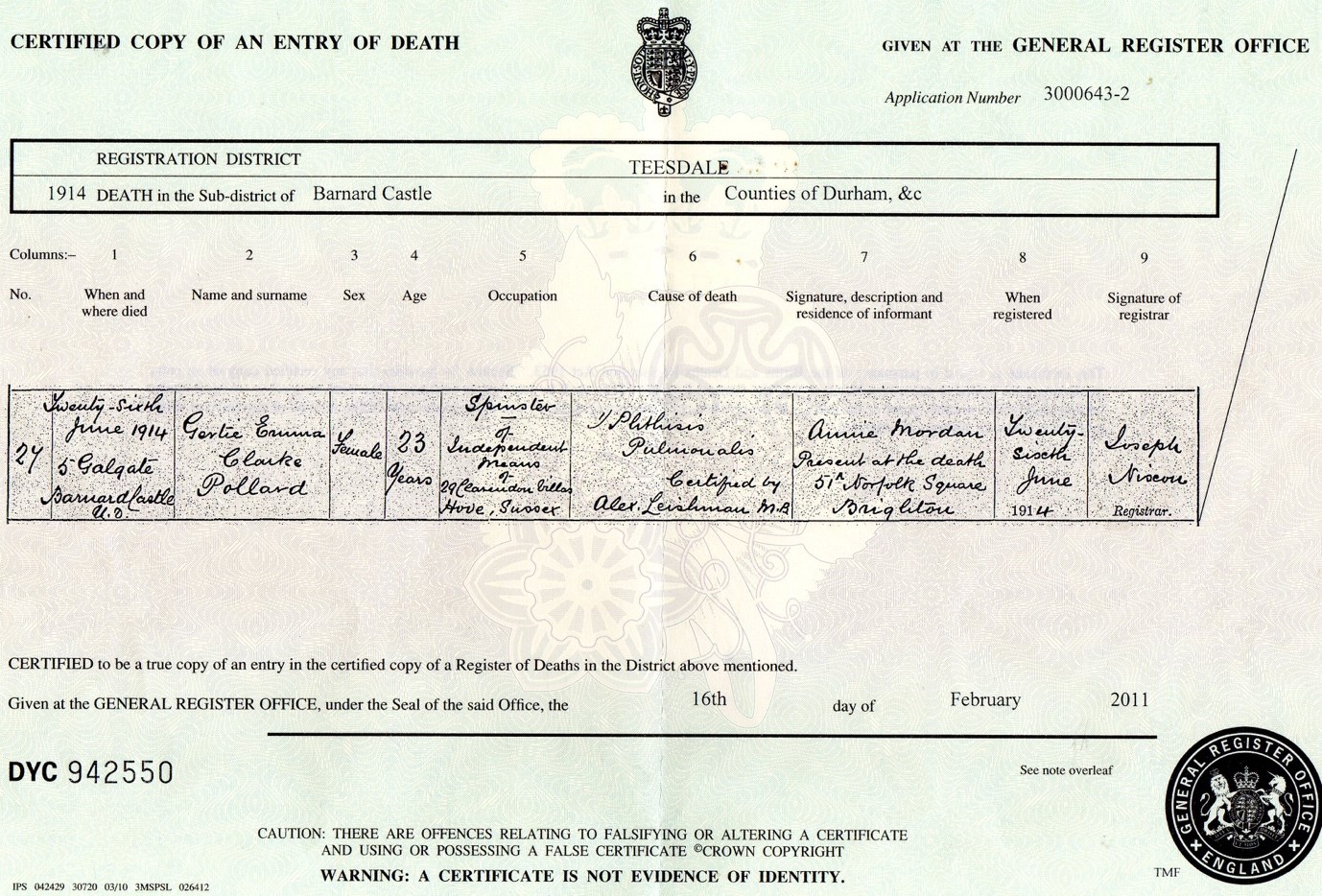 TRANSCRIPTION:
26th June 1914 at 5 Galgate, Barnard Castle
Gertie Emma Clark Pollard: Female: Age 23yrs: Spinster of Independent Means of 29 Clarendon Villas, Hove, Sussex
Cause of Death-Plithisis Pulmonalisis (2) Certified by Alec Leishman MD: Present at Death, Annie Mordan, 51 Norfolk Square. Brighton.
Gertie moved to Hove when she was fourteen years old, leaving behind relatives and the friends of her formative years. She was born at in South Shields in 1890 and lived firstly at 99 Baring Street, a three-floored terraced house on a corner site then, according to the 1901 census, to 3 Whitburn Terrace (now part of Mowbray Road) an imposing three-story house with attic rooms in the prestigious area of Westoe. Living with the family, was a governess, Margaret Young aged 26yrs who was born in Rothwell, Yorkshire.
The family moved to the south coast because of the deteriorating health of John Crowell Pollard dying in 1906, approximately two years after the family settled in Hove, East Sussex. According to the 1911 Census, Gertie, her mother and some siblings lived at 67 Rutland Gardens in Hove, the address shown on her death certificate.
When she was terminally ill in 1914, perhaps Gertie decided that she wanted to make a journey to County Durham; visiting South Shields prior to staying in Barnard Castle. She may have been travelling with her mother Adeline, some of her siblings and Annie Mordan (1871-1947) a professional companion or solely with Miss Mordan.
At the time of her death in 1914, Gertie was staying at 5 Galgate, which I have established was a hotel. Adjoined by the listed building at number 7, now having the same purpose, that of an attractive boutique hotel and restaurant.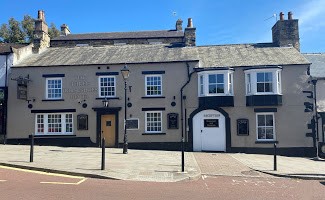 Three Horseshoes Hotel 5-7 Galgate Barnard Castle
Barnard Castle, a prosperous county town, was a popular holiday destination for over a hundred years. Gertie could well have stayed in the town on several occasions especially as her father John Crowell Pollard was evidently interested in rural pursuits with a strong connection to the town.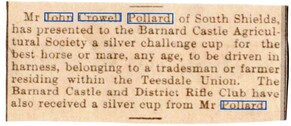 Shields Daily News - Saturday 02 July 1904
Transcription: Mr John Crowell Pollard, of South Shields, has presented to the Barnard Castle Agricultural Society a silver challenge cup for the best horse or mare, any age, to be driven in harness, belonging to tradesman or farmer residing within the Teesdale Union. The Barnard Castle and District Rifle Club have also received a silver cup from Mr Pollard (3).
My first teaching appointment was at Baring Street Secondary Girl's School in 1969, a few minutes walk from Gertie's birthplace, 99 Baring Street. The school was built in the late Victorian era on the site of the Roman Fort (4). As Head of History, my itinerary of day visits for the school always included Barnard Castle with either Raby Castle (5) or Bowes Museum (6) as part of the schedule. I have happy memories of the real highlight for the pupils, eating their packed lunches in the grounds of the ruins of the medieval Castle.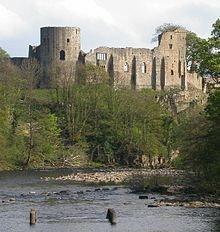 Barnard Castle above the River Tees (circa 1095)
NOTES
1. Market cross or butter market built about 1747 through the sponsorship of Thomas Breaks. It has also served as the Town Hall, court room, temporary prison and fire station (Historic England).
2. Cause of Death-Plithisis Pulmonalisis (tuberculosis). According to my research, this was a common illness/cause of death for descendants of the Crowell Pollard lineage which requires further investigation.
3. See John Crowell Pollard Part 1 with final part 2 due March 2021.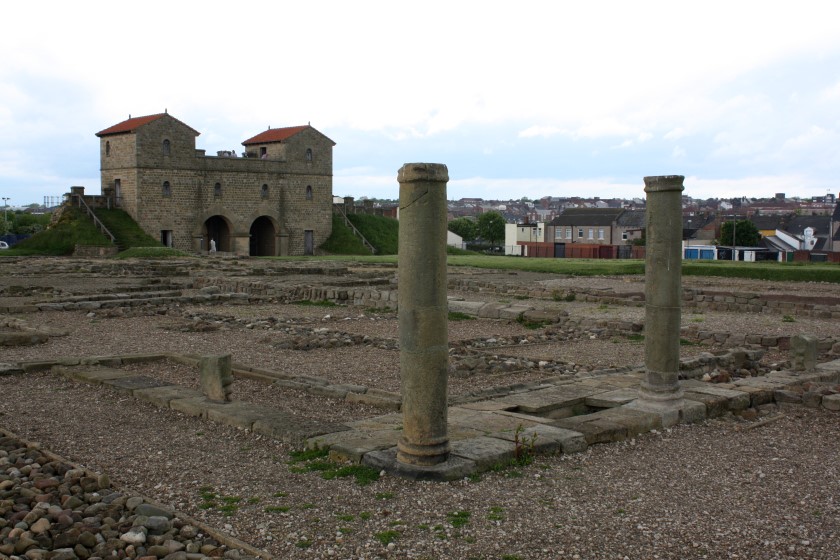 4. 'Arbeia'-Roman Fort continuing excavation with some reconstruction (Heritage Futures)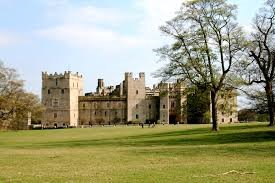 5. Raby Castle: built by the Neville family in the 14th century (Raby Estates)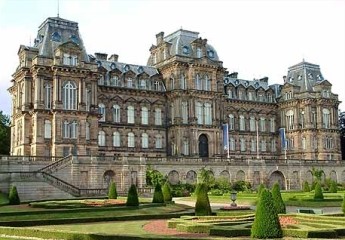 6. Bowes Museum: building commenced 1862 with sponsorship from John and Josephine Bowes (National Trust)
7. Photographs of Gerties family homes are included in John Crowell Pollard: Part 2/2 (COMING SOON)
8. Thanks to my son Alex (site manager), now living on the South Coast, for information about Gertie's family in Hove.
It has been an enjoyable experience writing this story of coincidences linked to Barnard Castle, reflecting on family connections to Richard Marshall, happy times on school trips and appreciating the fact that if Nigel hadn't decided to relocate to this town and pursue a career in Education, I wouldn't have met him!
Nevertheless, there is a real element of sadness in the tragic death of Gertie Pollard (my 1st cousin twice removed, according to the Ancestry tree); my thoughts are that with a life of promise but unfulfilled, she was able to reflect on the happy times of her childhood whist staying in Barnard Castle almost a century ago.
The photograph in the West Park, I have dated on the basis that I lost my hair when I lived with my Aunt and family for two weeks during the time of my sister, Lynda's birth in May 1949. It was common practise to move children from their family homes at this time and without communication, perhaps traumatic for a toddler.
There are gaps in this writing which I will still continue to attempt to resolve. To date, I have been unable to find any evidence of the burial of Gertie Pollard in a Barnard Castle churchyard. Once the English Covid-19 lockdown is lifted I will visit the graveyards and of course have lunch at the Three Horseshoes.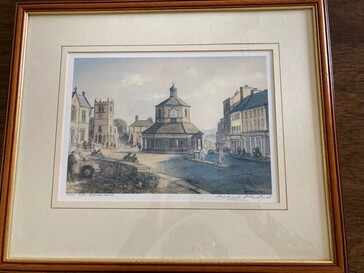 The painting by Richard Marshall in original frame which now hangs in the living room of my family home.