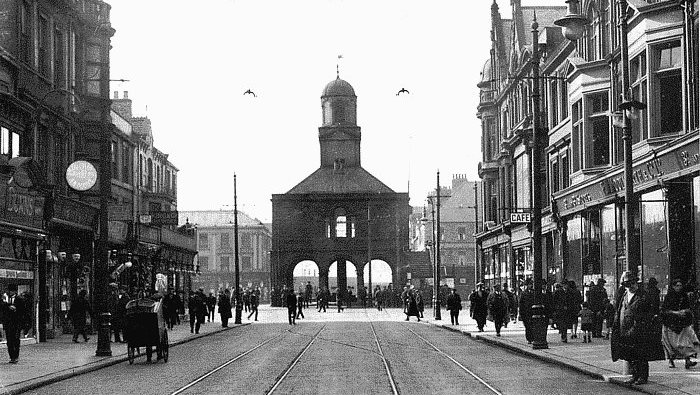 My Fenwick Family
Tales from my Grandmother Thomasina Johnston Fenwick
(1880-1974)
UPDATED: 14 MAY 2022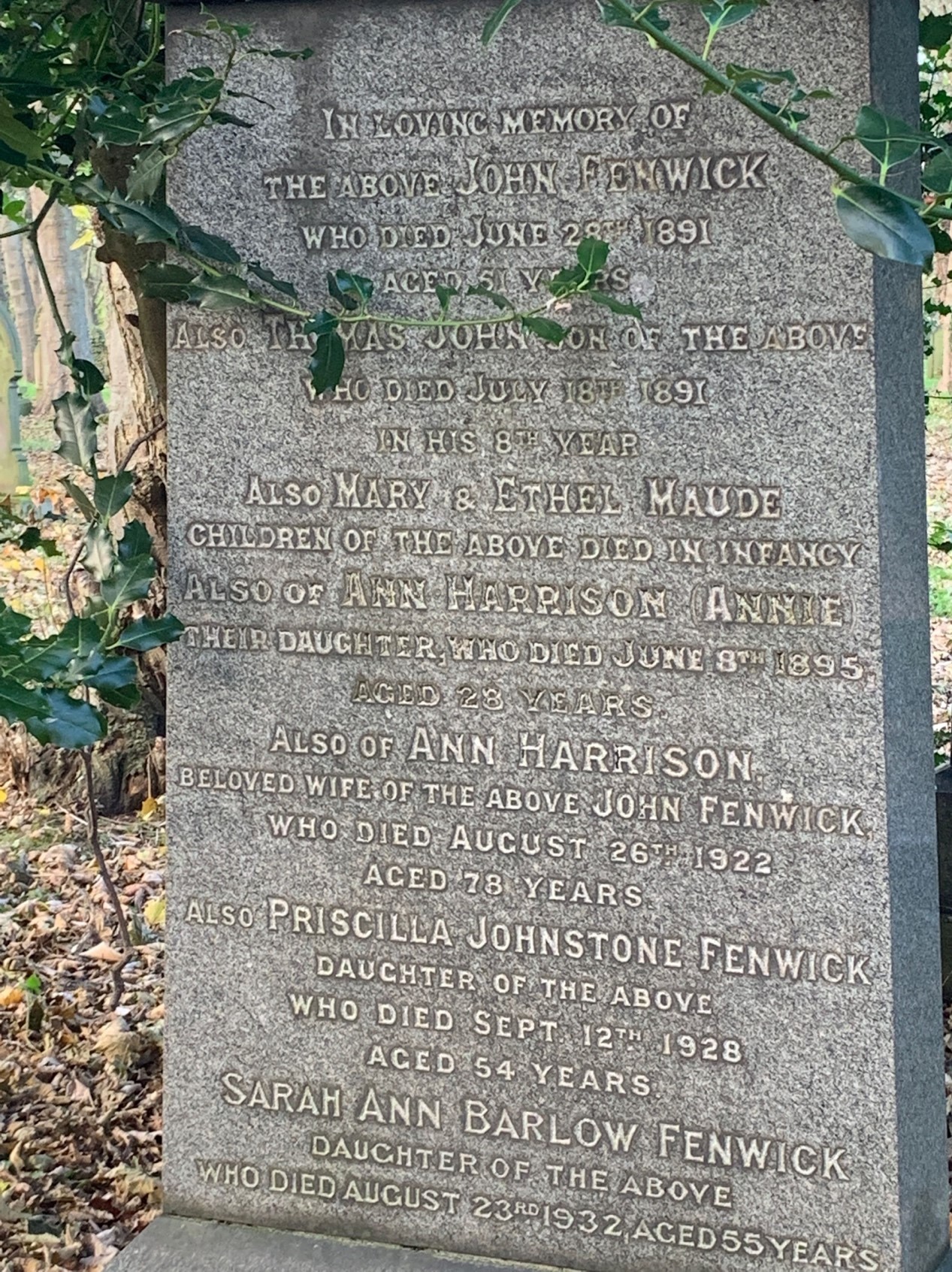 I first visited the grave when I was about five years old with my Mum and sister, Lynda; my grandmother Thomasina made an annual pilgrimage to pay her respects to her parents and siblings and to ensure that the grave was being well-maintained (1). I recall her using the phrase 'in perpetuity' to explain that she had paid for the continual maintenance of the grave. This phrase fascinated me and almost seventy years later, I clearly remember this visit and her use of this word.
In the burial plot, there are six interments:
John Fenwick (1839-1891)
Thomas John Fenwick (1883-1891)
Ann Harrison Fenwick (1867-95)
Ann Johnston Fenwick (1841-1922)
Priscilla Johnston Fenwick (1874-1928)
Sarah Ann Barlow Fenwick (1876-1932)
Reference is made to two of John and Ann (Johnston) Fenwick's daughters who were interred elsewhere.
Mary Fenwick (1869-69) the grave of whom I have been unable to locate and Ethel Maud Fenwick (1886-87) buried at the 'Old Cemetery', Albion Road, North Shields in her grandparents grave (2). My grandmother described her sister, Ethel Maud some seventy or so years after her death, as a gorgeous fair-haired baby girl.
My great grandfather was born in Wallsend in 1839, the son of Elizabeth Kitwood (1813-1872) and William Fenwick (1809-1888), a Master Mariner and baptised at St Hilda's Church, across the River Tyne on the 8th January 1840. His early years were spent in North Shields living In Milbourne Place and then Chancery Row before settling with his parents further along the river at Whitehill Point. He did not follow in his father's footsteps as a mariner, rather he trained as a boatbuilder. At the age of twenty-three, in 1862 he married Ann Johnston at the Wesleyan Reform Chapel in Howard Street in North Shields (3).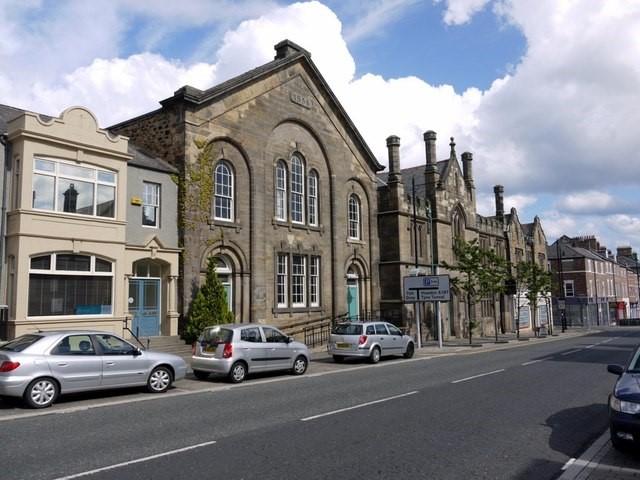 Former Free Methodist Chapel, Howard Street, North Shields (Andrew Curtis 2013)
I know surprisingly little about John Fenwick, whilst Thomasina related many stories about her mother and siblings there is only one incident that I can recall her relating about her father: In North Shields close to his home, whilst he checked the money in his wallet (perhaps he had been to a bank), a robber set his beard alight and grabbed the cash!
Thomasina was aged ten years at the time of his death and I am presuming from the obituary that he spent time in the south of England away from the family home for the sake of his failing health whist his is wife had to care for several children. Presumably, Thomasina did not have a father-daughter bonding relationship with an absentee father.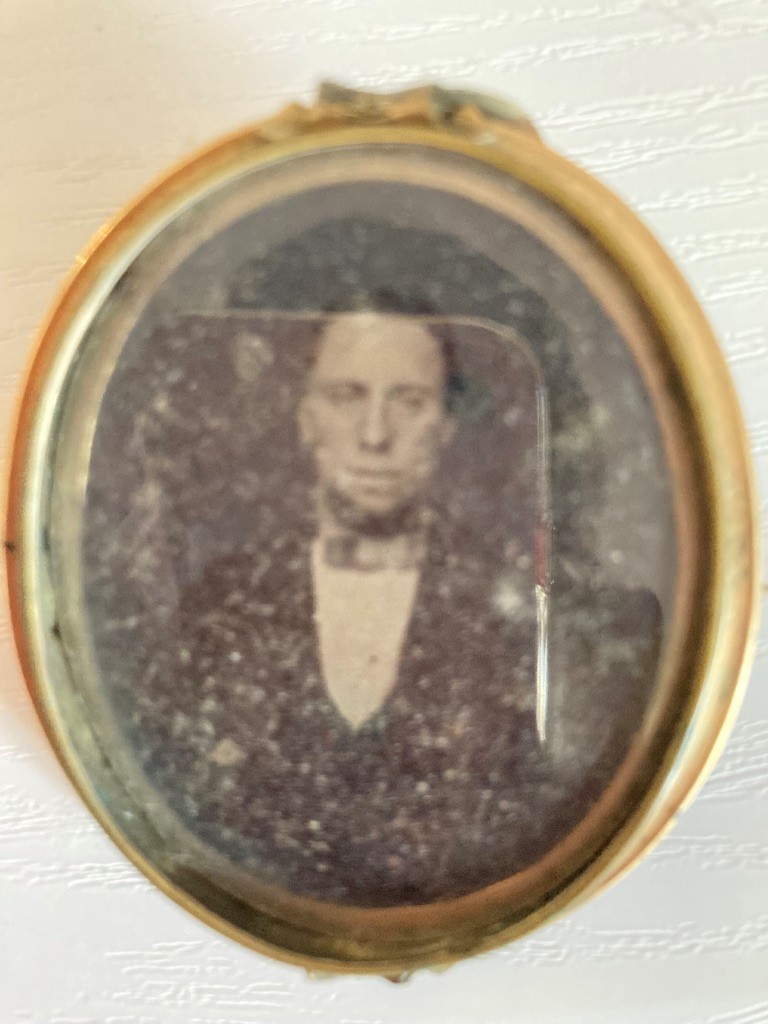 This image of John Fenwick is contained in a gold funeral brooch which was passed onto Thomasina when her mother, Ann died in 1922.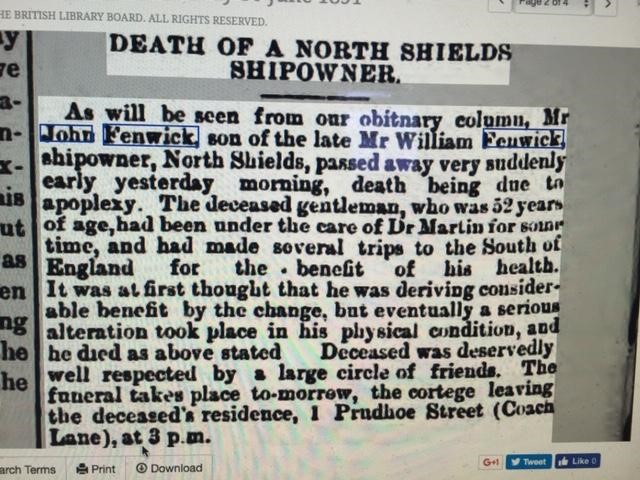 Shields Daily News-Tuesday 30 June 1891
TRANSCRIPTION
DEATH A NORTH SHIELDS SHIPOWNER. As will be seen from our obituary column, John Fenwick, son of the late Mr William Fenwick, shipowner, North Shields, passed away very suddenly early yesterday morning, death being due apoplexy (4). The deceased gentleman, who was 52 years of age, had been under the care of Dr Martin for some time, and had made several trips to the South of England for the benefit of his health. It was first thought that he was deriving considerable benefit by the change, but eventually a serious alteration took place in his physical condition, and he died as above stated. Deceased was deservedly well respected by a large circle of friends. The funeral takes place to-morrow, the cortege leaving the deceased's residence, 1 Prudhoe Street (Coach Lane), at 3 pm.
COMMENTS

The physician, who recommended holidays in the south of England who I have referenced in the Post, was his neighbour, Dr Martin. Yet 1 Prudhoe Street was located high above the banks of the Tyne, adjoining parkland to the west and away from any industry so did this location really have an adverse effect on his health? I have questioned this relating to several other family members who suffered from e.g. diabetes, gout and in this case apoplexy; none related to conditions of the lungs or deteriorating health related to their locations. 'Health tourism' (a modern term befitting to these circumstances) was a costly pursuit paid for evidently from John Fenwick's inheritance from his father, William Fenwick so I do question whether or not John Fenwick would have been better served if he had remained in the family home with his loving family.
John Fenwick had the status of 'gentleman' at the time of his death, implying that he was not in employment rather than he was living by his own means which was the case. Other than his inheritance he was in part-ownership of several sailing ships. (5). He was previously the sole owner of a tug-steamer 'British Hero' which was re-fitted by him, prior to sale.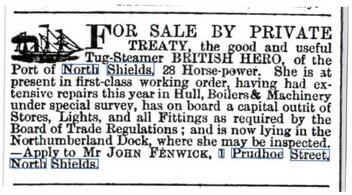 Shields Daily News-Tuesday 30 June 1891
TRANSCRIPTION
SALE BY PRIVATE TREATY, the good and useful Tug-Steamer BRITISH HERO, of the Port of North Shields, 28 Horse-power. Sue is at present in first-class working order, having had extensive repairs this year in Hull, Boilers & Machinery under special survey, has on board a capital outfit of Stores, Lights, and all Fittings required by the Board of Trade Regulations; and is now lying in the Northumberland Dock, where she may be inspected. - Apply to Mr JOHN FENWICK, 1 Prudhoe Street, North Shields.
THE PROPHECY
One of my grandmother's stories which resonates with me is that of an incident in the back yard of 1 Prudhoe Street in about 1890 when a gypsy woman entered the yard selling clothes pegs. When she was rebuffed by Mary, Thomasina's sister, the woman took one of the children's colouring chalks and drew three coffins ranging from an adult coffin to that of a child.
Sadly, this prophecy was fulfilled within five years as demonstrated in the three deaths within the Fenwick family household commencing with John Fenwick and followed by his younger son, Thomas John Fenwick and his second adult daughter, Ann Harrison Fenwick.
Thomas was my grandmother's closest sibling; she remembered him with great affection telling me and her other two grandchildren about his exploits; his collection of mice and kittens which he tried to hide from his dreaded sister Mary, known as 'ginger Mary' who had a formidable temper and ensured that Thomas's pets perished usually by drowning.
In 1891, both my grandmother and Tom caught diphtheria and they were isolated in a bedroom at the top of 1 Prudhoe Street (similar to the approach to Covid 19 today). There was a green counterpane on the bed which the two young children used to place on the floor and with various items of crockery, pretending that they were having picnics. Sadly, Thomas did not survive whilst my grandmother fully recovered.
Ann Fenwick would have been in mourning, (clad in black) following the death of her husband and only for her young son die three months later would have been devastating.
It was four years later in 1895 that there was another death that of Ann who was a dressmaker at a department store in North Shields, D Hill and Carter. Ann had a fiancée (name unknown) with the marriage set for the summer of 1895. She had designed and made a stunning wedding dress which my grandmother recalled her wearing and parading down the stairs at their then home 36 Stanley Street. The marriage was not to be.
This notice in the Shields Daily News-Wednesday 29th June 1898, was posted seven years after John Fenwick's death and is heart-wrenching.

TRANSCRIPTION: Memoriam. loving memory of John Fenwick, beloved husband, or Ann Fenwick. who died June 29th, 1891- also of Thomas John, his son, July 18th 1891.and of Annie, his daughter, who died June 8th 1895. In the midst of life we are in death.
biography in Part 4 Ann, born in North Shields was the daughter of Ann Harrison (1813-1890) and Thomas Johnston (1812-1891).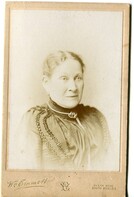 (This photograph was taken by William Emmett, the brother-in-law of Thomasina. The date is unknown but is estimated as about 1901).
It was not until twenty-seven years later that the matriarch, Ann died. In the intervening years between the trio of deaths, Ann lived with her two unmarried daughters (Priscilla Johnston Fenwick and Sarah Ann Barlow Fenwick) at three addresses in North Shields.
According to the newly released 1921 Census, Ann Fenwick was the homeowner of 20 Rippon Terrace, North Shields where she resided with Priscilla and Sarah although both were employed as clerks, the census only lists them at living at home and being involved in housekeeping duties.

FENWICK. -At 20 Rlppon Terrace, on the 26th inst., aged 78 years, Ann, beloved wife of the late John Fenwick. Interment Preston Cemetery, Tuesday leaving residence 3pm. Shields Daily News - Monday 28 August 1922
I know little about Priscilla other than that she was referred to as 'Cilla' and that she inherited the family Bible which I wrote about in a post (Priscilla Johnston, An 1859 Bible, The Priscilla Johnston Girls, Identification and Enduring Sketches) In the 1901 census Cilla was listed as a grocer's clerk and in 1911 census as a clerk in an iron shop. To date, I have been unable to locate a newspaper notification of her death or any probate record.
Thomasina often mentioned this sister referring to her as Sarah and evidently they were very close.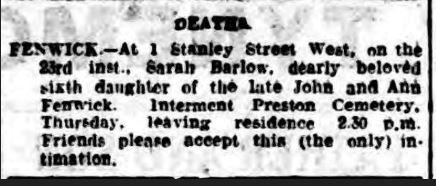 The probate for the Will of Sarah Ann Barlow otherwise Sarah Barlow of 1 Stanley Street West, North Shields spinster died 14th October 1932 on the 1 November 1932 was granted to Thomasina Young (wife of Alfred Ernest Young) with effects of £2169 18s 1d. the solicitor was Hannay and Hannay in South Shields. As the last of Thomasina's siblings to live in the family home, several of the family artefacts passed from Sally to Thomasina and eventually to her grandchildren including myself.
1. Photograph Created by Peter & Jaki, 13th Jan 2021 (Find a Grave Memorial 221047596)
She was interred in the Fenwick family grave in the 'Old Cemetery' which was next to Rosella Place in North Shields ('The William Fenwick's' Part 3 for further information).
Former Free Methodist chapel, Howard Street, North Shields-Now used as Borough offices, the Chapel on the east side of Howard Street was built in 1856-57 by Green for United Free Methodists. The Free Methodist Church was formed in North Shields in 1850 by the Wesleyan Association, the Protestant Methodists and the Armenian Methodists.
From the late 14th to the late 19th century, apoplexy referred to any sudden death that began with a sudden loss of consciousness, especially one in which the victim died within a matter of seconds after losing consciousness.
In Part 3, my writing will include descriptions of the ships owned by three generations of my Fenwick family. William Fenwick (1782-1857); William Fenwick (1809-1888); John Fenwick (1839-1891)