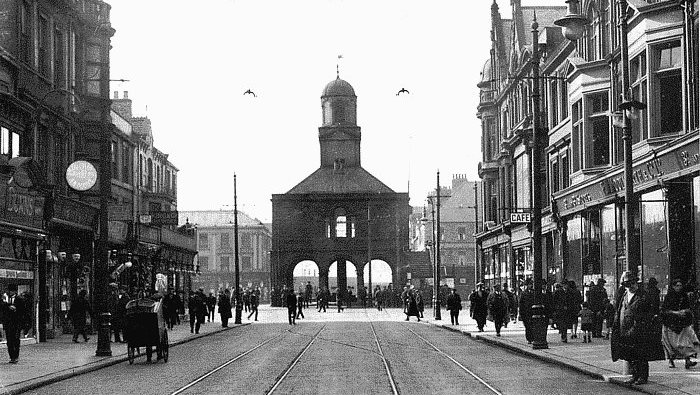 Vera Fenwick Young (1916-1986)
UPDATED: 26 JUNE 2020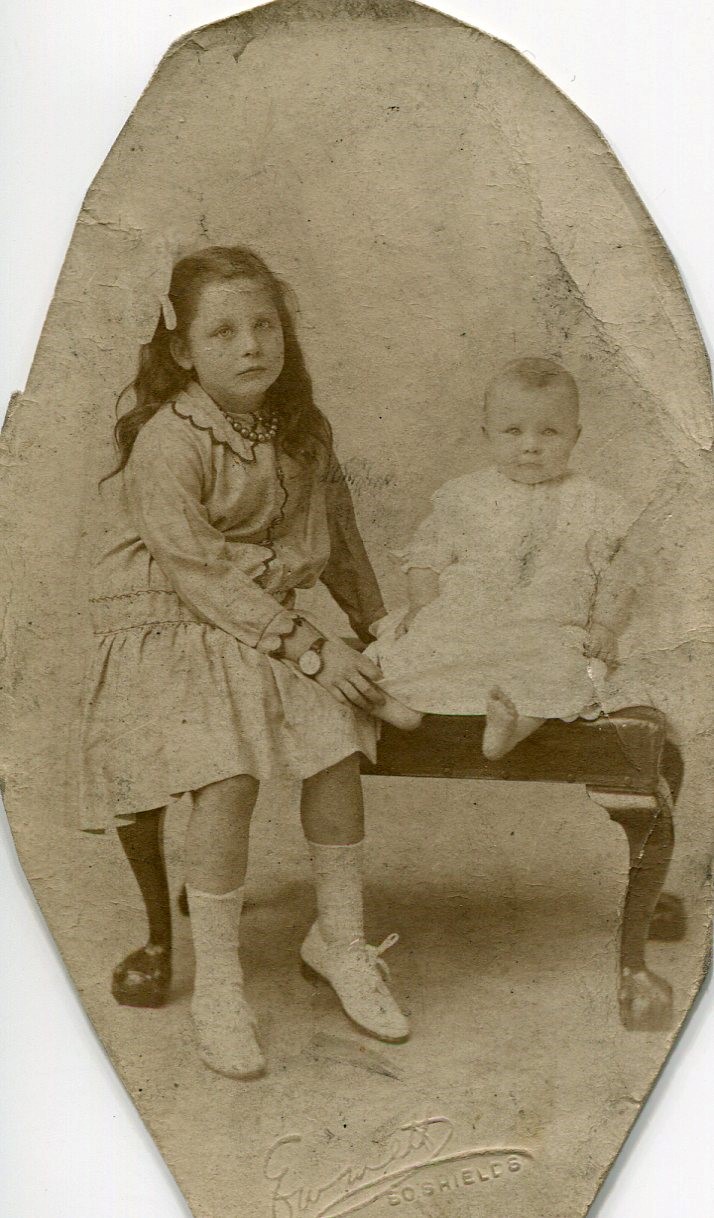 Part 1: EARLY YEARS
This is a photo of Vera as a baby taken with her sister Muriel Young (1909-1998) in 1917 and is the only image I have of my Mother as a baby; obtained last year from my cousin Neil.
Vera was born on the 3rd November 1916 in South Shields. Her Mum was Thomasina Johnston Fenwick (1880-1974) and her father, Alfred Ernest Young (1878-1961).
Alfred was fighting with his regiment the Durham Light Infantry in France in the First World War when Vera was born. He fortunately survived the war without injuries. When he returned home, he brought for his new baby daughter, a silver coloured charm bracelet, I still have one of the charms Muriel was aged 7 or 8 in the photograph.
It was not until Vera was about 8 years old that there is another photo in the family album which was taken after the incident of the 'Doll's Pram'!
There is a strong possibility that the William Youngs in Shadwell were in my bloodline; my reasons for thinking this is that there was a close connection with the Tyne Pilots especially with regard to the location of his family in South Shields. However, I could not make a direct connection. It was through Ann (Annie) Young (1820-1902)(3), the daughter of the elder 'Shadwell' William Young that I was entitled to include him in my tree. She had married John Pollard a distant ancestor although not via my Young ancestry. I had recorded the poignant inscription on a grave in Westoe Cemetery in South Shields, which provides the inextricable link between South Shields and Shadwell, the cemeteries of Sea Captains approximately 300 miles apart.
CHRISTMAS DAY 1922
It was early on Christmas Day 1922 when six-year-old Vera ran downstairs at her home in Roman Road, South Shields, to see what gifts Father Christmas had left for her. She had so dearly wanted a pram for her much loved doll Dulcie and so it was with great disappointment that there was no sign of one amongst the other gifts. However, all was not lost (or so she thought) for as she hurriedly unpacked her stocking, she found a note from Father Christmas explaining that the pram was too large to push down the chimney and so the old gentleman had left it at Saville's Music Store in King Street for Vera to collect.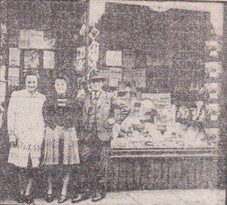 Saville's Music Shop, photograph probably taken in the 1940's
An hour later, Vera was walking along Ocean Road to King Street with her sister Muriel, aged thirteen. They passed J. W. Pollard, the shop and builder's merchant, paint manufacturer and glazier owned by their father Alfred Ernest Young, which, like most other shops, was closed. Soon they arrived at Saville's, whose proprietor, as a Jew, was one of the few shopkeepers to stay open over the Christian festival. I can hardly imagine little Vera's dismay when a shop assistant told her that the pram was not in the shop - and of course never had been. Needless to say, Vera cried bitter tears all the way home.
However, it was my aunt Muriel, for whom I always felt the most sorry; she was old enough to know that Vera would not find the pram in the shop and yet she had to console the sobbing Vera whilst suffering her own embarrassment, for she, as an accomplished pianist and later music teacher, was well known at Saville's, where she frequently purchased sheet music.
This sad story was related to my sister Lynda and I many times and treated as a huge joke, especially by my grandfather, Alfred; we could never see the funny side. Alfred, a successful businessman could have well-afforded to buy his beloved little daughter a pram.
Why he did not do so, is even more difficult to understand in light of his earlier experiences of a tragic Christmas. It was on Christmas Day 1884 that his thirty-seven-year-old widowed mother Sarah Young (née Pollard), my great grandmother, died. I often heard the poignant story of how the family immediately went into mourning and her children Alfred (aged six), his sisters Sarah (13) and Ann (8), and his brothers Henry (10) and Thomas (4) had to remove the decorations from the Christmas tree and place the tree outside.
On a happier note, my grandfather, Alfred loved Christmas and ensured that I together with my sister Lynda shared in all its joy and excitement. He spent months planning the celebration and spared no expense, but more than anything else, he always gave generously of his love and time to us and was well supported by his wife Cissy (Thomasina), my grandmother. Right until his death in 1961, when I was fourteen years old, my parents, sister and I always spent Christmas Day with them at the family home.
Although Vera never received her doll's pram, my grandparents did buy one for me when I was six years old!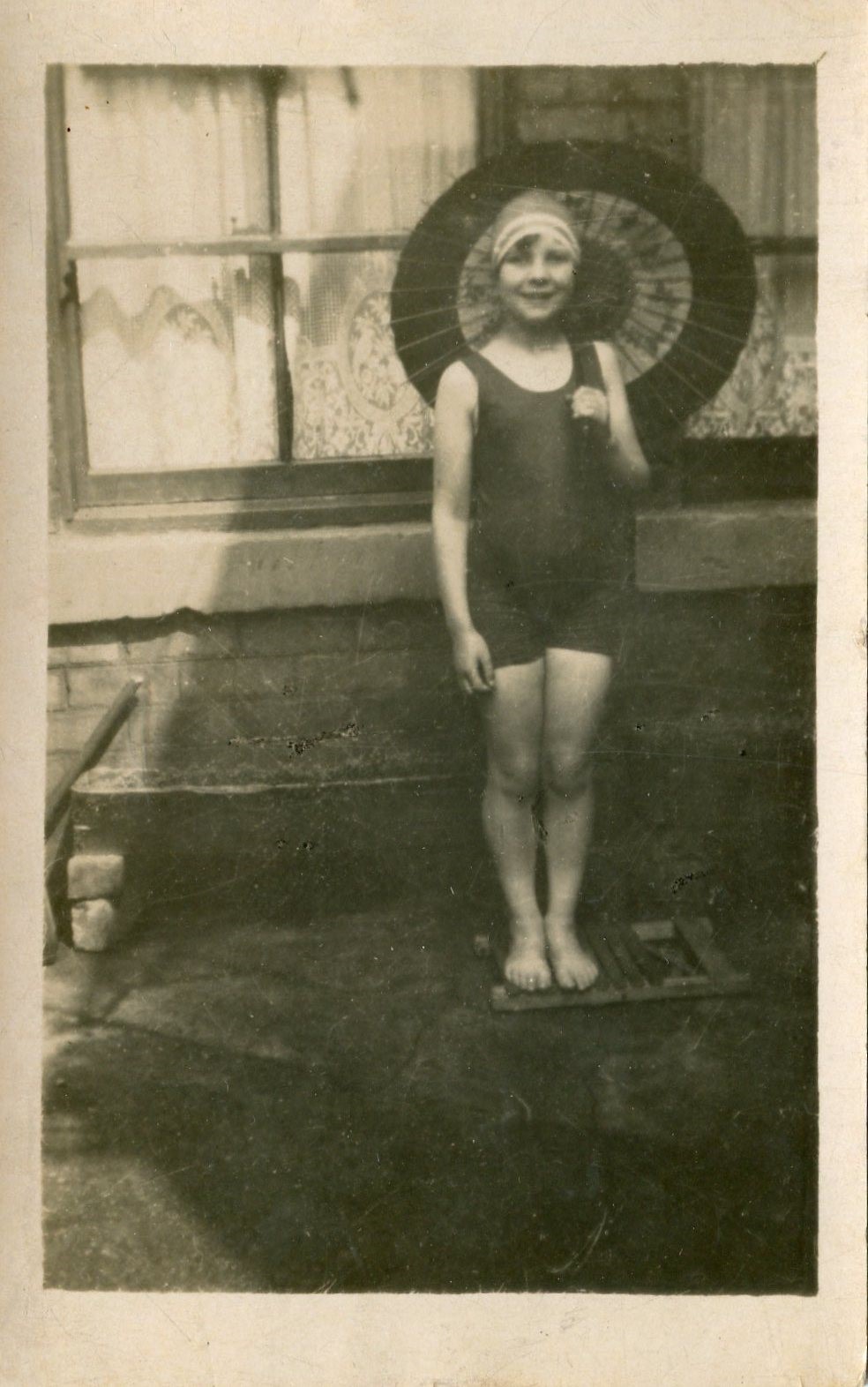 Vera complete with parasol dated about 1925; I am uncertain whether she was posing or actually on her way for a swim. Her home was about ten minutes walk away from the beach which is now called 'Littlehaven'.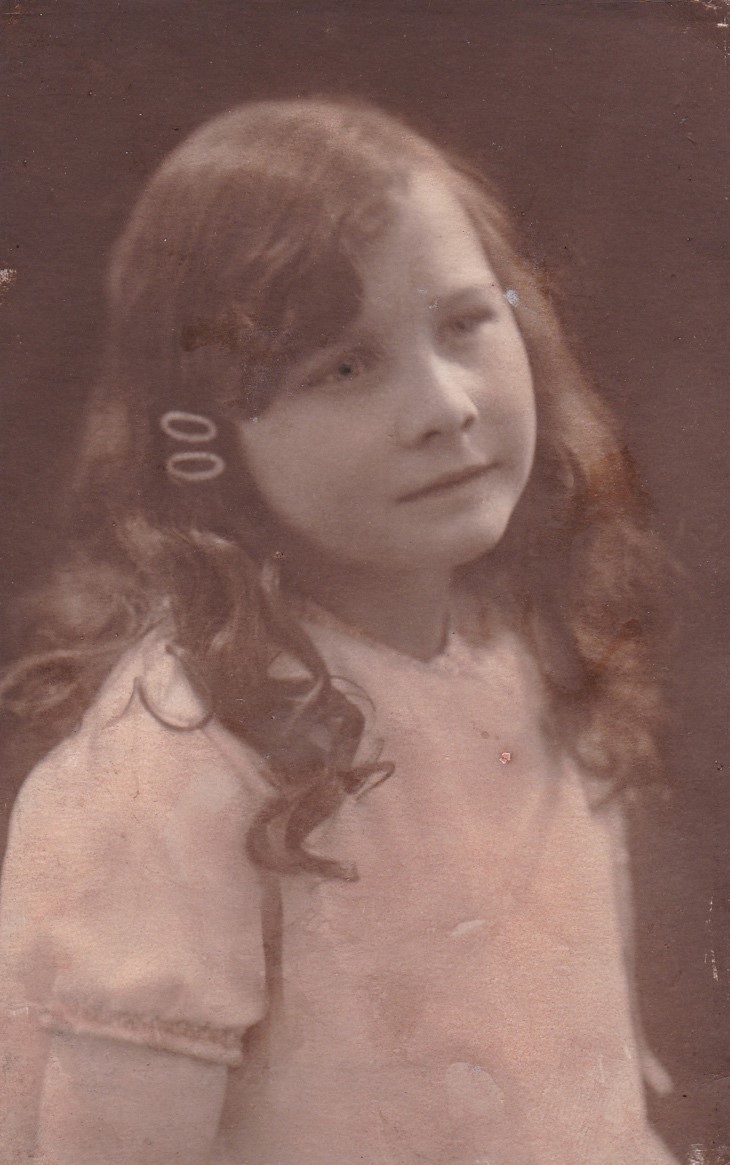 Vera Young in 1927, aged 11.
Photographer of all three photographs was William Emmett (1874-1953), her uncle. He was the husband of Ann Evans Young (1876-1963), sister of Alfred. Some of the signage of his studio is still visible on a gable end of a building in Ocean Road.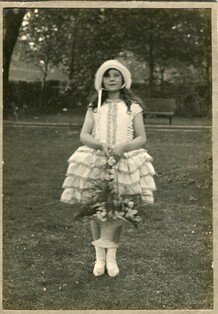 This photograph used to be in our family album and the silver grey basket was used for floral arrangements. Vera was a bridesmaid at the wedding of her cousin, May who after her marriage lived in Urmston, Manchester. I can recall meeting May and her husband Claude on three occasions.The copy of the photograph of the full bridal party, I was thrilled to receive from Nigel Forster, the grandson of May and Claude.
It was at Newcastle Central Library that I obtained a copy of the newspaper report of the 29th August 1929 describing the wedding on the previous day.
A Pretty Wedding in Jesmond. Mr C J Forster and Miss Young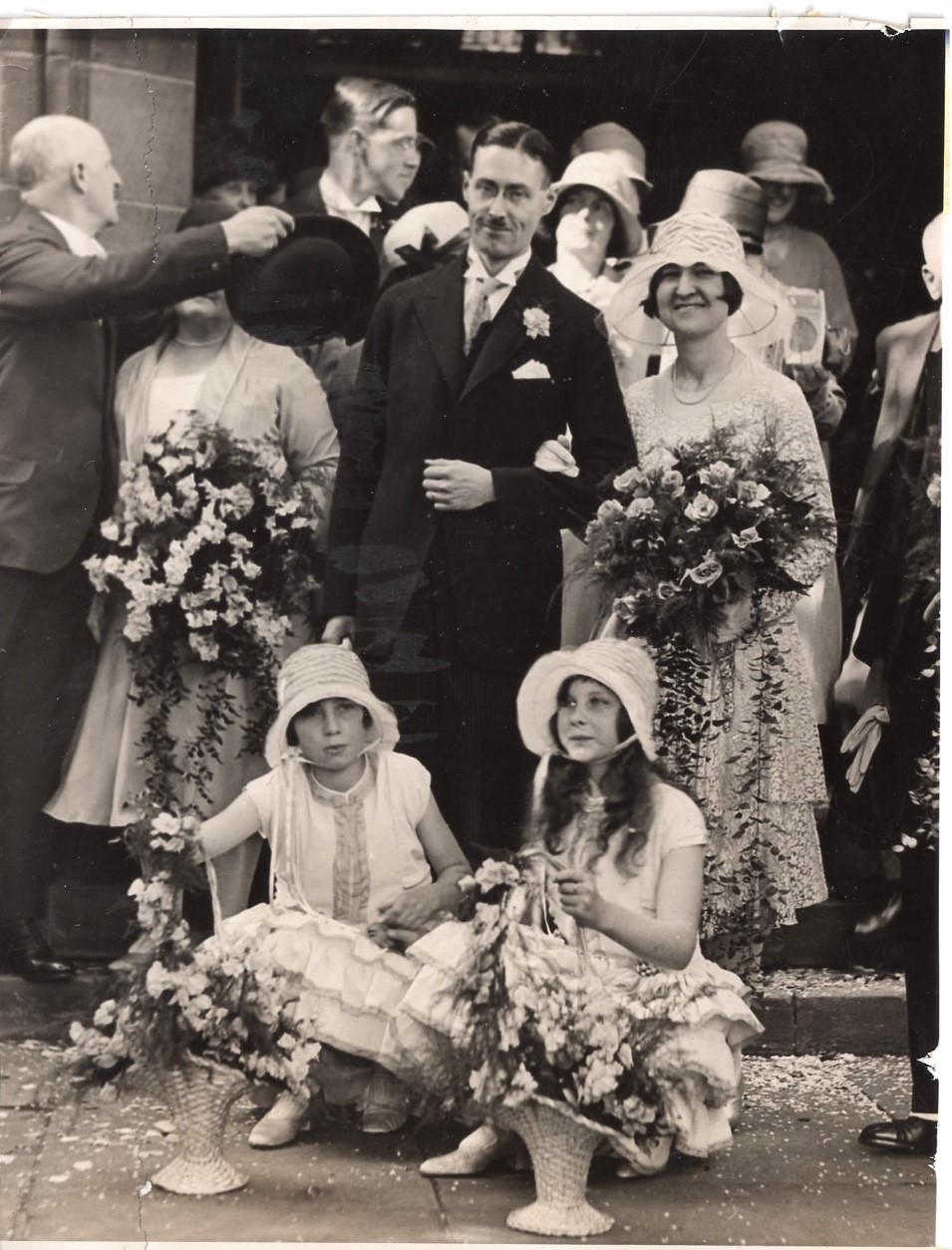 A pretty bride in shell pink lace was Miss Victoria May Young, eldest daughter of Mr H Young and the late Mrs Young of Jesmond, who married was married at Jesmond Parish Church yesterday to Mr Claude James Forster of Manchester, youngest son of Mr and Mrs C. Forster of Monkseaton. She was given away by her father, and her dainty gown was fashioned with tight-fitting bodice studded with diamante and a two-tier skirt. She wore a hat of shaded net and pink velvet leaves, and carried a bouquet of pink roses. The bride's sister, Miss E.(Emily)Young, was the bridesmaid, and two cousins of the bride, Miss Rita Crowley and Miss Vera Young, were the train bearers. Mr Rowland M. Young, brother of the bride, was the best man. The Rev J. Johnson officiated, and Dr J E Hutchinson was at the organ. The honeymoon, on which Mr and Mrs C J Forster set out after a reception held at the Kensington Hotel, is to be spent in the south of England.
Profiles: Claude James Forster (1901-1973); Victoria May Young (1901-1986); Henry Young (1874-1960); Emily (Boyd) Young (1869-1927); Emily Young (1903-1980); Rita Crowley (1918-1999); Vera Young (1916-1986); Rowland MacKay Young (1906-1955)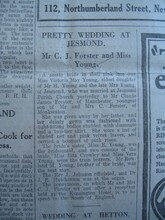 The article is from the Newcastle Chronicle, 29th August 1929;
sourced at Newcastle Central Library.