William Middleyard (1778-1814)
Master Mariner of South Shields, Shadwell, Rio de Janeiro and Wapping!
Another story of coincidences, tragedies, churches, gravestones and the ship 'Mary'
UPDATED: 07 NOVEMBER 2020

PART 2: Early Years
William was born in South Shields (a) of a maritime background, spending his formative years in the bustling riverside community of Wapping Street.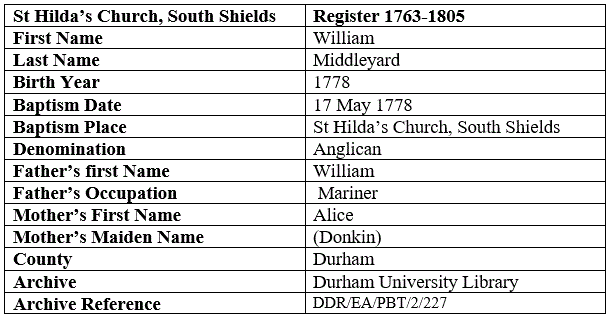 His mother was Alice Donkin (1751-1840) and father, William Middleyard (1752-1840) was also a Mariner and later a publican. (b)
Although 'South Shields' is also named as the place of origin for Elizabeth Clark on records for both her marriage and that of the birth for her daughter, Mary Rio, it is difficult to establish the correct information for her baptism. There are several entries for babies named 'Elizabeth Clark' in the registers of St Hilda's Church during the 1780s.
The most likely is:
Elizabeth Clark, daughter of Thomas & Elizabeth Clark, 6 Nov 1785 (c). Associated with this entry is a marriage between Thomas Clark and Elizabeth Burnet in 1782 and the death of a Thomas Clark (1755-1827) who died in Wapping Street (significant later in my writing) in 1827 aged 72 (d).
Death of William Middleyard (Master Mariner) 1814
The final record I have for William, is that of his death in the church records for St John the Evangelist Church in Wapping, East London and burial in the churchyard.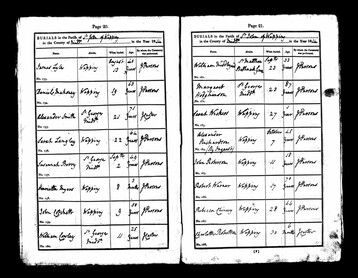 At the time of his death, he was living in the St Matthew's area of Bethnal Green (e).
Information is not available relating to the cause of William's death as was the case with the death of William Young in 1832. If an application had been made by Elizabeth, his wife to Trinity House for financial support, substantial documents including details of death would have been required in the submission and they would have been available from the Society of Genealogists.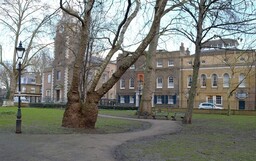 St John the Evangelist Church, Wapping 2018 (f)
(The Church tower is behind the tree in the forefront. Adjoining it was a Blue Coats School. Both are now used for secular purposes)
St John the Evangelist was built as a chapel of ease to St Dunstan's parish church of Stepney in 1617, and became the parish church of Wapping in 1694. Later, in 1756, the church was rebuilt with an extensive graveyard. The entire site was badly damaged by bombing in 1940 and most of the church had to be demolished apart from its tower together with the old Bluecoats School is now used for secular purposes.
Graveyard
The former churchyard is now a small public garden. Details of the inscription on William Middleyard's gravestone are as follows (g):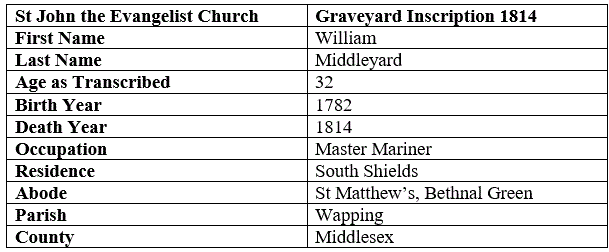 Two chest tombs remain and there are some headstones set against the west wall.
Tomb St John's Gardens, Feb 2000 (h).
The actual gravestone for William Middleyard, may have been very similar to that of William Young in the Shadwell Churchyard in 1832 as the inscriptions both have similar characteristics: details of residence and occupation.
Thomas Blenkinsop (1749-1819), associate and friend of William Middleyard was also interred in this churchyard on the 2nd December 1819 (i).
Wapping Street
I am assuming that after William Middleyard's death, his wife Elizabeth and three children permanently settled in South Shields on the riverside in Wapping Street.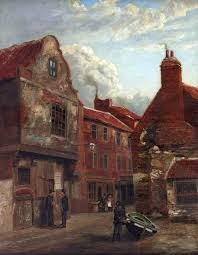 Old Shields and Wapping Street and Union Lane 1896 by Robert Hodge b.1875 (j)
Elizabeth (Carr) Middleyard
Elizabeth was evidently well-travelled with life on-board sailing ships over a period of seven or so years until the untimely death of her husband, William in 1814. She was a passenger on the 'Mary' between 1807 and 1808 and perhaps on subsequent voyages, sailing to and from Rio de Janeiro. Temporary residences whilst the ship docked in the Thames included the Wapping Wall (the home and business premises of Thomas Blenkinsop), Limehouse, Shadwell and the St Matthew's area of Bethnal Green. Yet, after 1814, the only record I can trace, is that of her death in the South Shields Workhouse in January 1838 (k), some twenty-four years later. Her two eldest children had pre-deceased her.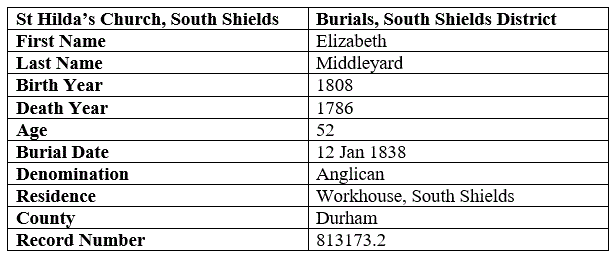 I am grateful for information from Catrin Galt about the South Shields workhouses in 1838. 'The dates are a little early for Harton Workhouse, so I suspect Elizabeth was at the Ocean Road workhouse'. The site of this was partly in what is now, Salmon Street. South Shields Poor Law Union from 1836 recommended the development of the Harton Workhouse; part of the building remains and is integrated into South Tyneside District Hospital (l).
Mary Rio Middleyard (1808-1829)
Her death recorded in the register of St Hilda's Church for 1829, refers to Mary Rio as Maria Middleyard (m):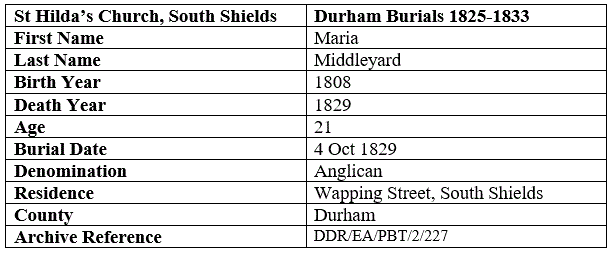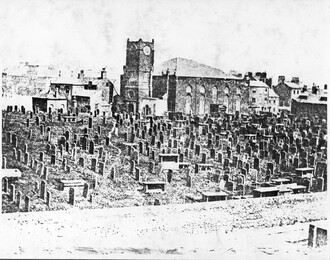 Photograph St Hilda's Church & Graveyard circa.1862, W Willits (n).
With such well-documented records for Mary Rio's birth, it is unfortunate that there is no information relating to employment, social status or cause of death. It can be assumed that she spent her formative years in Wapping Street, living with her mother.
William Middleyard (1811-1836)
Like his father, he was a Mariner. He continued to live in South Shields at the family home in Wapping Street before moving to nearby Shadwell Street on his marriage to Eleanor Young (1812-1859). Their marriage on the 30th November 1833, was at Christ Church, Tynemouth, on the north bank of the River Tyne.
I have been unable to locate any further information other than that his death was in or before 1837 as Eleanor (Young) Middleyard, a widow, married James Brown on 13th March 1838. There is neither a burial record for William Middleyard in St Hilda's Churchyard, nor any accounts in the British Newspaper Archive. It is therefore likely, that he died overseas; Eleanor would have been required to provide evidence of his death before she would have been able to request the banns for her marriage to James Brown, however, to date, there is no means of accessing this information.
Britain, Merchant Seamen, 1835-1857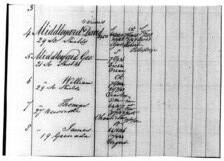 This is a record for four Middleyard Ships' Masters dated between 1835 and 1841 (o). At first glance, the record for William would not match the dates for William Middleyard, however, there is often a margin of error.
The first two Middleyards are direct descendants of Alice (Donkin) Middleyard (1754-1840) and William Middleyard (1752-1840) who both died in Wapping Street. William was a mariner and then a publican in nearby Comical Corner. There is indeed a strong possibility that this also applies to the latter two.
Thomas Middleyard (1813-)
Other than his baptism record at St Paul's Church, Shadwell, I have been unable to locate any further definitive records for Thomas Middleyard. The entry above could be for him. However, he may have died during his formative years with the possibility that he never resided in Wapping Street with his mother and siblings.
I have previously, failed to find census records for mariners because they have been on the high seas, when the census was taken so this could also be the case in this instance.
William Middleyard (1834-1836)
Eleanor (Young) and William Middleyard were parents to one child, a son, William Middleyard.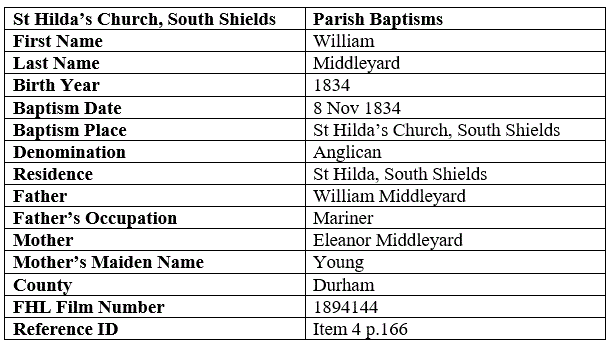 Sadly, William died when he was only 1¼ years and it may well have been that his father pre-deceased him (p).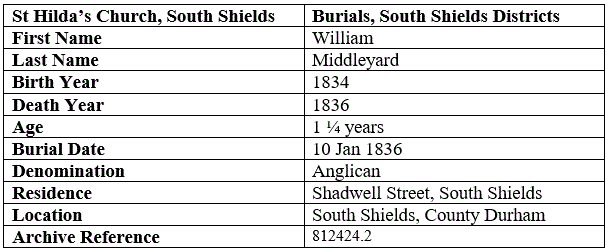 (q)
bloodline
All of the Middleyard's in my writing are of my bloodline. Other than the mariners, David and George, they are in my direct line starting with William Middleyard (1752-1840), my 4th great grandfather. My Middleyard ancestry dates back much further to 1605 in Earsdon, north of the River Tyne with Archibald Middleyard and then Thomas Middleyard, my 6th great grandfather settling on South Shields riverside in about 1711.
To summarise: 1. William Middleyard (1752-1840)
2. William Middleyard (1782-1814)
3. William Middleyard (1812-1836?)
4. William Middleyard (1834-1836)
William Middleyard (4M), also featured in another of my bloodlines as his mother Eleanor Young (1814-) was the sister of my 2nd great grandfather, Henry Young (1811-1897). Henry's mother-in-law was Alice (Middleyard) Evans (1788-1853) my 3rd great grandmother), daughter of William Middleyard (1).
Comments
It was the fascinating baptism record for Mary Rio Middleyard in my Ancestry tree, with the same connections to South Shields, Shadwell, and Rio de Janeiro as William Young (1778-1832) and his ship the 'Nancy', the subject of my previous writing that encouraged me into further research.
From a geographical perspective, it is worthy of note, that the bustling riverside community in South Shields of the 18th and early 19th century around Wapping, Shadwell and Pilot Streets, by the 1830's had started to expand southwards, to the hilly Lawe area of the town, central to my account of the family of William Young (1778-1832).
What I did not expect, was that an incredible story would emerge of William Middleyard (2) sailing as Master Mariner on the 'Mary', supporting the war in South America. This was also the role of the 'Nancy' prior to William Young's ownership. Furthermore, William Lewis (1807-1871), a distant ancestor of my husband by marriage, was born on-board a ship in South America whilst his father, William was on detachment with the Royal Artillery, 6th Battalion as a gunner (r). There are the only two births on board ships that I can identify in my extensive family tree and that they are both in South America at the same time, is indeed an incredible coincidence.
With many archives closed due to the prevalence of the second outbreak of Covid 19, my writing is incomplete as I am unable to extend my research to these institutions in London, It is especially the graveyard of the church of St John the Evangelist that I hope to visit, the final resting place of William Middleyard (2).
This is a tragic story of a young Master Mariner sailing far beyond the regular coastal trade of local mariners between the Tyne and the Thames. He was engaged in much wider world commerce and even military occupation. The countries I have mentioned include the Baltic, Iberian Penninsular and South America. His life was cut too short, unable to realise what I anticipate would have been his aspirations (based on lives of some of his fellow South Shields mariners); to command larger vessels, to have a portfolio of part-ship ownership and to live above the riverside in one of the new housing developments on the Lawe. There are no direct descendants of William Middleyard (2) and it is particularly poignant that Elizabeth, his wife was to die alone in the South Shields Workhouse, twenty-four years after him.
Today I walked from the pier to the mouth of the Tyne and then along the riverside (where there is access) to the remnants of Wapping Street, Shadwell Street and Comical Corner. It is almost impossible to envisage how densely populated this area was in the 18th and 19th centuries and even more so, that this was the premier shipping hub of the North East coast.
Sailing between the rivers Tyne and Thames forms such a significant aspect of the lives of not only the Middleyard family but also to that of William Young (1778-1832) and Barbara (Fairles) Dinning (1765-1835) who I have already referred to in posts on my website. A fascinating and indeed unexpected aspect of my findings is the connections between these families in the churches and graveyard records of St Hilda's, South Shields and St Paul's, Shadwell that gives yet another dimension to my writing.
Durham Records on-line

England, Select Marriages, 1538-1973 (Ancestry)
England, Select Births and Christenings, 1538-1975 (Ancestry)
England, Select Deaths and Burials, 1538-1991 (Ancestry)
London, England, Deaths and Burials, 1813-1980 (Ancestry)
The London I, Geoffrey Fletcher 2018 (Google)
Middlesex Burials & Memorial Inscriptions; Greater London Burial Index (Findmypast)
Tomb in St John's Gardens, February 2000. Photo: S Williams (London Gardens Trust Inventory)
Middlesex Burials & Memorial Inscriptions; Greater London Burial Index (Findmypast)
South Tyneside Museum
Durham Records on-line
Catrin Galt, South Tyneside Libraries, October 2020 (by email)
England, Select Deaths and Burials, 1538-1991 (Ancestry)
South Tyneside Libraries
Britain, Merchant Seamen, 1835-1857 (Findmypast)
England, Select Births and Christenings, 1538-1975 (Ancestry)
Durham records on-line
'John Lewis'; Tomi Larsen, Pittsburgh, August, 2020 (by email)