William Young (1788-1832)
Master Mariner of South Shields and Shadwell
A story of coincidences, tragedies, churches, gravestones and the ship 'Nancy'
UPDATED: 26 JUNE 2020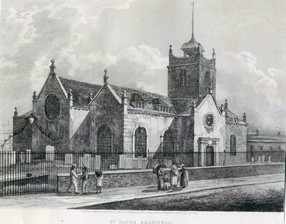 Part 4: 'Nancy' 1820-1836
Lloyds Register 1835- for ships surveyed 1834/35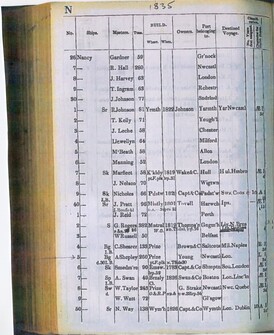 5-Nancy (type of ship)-Brig: Master A Shepley: Tons- 260: Build- Prize: Port Belonging to- Newcastle: Owners-Young: Port Belonging to-Newcastle: Destined Voyage-London
I am grateful for the assistance of Ann Crowne, of Lloyds Register for her research of four years ago, in identifying a vessel, Nancy, a brig of 260 tons owned by Young, and For providing me with a copy of this original 1835 register.
Ships were only included in the Register if they had been recently surveyed; presumably Elizabeth Young, was required to commission the survey before she could have the ownership of the brig transferred to her following her husband, William Young's death in 1832. He had owned the ship for at least fourteen years with only one record of registration in the 1820 edition of Lloyd's.
Despite a comprehensive search, I have found few records of the Nancy's voyages and made especially difficult because of the fact that 'Nancy' was a popular name for vessels during the late 18th and early 19th centuries. This incident of the 26th August 1824 does not give any credit to William Young, although he may not have been the Master at that time.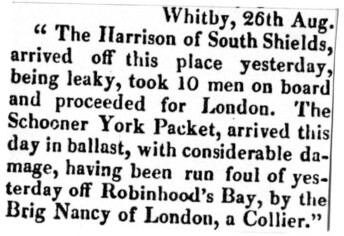 Lloyd's List-Tuesday 31 August 1824 (BNA)
Port registry
According to my unpublished research 'The Sailing Ships of the Tyne Insured by residents of South Shields District 1834-35' the Nancy was not listed and therefore not insured locally. As the incident recorded below suggests, Nancy was registered in London and according to Key's only transferred to Newcastle in 1828/29 (p.524).*
Kentish Knock
On the 17th February 1836, the 'Nancy' struck the Kentish Knock and disintegrated. Her crew of nine, after a perilous night on a small boat were rescued were rescued the following day by the Ostend mail boat, the Arrow with the remains of the Nancy being washed up at Margate.
Morning Advertiser-Saturday 20 February 1836 (BNA)
The Kentish Knock was a notorious threat to shipping, a shoal, a shallow area of seabed east of the Thames Estuary. It was not until 1840 that a light vessel was berthed there to prevent any further ships from going a ground.
Andrew Shipley (1773-1836)
The Master of the 'Nancy' then owned by Elizabeth Young in 1835, was Andrew Shipley another South Shields based-mariner, born in Ryton on Tyne in 1773, settling in the town from the mid-1790s (marriage in Jarrow, 1795 to Mary Spoors -1768-1836). He was also listed as 'Master' in the other Lloyd's List record of 1820. He may well have fulfilled the role of relief Master.
However, he was not onboard at the time of the sinking of the 'Nancy' as reported in some newspaper reports of the time, as he had died in South Shields the previous month.
---
* - Dictionary of Tyne sailing Ships: a record of merchant sailing ships owned, registered and built in the port of Tyne from 1830-1930-1998- by Richard E Keys