William Young (1788-1832)
Master Mariner of South Shields and Shadwell
A story of coincidences, tragedies, churches, gravestones and the ship 'Nancy'
UPDATED: 12 September 2020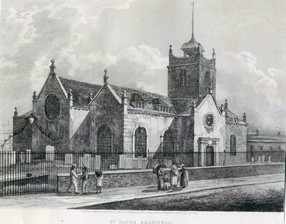 Part 7: Death at the time of Cholera and reflections on St Paul's Church!
Re-visiting the Death of William Young
There was certainly cholera in South Shields when William Young embarked on his final voyage in May 1832 to sail to the River Thames. The first official cholera death was recorded on 26 October 1831 in Sunderland. By February 1832 cholera had spread to London ostensibly by colliers, like the Nancy plying between the north eastern ports and the Thames.
Although I am unsure whether William lived on the South Shields riverside or on the Lawe Top at that time of setting sail from the River Tyne, there were deaths in both areas of the town from January onwards e.g.:-Alexander Donkin, Shadwell Street (Riverside) died 13 Jan 1832; Charles Goodwin, of Fairles Street (Lawe Top) (1), died 22nd March 1832 aged 26. Deaths in the town from cholera were more prevalent between July and October.
William's destination to the River Thames, was where the disease was evident from February 1832. John Potts, a Sunderland born sailor was forced to leave his ship docked in Shadwell to be forcefully transferred to the Shadwell Workhouse where he later died, because it was suspected that he was suffering from cholera. The inquest into his death was held at the George & Dragon on Shadwell High Street. A bizarre aspect of this case was that his intestines were removed and sent to Whitehall for an autopsy, which proved that his death was not in fact due to cholera; he had suffered from dysentery, but the cause was given as a visitation of God, that is natural causes! (2)
It was not the sailors on the ships arriving from the River Wear that transmitted cholera, it was in fact attributable more to the seamen onboard colliers from the River Tyne, 'bringing coals from Newcastle'.
Parish Registers
Although the death entries for both William Young Snr. and William Young Jnr. are available on-line in the Parish records for St Paul's Church, Shadwell, for neither is there a cause of death. I have been unable to find any further information despite exploring several potential avenues of London-based research.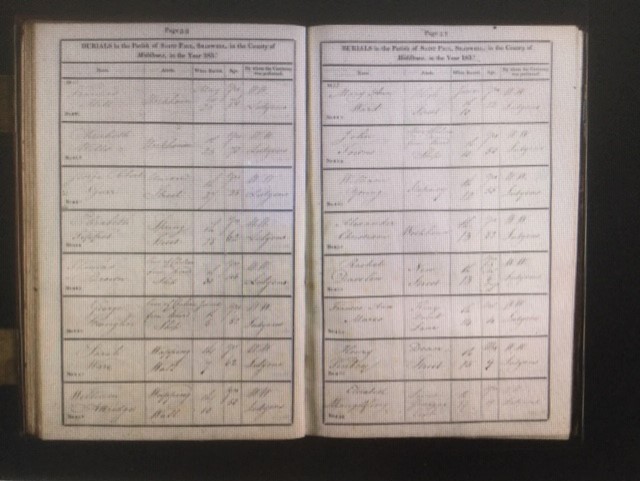 1832 Register
Of the sixteen burials recorded in the 1832 register between the May 25th and the 19th June, three were attributed to cholera all of whom were for men who had died onboard an unnamed ship. On previous and subsequent pages, several cholera deaths are recorded, with some for men and women of unknown identity with others on unnamed vessels. William Young was buried on the 12th June, five days after his death with his residence given as Stepney and no cause of death shown (3). It is therefore unlikely that he died of cholera or from an accident as either would have been recorded as such which suggests to me, that his death was due to natural causes; that is a visitation from God!
The question remains as to why he was in Stepney and not onboard, Nancy. Two possibilities come to mind:
On reaching Shadwell at the height of the epidemic, he wanted to avoid the main source of contamination; the sailors onboard other colliers berthed on the riverside, or indeed to avoid any animosity from the people living on the banks of the Thames. He therefore decided to stay in one of the hostelries in Stepney such as Horn of Plenty or the George Tavern; both are still are in business today.
He was visiting fellow retired mariners in Stepney Green where Trinity House, dating back to 1695 supported twenty-eight alms houses for retired sailors on the site of the ancient Trinity Hospital:
''28 decay'd Masters & Commanders of Ships or ye Widows of such''. The retired and incapacitated mariners also received a money allowance and free coal, which may even have been transported onboard the Nancy (4).
Conjecture of course, as the exact cause and location of William Young's death will never be known. If a petition had been made to Trinity House by his wife, Elizabeth at the time of her husband's death in 1832 for support for herself and her children, I would have been able to access in effect, a mini-biography including the cause of his death, his latest voyage, his marriage, baptisms of dependents, witness statements etc. (see James Evans 1715-1839; Ship Builders, Ship Owners and a Master Mariner!).
St Paul's Church, Shadwell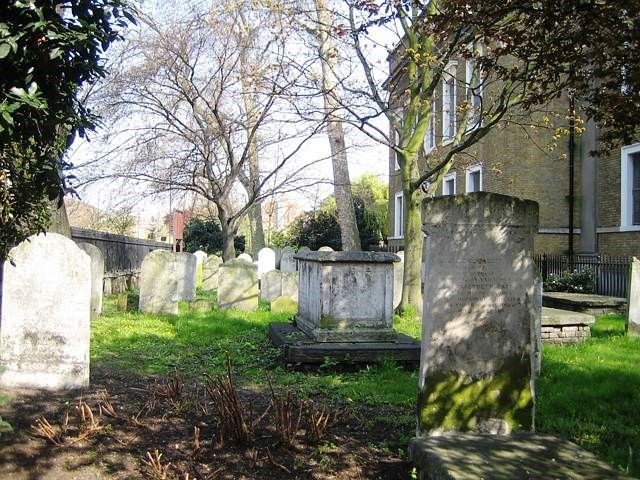 This was my first view of the churchyard in 2016 before I discovered the grave of William Young and his son. Since then, approximately 65 gravestones have been photographed and catalogued including the grave of the Young's.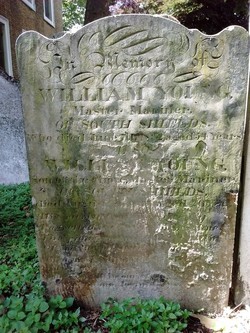 INSCRIPTION
In Memory of WILLIAM YOUNG, Master Mariner of SOUTH SHIELDS. Who died June 7th 1832 aged 54 Years ALSO WILLIAM YOUNG Son of the above, Master Mariner of SOUTH SHIELDS. Died August the 5th 1833 aged 26 years (5)
On looking at an image of this well-weathered gravestone again, surviving for a hundred and eighty-eight years, I still feel the same magnetism that compelled me to this burial plot. Now, four years later, William Young, Master Mariner, Ship-Owner and revered family man has a biography which has given me much pleasure in the writing.
Comments and Coincidences to follow!
Durham records on-line
CBH Letter-book PC 1/103,20 January 1832; The Times 20 January 1832; The Morning Chronicle 23 January 1832.
London, England, Deaths and Burials, 1813-1980: Parish Register St Paul's Church Shadwell-Ancestry
Memoirs Of A Metro Girl-London blog
Find a Grave Memorial 181962542: created by SB (contributor 49320776)-added to site 1st August 2017