Wouldhave Memorial & the 'Tyne' Lifeboat
UPDATED: 19 DECEMBER 2020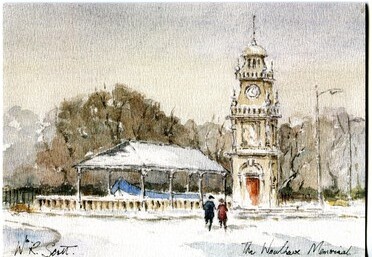 The painting by William Scott, (an old friend) is hanging in the hallway here in Cleadon Village. I was fortunate to be able to purchase fifty Christmas Cards of the painting which I have sent to family and friends.
Wouldhave Memorial
This was designed by architect JH Morton, to commemorate the 18th-century boat-builder William Wouldhave (1751-1821) for his part in the invention of the self-righting lifeboat. It stands at the Pier Head in South Shields and was built in 1889 to celebrate Queen Victoria's Jubilee.
The 'Tyne' Lifeboat
This was built in 1833 by J Oliver of South Shields; recently restored, it is housed in the adjoining canopy. During sixty years of service, the lifeboatmen saved 1,028 lives. This is the second oldest surviving lifeboat.
Thomas Young (1838-1881)
He was my Great Grandfather, a Sea Pilot who was one of the volunteer lifeboatman on the 'Tyne' in the 1865.
He was drowned on the Herd Sands, at the mouth of the River Tyne whilst sailing his coble-boat, 'Pilota'* on the tremendously stormy night of the 14th Oct 1881.
I am very grateful for the information I received in a letter from Steve Landells, Assistant Secretary of the South Shields Volunteer Life Brigade (SSVLB) on the 18th November 2003 relating to Thomas Young. Prior to this, I had met Steve at the Watch House (the headquarters of the Life Brigade) located on the South Pier in the original building of 1866. It was in the medical room, that Thomas Young 'expired'.
Extracts from this illuminating letter are as follows:
''Pilot Coble 'Pilota'
It would appear that Thomas Young was a member of the crew of the South Shields Lifeboat 'Tyne' on December 29th, 1865 who rescued the crew of the 'Decis' wrecked on Tynemouth rocks and also a member of the crew of the 'Providence' who rescued the crew of the brig 'Anne' wrecked on the Black Middens on February 8th, 1870.
Pilots exclusively manned these lifeboats, which were independent of the RNLI''.
Comments
1. In 1988, I recall Alex, my elder son (manager of website) then aged nine years, working on a project about the local lifeboats and receiving first prize. The project would have been enhanced if he had the information at that time about the heroism of his great, great grandfather, Thomas Young!
2. For further information, I suggest referring to the Book List: Preservation of Life from Shipwreck: Trilogy-1980- by Boswell Whittaker
Part 1, Skuetender Lifeboat
Rescues in the Surf: The Story of the Shields Lifeboats - 15 Nov. 2010-by Stephen Landells
3. I would like to thank WR Scott-Bill Scott, Steve Landells, South Shields Volunteer Life Brigade and South Shields Libraries
*Coble name sometimes given as 'Pilots'; Pilota is evidently the correct name according to Steve Landell's research.