Henry Mordue (1920-1943)
Unexpected Listing in Belford Church, Northumberland
UPDATED: 29 NOVEMBER 2020
MORDUE, Flying Officer, HENRY, 139725, R.A.F, (VR). 50 Squadron, 30th September* 1943. Son of Henry William & Robina Mordue, of Belford, Northumberland. Panel 126, Runnymede Commonwealth War Memorial.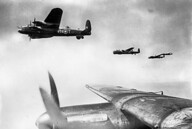 British Lancaster bombers of No 50 Squadron RAF flying in loose formation over Lincolnshire, 23rd July 1943 (Imperial War Museum: 4700-16 CH 10715).
BACKGROUND
In March 2016, as I drove to Belford with Nigel, my husband, I caught site of the sign for 'The Angler's Arms' at Wheldon Bridge. I re-counted to him the story of how my parents Vera Young (1916-1986) & John Thompson (1913-1972) had spent their honeymoon at the hotel; this as I had been told was about the maximum distance of 50 miles that they could travel from South Shields for a holiday during the 2nd World War.
The purpose of the visit to Belford was to have a short break at the 'Blue Bell Hotel' where my parents had stayed in the 1940s with my grandparents, Thomasina Fenwick (1880-1973) & Alfred Young (1878-1961) who were more frequent visitors. As they were friends of the manager & his wife, all hailing from South Shields. The 'Blue Bell' was originally a coaching inn on the main arterial road, the A1 between England and Scotland; this was prior to the by-pass built in 1983.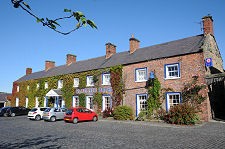 Bluebell Hotel, Belford (Parish Website)
My parents' wedding reception had been held at the 'Sea Hotel' on the South Shields sea-front on the 3rd August 1940 & this had been organized by the manager, before his move to Belford to manage the Blue Bell. It was only as we approached Belford, that I recalled that his surname was that of Mordue.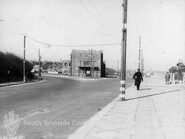 Sea Hotel: Photo taken by Amy C Flagg, local historian and war photographer on 20th March 1941 (Ref: STH0019002)
The Blue Bell is a very pleasant hotel & after a light lunch we walked around the town. It was the magnificent church of St Mary, designed by John Dobson & churchyard that most impressed us.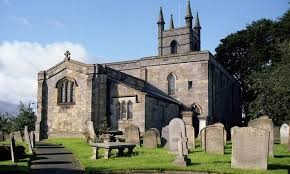 St Mary's Church, Belford (Parish Website)
It was walking back from the alter that I noticed a glass cabinet used to protect a memorial book for the deaths of residents of Belford who had died in the two World Wars. Too my amazement, it was open on a page commemorating the death of Henry Mordue the content of which is as follows.
So, there it was the sad and untimely death of Henry Mordue of whom I had no prior knowledge & his inextricable link with the 'Sea Hotel' & South Shields. I shared with the churchwarden this unlikely coincidence; she said that the pages in the book were turned every week so the probability of my finding his name was -----------------------? On several occasions, I have felt that the name of someone (usually on a gravestone), was reaching out to me to be remembered.
Henry Mordue (1920-1943)
On the day of my parents wedding the 3 August 1940, Henry would have been celebrating his 20th birthday. So incredibly sad that he only lived for another 3 years.
There are few records of Henry Mordue, not even a registration of his birth or baptism. According to the 1939 census, he was living at the Sea Hotel with his parents listed as the managers. He was born 3 August and worked at the General Post Office.
His father Henry William Mordue (1880-1969) was born in South Shields and prior to hotel management, he had worked as a barman & had owned a fruiterers shop in the town according to the 1901 & 1911 censuses respectively. In 1906 he married Robina Miller (1877-1960) in Gateshead. Mr & Mrs Mordue lived in South Shields until 1942 approximately. Perhaps they moved to Belford to escape the bombing? On the 16th February 1941, a German plane crashed near the hotel (See German Bomber Crashed in Bents Park Killing Nine).
Military Records
I have also been unable to establish when Henry joined the RAF. Following his training was posted to No. 50 Squadron at RAF Skellingthorpe in Lincolnshire. There is a record of his promotion to the rank of Flying Officer:
6th Mar. 1943: Henry MORDUE (139725).
SUPPLEMENT TO THE LONDON GAZETTE, i. JUNE, 1943 p 2512
RAF Skellingthorpe opened in 1941. The station comprised of three concrete/tarmac runways and one Type B1 and two Type T2 hangers. The accommodation for the airmen was in Nissen huts. Following WW1, the squadron was disbanded, reforming in 1937 at RAF Waddington as part of 5 Group Bomber Command before moving to Skellingthorpe. The squadron flew Hawker Hinds, Hampden Mk 1, Anson Mk 1, Master Mk 1 and later Manchesters and Lancasters Mk 1 and Mk 111.
The Squadron had an impressive record flying 7,315 sorties and discharging approximately 21,000 tons of bombs which was the highest total of any of the 5 Group Squadrons. However, 176 aircraft were lost, including that on which Flying Officer Henry Mordue served.
Whilst flying a Lancaster over France as a main part* of Bomber Command Volunteer Reserve he was shot down on the 30th September 1943 (corrected to 30th December).
Commonwealth War Graves at Runnymede memorial transcribed above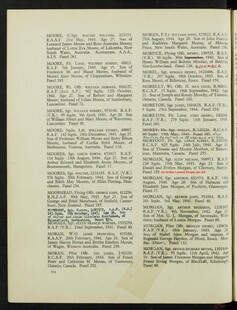 Remembering Henry Mordue of South Shields, Belford and the RAF. 'Lest We Forget'
VISIT THE BLUE BELL HOTEL