Thomas William Thomas (1881-1923)
The American Dream that ended in Tragedy
UPDATED: 14 JULY 2020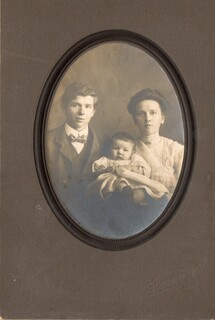 Part 1: Formative Years
EARLY CHILDHOOD
Thomas William was born at 3 Mount Pleasant Terrace, Mountain Ash, Glamorgan, Wales on the 30th August 1881, the son of Ellen Fry (1858-1887) and William Henry Thomas (1852-1930), a Railway Engine Driver.
Marriage Certificate of Ellen Fry and William Henry Thomas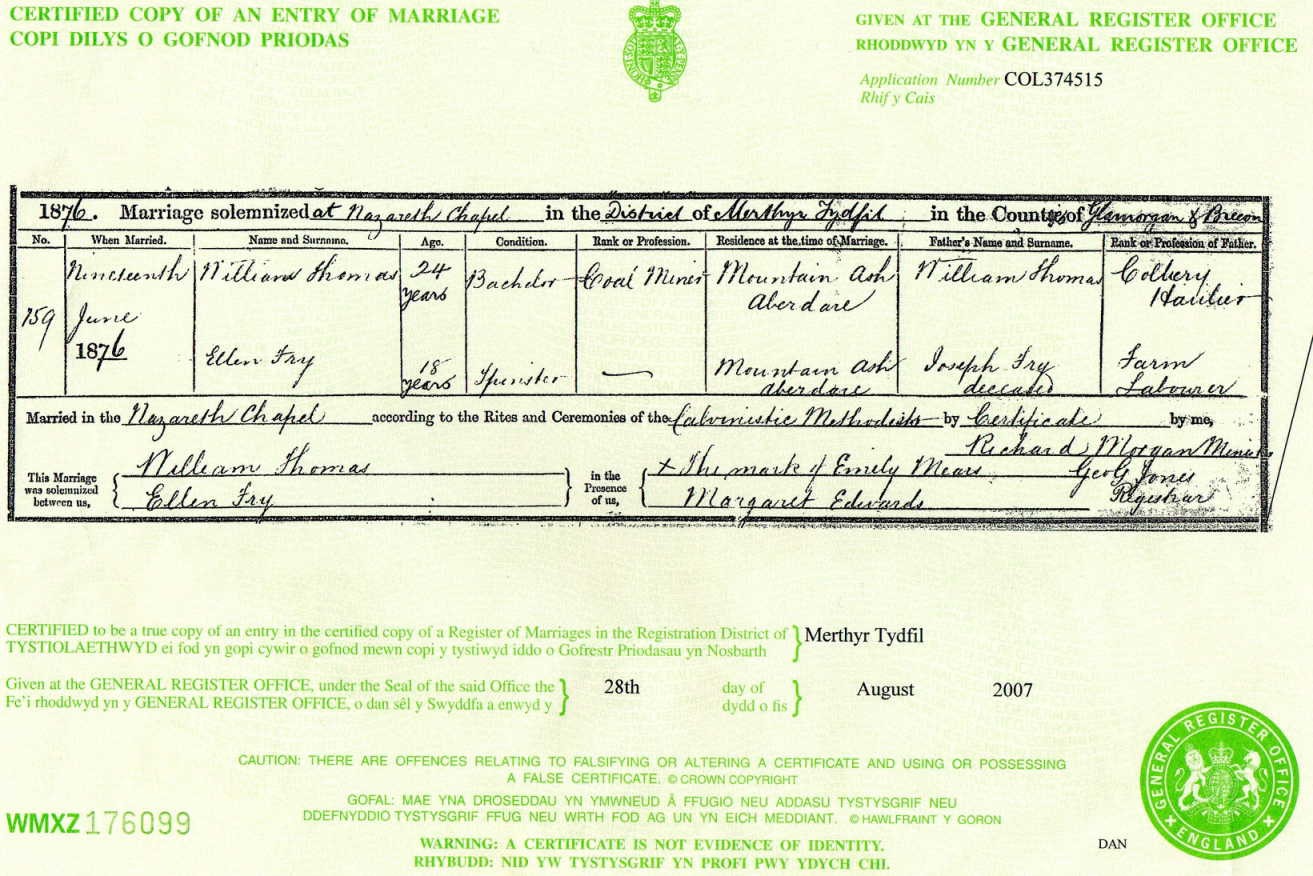 Ellen Fry
She was born in Brinkworth, Wiltshire in September 1858 and Christened at the Parish Church on the 24th October; she was orphaned at the age of two, her parents Mary Ann (Dixon) Fry (1827-1860) and Joseph Fry (1827-1860) both dying within a month of one another.
According to the 1871 Census, she was living with a recently widowed uncle, George Thrush (1818-1898), a market gardener and the husband of Mary (Fry) Thrush (1823-1871) who had died just before the census the sister of Joseph Fry. Also, in the household was Ellen's newly married sister Mary (Fry) Hall (1850-1933) and her husband William Hall (1847-1916). There is a strong possibility, that Mr and Mrs Thrush may have cared for some of the orphaned Fry children; however, as there is missing census data, this cannot be confirmed. Ellen's other siblings were, Martha (Fry Smith) Sellwood (1846-1924), Cordelia (Fry) Porter (1856-1939) and possibly James Fry (1854-1869).
The reason for Ellen to move to Mountain Ash was most likely because she was close to her sister, Mary and husband William Hall and this is where they lived for a short period of time between approximately 1873 and 1877; their first child, William Hall (1873-) was born in the town. They returned to Wiltshire, eventually permanently settling in the town, in 1894. Prior to her marriage, Ellen worked as a shop assistant in the central area of Mountain Ash.
William Henry Thomas
He was born on the 16th September 1852 in Rogerstone, Near Newport, Monmouthshire. He was the son of Susan (Davies) Thomas (1822-1882) and William Thomas (1820-1898).
Birth Certificate for William Henry Thomas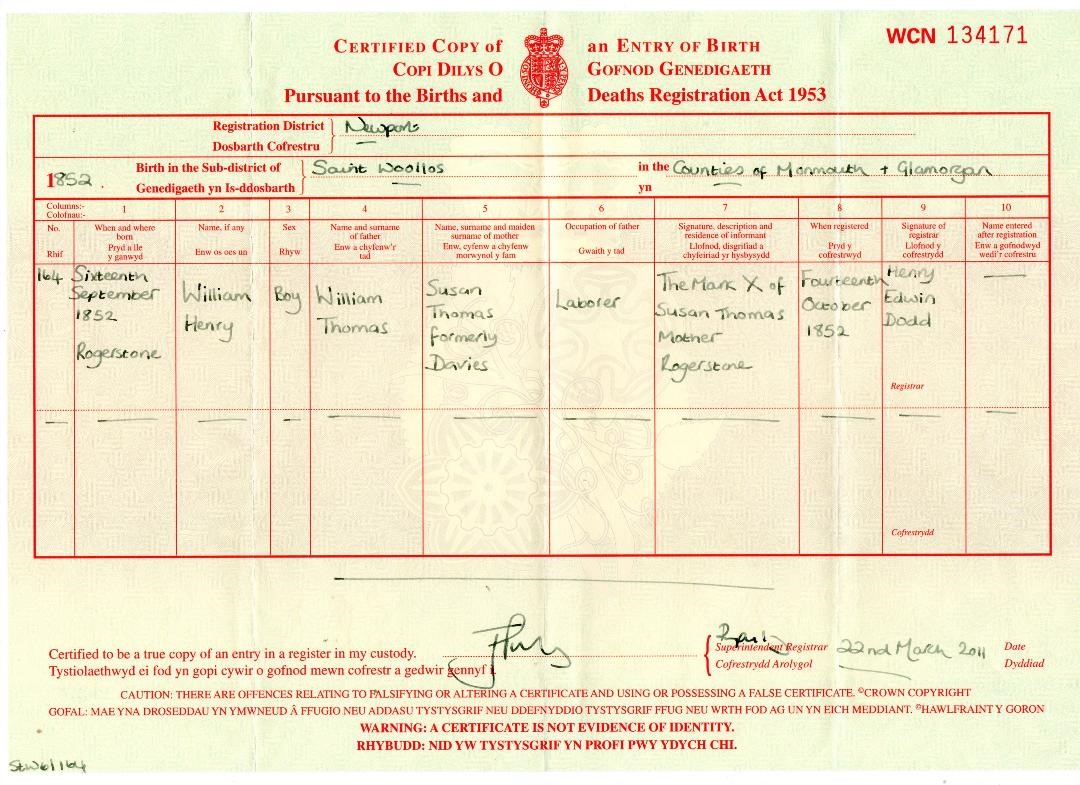 William, a sawyer, was born in Chilton Mendip, Somerset in 1820 and Susan was born in Bassaleg, Monmouthshire in 1822. Their marriage details:
17 November 1851 -Newport, Monmouthshire Married at Newport Register Office. Residence at the time of marriage given as Gaer, Nr. Newport (for both William Thomas and Susan Davies) . Respective fathers, William Thomas and Thomas Davies. Witnesses to the marriage William R Potter and Mary Sadler
They had settled in Mountain Ash, by 1857, the birthplace of their daughters Mary (Thomas) Thomas (1857-) and Emma (Amy Thomas) Cannings (1860-1937). From then onwards, they lived throughout their lives in Mountain Ash, at 41 Glyn Gwyn Street (William Henry's home in 1871), siblings and finally 11 Lower Forest Level.
Death of Ellen (Fry) Thomas
Sadly, Ellen died on the 19th September 1887 at 3 Mount Terrace, Mountain Ash, leaving William Henry to father five children under the age of nine years. William George (1877-), James Henry (1879-1938), Thomas William (1881-1923), John Fry (1884-1955) and Susan Cordelia (1886-1952).
Grave of Ellen (Fry) Thomas
Grave (395) of Ellen (Fry) Thomas at Aberffrwydd Cemetery, Caegarew, Mountain Ash. Also buried in this plot, Samuel and Prescilla, infant children of Mary Elizabeth and William Henry; Hayden, their third baby to die aged 7 months in 1895, may also have been interred here.
AFFECTIONATE REMEMBRANCE OF ELLEN. BELOVED WIFE OF WILLIAM THOMAS OF THIS PLACE. WHO DIED SEPT. 19. 1887. AGED 29 YEARS. BLESSED ARE THE DEAD WHO DIE IN THE LORD THAT THEY MAY REST FROM THEIR LABOURS AND THEIR WORKS & DO FOLLOW THEM. ALSO, OF SAMUEL THEIR SON DIED OCT. 10. 1888 AGED 7 MONTHS. ALSO, OF PRESCILLA THEIR DAUGHTER DIED NOV. 9, 1893. AGED 3 MONTHS.
Mary Elizabeth Bowles
William Henry re-married on the 10th May 1888 at St David's Primitive Methodist Chapel in Mountain Ash, when Thomas William was seven years old. His second wife Mary Elizabeth Bowles (1854-1918) born in Beaufort, Monmouthshire had been married twice before to Abraham Browning (1850-1877) and John Williams (1858-1887) with both husbands apparently dying in mining accidents. At the time of her marriage, she had two living children, Leah Browning (1876-1961) and Lily Alice Williams (1879-), her son Abraham James Browning (1877-1882) having died six years previously.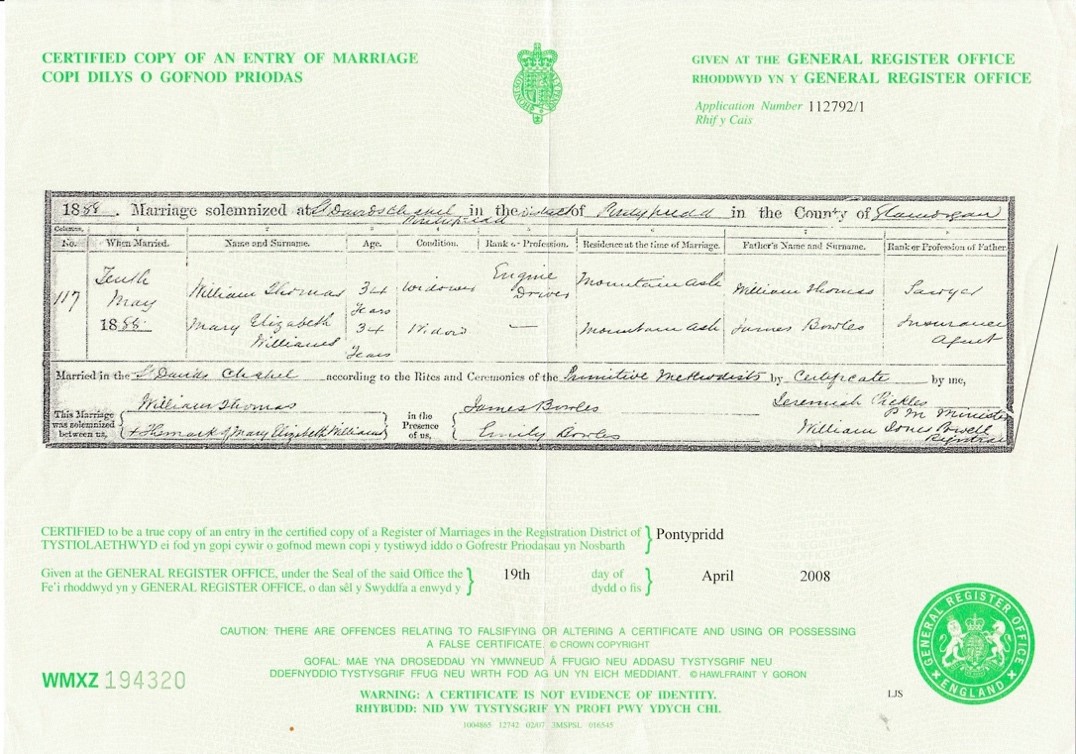 Transcription
1888- Marriage solemnized at St David's Chapel in the District of Pontypridd in the County of Glamorgan Tenth May 1888: William Thomas, 34 Years, Widower, Engine Driver: Father William Thomas, Sawyer Mary Elizabeth Williams, 34 Years, Widow: Father James Bowles, Insurance Agent Married in the St David's Chapel, according to the Rites and Ceremonies of the Primitive Methodists by Certificate by me, Jeremiah Pickles, PM Minister; William Jones Powell, Registrar Signatories: William Thomas & The Mark of Mary Elizabeth Williams Witnesses: James Bowles (Alfred James Bowles) & Emily Bowles (Emily Churchill Coveney) (brother & sister-in-law of Mary Elizabeth)
Photograph of William Henry Thomas and Mary Elizabeth Thomas
Assumed on their Wedding Day
They were married for 30 years and were the parents of 5 children: Samuel (1889-1889), Bertie (1890-1980), Sarah Ann (1891-1980), Prescilla (1893-1893) and Hayden (1895-1895), born during the first 6 years of their marriage. Three of the children died as babies.
Duffryn Street, Mountain Ash
William Henry and Mary Elizabeth moved to this nine-roomed terrace house early in their marriage and it is where their five children were born, and the family home for William Henry's five children and Mary Elizabeth's two surviving children also lived. The house is still owned today by their descendants. The occupancy changed over the period of three consecutive censuses.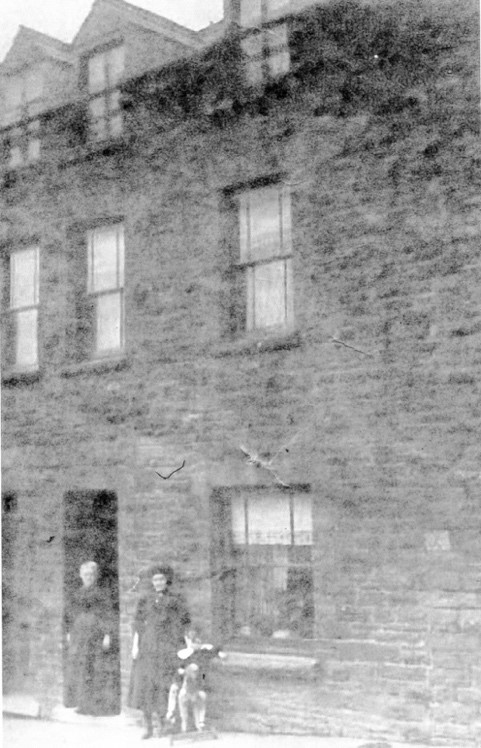 1891 Census
At 86 Duffryn Street, there were ten occupants; William Henry (Locomotive Driver), Mary Elizabeth, Leah-at home, William George-coal-miner, James Henry, Thomas William, John Fry, Susan Cordelia; and Lily Alice at school, and Bertie, a baby.
1901 Census
By this time, there was a reduced occupancy at 86 Duffryn Street, the household comprised of William Henry, his sons, William George a coal-hewer, James Henry and Thomas William who were Stationary Engine drivers, John Fry an Iron Moulder and Bertie of school age; daughters Susan Cordelia and Sarah Ann and servant, Emily Franscombe. Mary Elizabeth was in hospital and Leah Browning and Lily Alice Williams, had married.
1911 Census
At this time, there were six adults living at 86 Duffryn Street; William Henry (Railway Engine Surface Driver at the Colliery), Mary Elizabeth, John Fry (Waggon Fitter Surface at the Colliery), Susan Cordelia (Working for the Home, on own account, at Home), Bertie (Ironmonger's Assistant at Ironmonger's Shop), Sarah Ann (Dressmaker, on own account, at Home). They were not bilingual, specifying their language as English only. William Henry, signed the census return, specifying that the house had nine rooms which the excluded kitchen etc. Thomas William, had by ten lived five years in Altoona, Pennsylvania.
The Thomas Family in 1895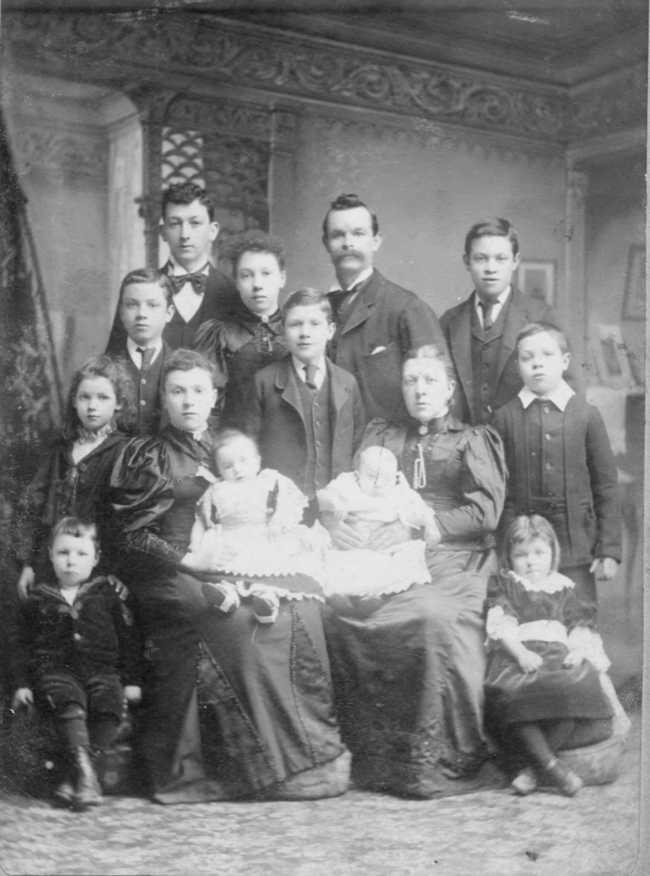 Mary Elizabeth, seated at the right with baby, Hayden on her lap, and Sarah Ann, seated to her side; Leah (Browning) Hollyman (1876-1961), is seated with her daughter, Millicent Maud Hollyman (1894-1987) on her lap. To her left Susan Cordelia, with her hands-on Bertie. William Henry, centre back with Lily Alice between him and to his left, William George with Thomas William in front of him, and James Henry to his right with John Fry in front of him. Estimated date, August 1895 (Hayden died 17 September 1895)
The Bowles Family
Mary Elizabeth's parents Mary (Lewis) Bowles (1832-1900) and James Bowles (1831-1898) moved to Mountain Ash in about 1875 where they both died. Mary was born in Merthyr Tydfil in 1832 to Esther Ann Davies (1807-1844) and William Lewis (1807-1871). William, a Shoemaker and Methodist Minister, eventually settled in Pennsylvania.
James was born in Nunney in Somerset, to Elizabeth Garrat (1797-1874) and George Bowles (1791-1867). They had married at the Carmel Chapel, Beaufort, Crickhowell, Breconshire when they were both aged nineteen years. James and his father were both miners.
Mary James were parents to eleven children; Anna Maria (1847-48), Sarah Ann (1850-1850), Esther Ann (Bowles) Evans (1852-1918), Mary Elizabeth (Bowles, Browning, Williams) Thomas (1854-1918), Alfred James (1857-1928), William George (1859-1937), John Henry (1865-1936), Rhoda (1868-1873), Leah (Bowles) Brooks (1871-1949), Priscilla (Bowles) Branch (1874-1930) and Samuel (1876-1949).
Portrait of Mary (Lewis) Bowles with her Daughters
(Date: estimated 1886)
Mary (Lewis) Bowles (1832-1900), seated centre with her daughters: standing, left-(Mary Elizabeth (Bowles, Browning, Williams) Thomas (1854-1918), right-Esther Ann (Bowles) Evans (1852-1918); seated, left-Leah (Bowles) Brooks (1871-1949), right, Priscilla (Bowles) Branch (1874-1930).
Two of Mary Elizabeth's sisters died before her birth, and one, Rhoda at the age of five years leaving eight surviving into adulthood, most of whom lived for all or part of their lives in Mountain Ash. Mr and Mrs Bowles had over thirty grandchildren.
Bowles Family Portrait in Mountain Ash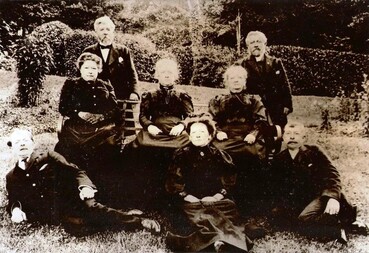 This photograph is undated, it may have been taken following the funeral of James Bowles in 1898 with Mary (Lewis) Bowles in the centre, her four sons including Samuel Bowles bottom right and three of her four daughters.
The Extended Family
During his formative years in Mountain Ash, Thomas William was surrounded by close relatives; his grandparents, William Henry Snr. and Susan lived at 11 Lower Forest Level; their daughters, Mary (Thomas) Thomas (1857-) and Emma (Thomas) Cannings (1860-1937) also continued to live in the town. One of Thomas's three maternal aunts, Mary (Fry) Hall (1850-1933), like his mother, also born in Brinkworth finally settled in Mountain Ash in 1894, with her three surviving children. Thomas William had thirteen full cousins living in the area. I was delighted to learn from a relative of my husband's still living in Mountain Ash, that Thomas William had a happy childhood; Mary Elizabeth loved all the children in the household equally, regardless of whether or not she was their birth mother.
It was because of Mary Elizabeth's cousins in Pennsylvania and their close feeling of kinship to their relatives in Mountain Ash, that Thomas William, although not a biological relative, was able to relocate there in 1906.
My thanks to Malcolm King, great grandson of Susan Cordelia Thomas especially for the photographs and to the granddaughters of Sarah Ann Thomas for their knowledge, friendship and support.
---
SEE ALSO ALTOONA (PA) POSTCARD