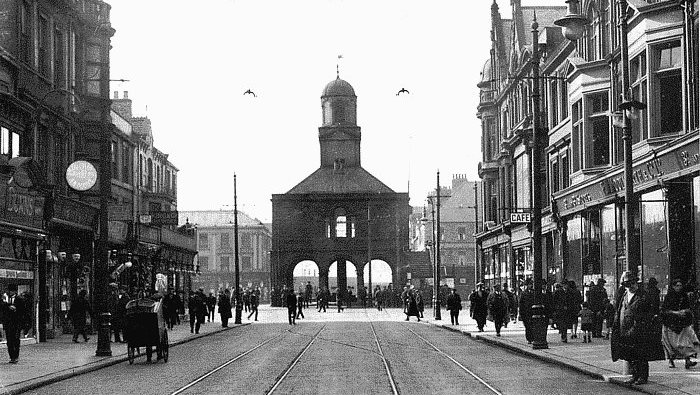 Thomas William Thomas (1881-1923)
The American Dream that ended in Tragedy
UPDATED: 02 AUGUST 2020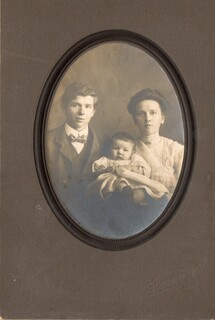 Part 2: Marriage and Pennsylvania
MARRIAGE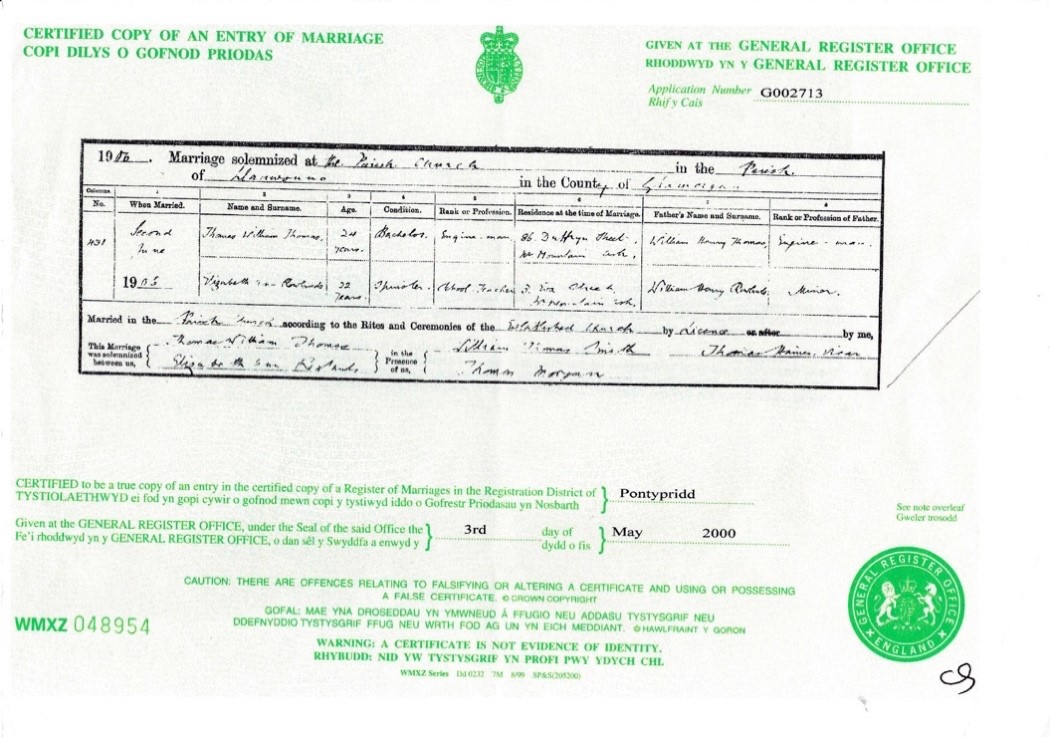 Marriage Certificate: 2nd June 1906
On the 2nd June 1906, Thomas William, aged 24yrs, an Engine Man, married Elizabeth Ann Rowlands (1883-1910) aged 22yrs, a School Teacher at the Parish Church in Mountain Ash. His address was 86 Dufferin Street and Elizabeth Ann's, 5 Eva Street both in Mountain Ash. Thomas William was the son of William Henry Rowlands, an Engine Man and Elizabeth Ann, the daughter of William Henry Rowlands, a Miner. They were married by Special Licence (no Banns read) by Thomas Haines, with witnesses William Thomas Smith and Thomas Morgan.
Elizabeth Ann Rowlands like Thomas Henry was also born in Mountain Ash and continued to live there even when her parents moved to Glynneath; she was working as a Pupil Teacher at the time of her marriage. Elizabeth Ann was expected to continue her teacher-training at college. As a married woman she could not do so and in fact her parents were unaware of her marriage to Thomas William. It was only when she was preparing to emigrate to Pennsylvania with Thomas William in September 1907 that she showed her marriage certificate to her parents who had thought that she was packing her bags to attend college.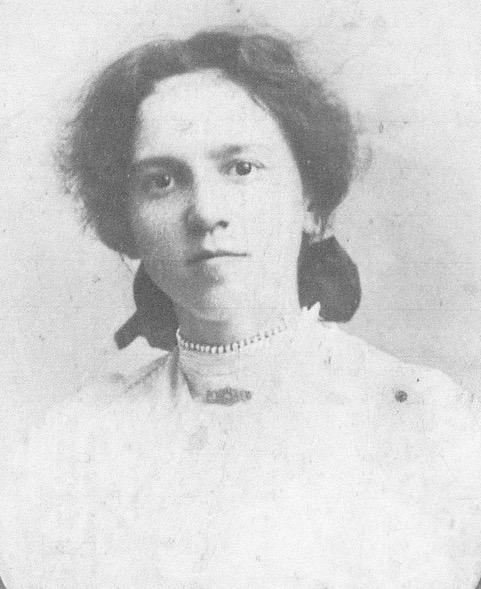 One of only two photographs of Elizabeth Ann Rowlands. Date possibly in 1906 at the time of her marriage.
ROWLANDS FAMILY
Elizabeth Ann's parents, were Ruth (Thomas) Rowlands (1862-1932), born in Mountain Ash and William Henry Rowlands (1861-1936), a coal miner born in Aberdare, Glamorgan.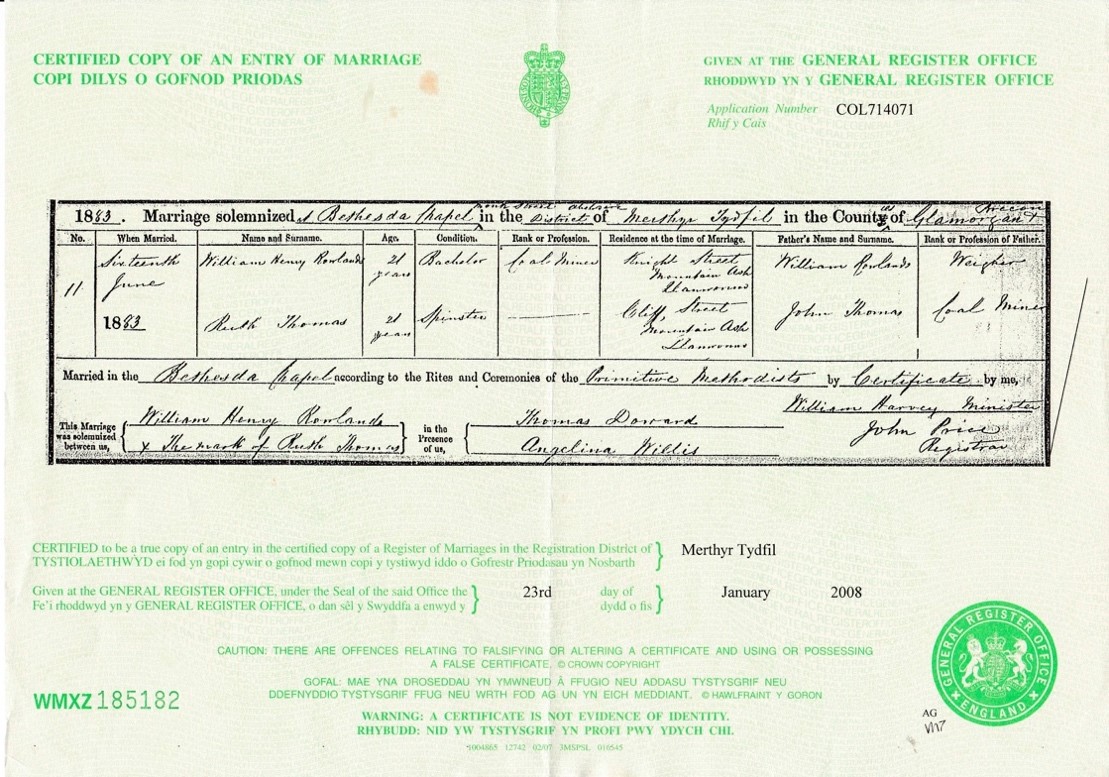 Marriage Certificate: 16th June 1883
On the 16th June 1883, William Henry Rowlands, aged 21 years, a Coal Miner, married Ruth Thomas (signed with a mark) also aged 21yrs, at the Bethesda Chapel, Monk Street in the District of Merthyr Tydfil. His address was Knight Street and Ruth's, Cliff Street both in Mountain Ash. William Henry was the son of William Rowlands, a Coal Weigher and Ruth, the daughter of John Thomas, a Coal Miner. They were married in the Ceremonies of the Primitive Methodists by Certificate by the Minister, William Harvey in the presence of John Price, the Registrar with witnesses Thomas Dorward and Angelina Willis.
After their marriage they lived at 37 Cliff Street, Mountain Ash remaining there, until the early years of the twentieth century when they moved to Glynneath, another mining town in Glamorgan where they remained for the rest of their lives; their home was at 32 Heathfield Avenue initially with the three of their four surviving children, Isaac Rowlands (1887-1964), Rosanna (Rowlands) Owen (1893-1955) and Charles Frederick Rowlands (1899-).
William Henry's parents were Ann Williams (1824-1879) and William Rowlands (1814-1885). William's place of birth he gave as Gosport, Hampshire for the censuses 1851-71. I have been unable to find his parents and the only pertinent record I have located, is in a Rate Book (Portsea, Hampshire) dated 3rd Nov 1826 with the address of Montague Row of a boy born 1816 (Poor Rate No.7:Ref. DT/R/2/173-Folio No. 9). Given that William was born at the time of the Napoleonic Wars and his birthplace was a seaport on the South Coast, which may well have even been onboard a vessel, it has so far, been impossible to establish his parentage. His surname does suggest a Welsh connection and by the time he was aged thirty, he was living in Wales.
In 1846, William married Ann Williams (1824-1879) in Abergavenny, Monmouthshire. He was working as a coalminer in Llanelly, Breconshire where he remained until about 1854. Thomas Rowlands (1846-1918) and Louisa (Rowlands) Barter (1852-1936), John Rowlands (1854-1934), Ann and William's children were born in Llanelly (we visited five years ago; it was difficult to envisage that this had been a bustling mining area in the mid nineteenth century). Two other children William Henry Rowlands (1861-1936) and Sarah Ann (Rowlands) Matthews (1863-1909) were born in Glamorganshire, in Aberdare and Mountain Ash respectively. William continued working in the mines, finally as a coal-weigher; living for over twenty years in Mountain Ash.
Ann (Williams) Thomas (1824-1879), was born in Llanwenarth, Monmouthshire, dying at her home of over twenty years, 8 Knight Street, Mountain Ash; similarly, her mother, Susannah (Freeman) Williams (1791-1875) was born in Llanwenarth and died at the home of Ann and William Rowlands in Mountain Ash. Of their children, Louisa (Rowlands) Barter (1852-1936) lived for over seventy years in Mountain Ash; John Rowlands (1854-1934) moved from Mountain Ash to Cardiff in 1900, William Henry Rowlands (1861-1936), Elizabeth Ann's father settled in Glynneath, prior to the marriage of his daughter in 1906 and Sarah Ann (Rowlands) Matthews, after her marriage lived in Tamworth, Warwickshire and in 1911, Bedwelty, Monmouthshire where her husband, George Matthews, worked as a miner. Thomas Rowlands (1846-1918), emigrated to Pennsylvania in 1883 with his wife, Jane Emma Mogg (1858-1927) in 1883 from their home in Mountain Ash.
THE ROWLANDS IN PENNSYLVANIA
It has been impossible to establish whether Elizabeth Ann had any contact with her uncle Thomas when she was living in Pennsylvania. Thomas deleted the letter 's' from his surname during his settlement in the USA as well as adding Freeman, his mother's maiden name as a second Christian name.
Jane Emma and Thomas were parents to 3 children. William J Rowland (1892-1959), James Rowland (1898-1966) and the eldest Harriet Anna (Rowland) Hudson (1884-1966) cousin of Elizabeth Ann was born in Houtzdale, Clearfield County, PA in October 1884, dying in the same area in 1966 and buried in the Hillcrest Cemetery in Clearfield. An interesting fact is that Harriet Anna's daughter, Dorothy Mae (Hudson) Nelson (1922-2018), lived until she was ninety-six born and dying in Clearfield County. She was in fact, the second cousin to William Rowland Thomas (1909-1993), my father-in-law.
THE CARMARTHENSHIRE THOMAS'S
Ruth (Thomas) Rowlands (1862-1932), grandmother of Elizabeth Ann, was born in Mountain Ash, her parents had settled in the town, moving eastwards from rural employment in Carmarthenshire in the late 1850s to work in the mines, firstly to Tythegston, Glamorgan then to Mountain Ash in 1860. John Thomas was born in St Clear's (this was where we spent a very wet caravan holiday about twenty-five years ago); and worshipped at the Bethlehem Independent Congregational Church in Saint Clears. Elizabeth (Davies) Thomas (1832-) identified her birthplace also as St Clear's until the census of 1891 claiming it to be Cilrhedyn, Pembrokeshire, Wales.
Ruth had at least eight siblings who settled in Glamorganshire. Her sister Roseanna (Thomas) Thomas married Edward Thomas (1879-) and by 1911 was living in Cwmbach, Aberdare which was also the hometown of Mary Elizabeth (Pardoe) Thomas (1913-2009) my Mother-in-law. Researching this aspect of my husband's family tree is especially complicated because Thomas's marry Thomas's not only on his paternal line but also his maternal; both of Mary Elizabeth's sisters married as she did, men with the surname Thomas. It is therefore difficult to establish the accuracy of the family links.
ELIZABETH ANN ROWLANDS'S COUSINS
Just as I estimated that Thomas William had over 30 cousins, the situation was similar for Elizabeth Ann, with many living in Mountain Ash, with some in Swansea, Cardiff, Glynneath, Cwmbach and Clearfield, Pennsylvania. The poignant death notice for William John Rowland (1892-1959), full cousin of Elizabeth Ann and whose parents emigrated from Mountain Ash provides a fascinating insight into the history of one branch of the Rowlands' family.

PARTIAL TRANSCRIPTION:
Partial Transcription:-William J Rowland of Niagara Falls, N.Y., a former Clearfield, Pa., resident, died in Memorial Hospital at Niagara Falls (on the 4th November 1859)….following an illness of one week. Born at Brisbin, Pa., he was the son of the late Thomas and Jane (Mogg) Rowland (Mountain Ash, Wales). Mr Rowland was a veteran of WW1. Surviving are 2 children; Harold Rowland, Niagara Falls; Mrs William Nicks, Owensboro. Ky; 5 grandchildren and 2 sisters and a brother: Mrs Annie Hudson, James Rowland, both of Clearfield; Mrs Elizabeth Twist, Philipsburg, Pa. His wife, Bessie (Bumbarger) Rowland, 2 sons William Jr. and James, preceded him in death.
COAL MINING IN MOUNTAIN ASH
Various aspects of coal-mining was the main source of employment for most of Thomas William and Elizabeth Ann's relatives; both of their fathers were employed in the mines as indeed were Elizabeth Ann grandfathers. The mine in Mountain Ash where they worked was the Deep Duffryn Mine; William Henry Thomas was employed as an engine driver, transporting the coal whilst Thomas William was a stationary engine driver at the pit head.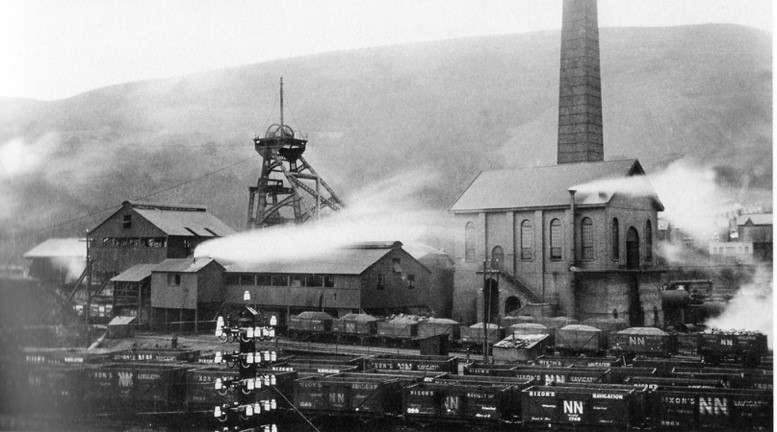 Deep Duffryn Mine - at full capacity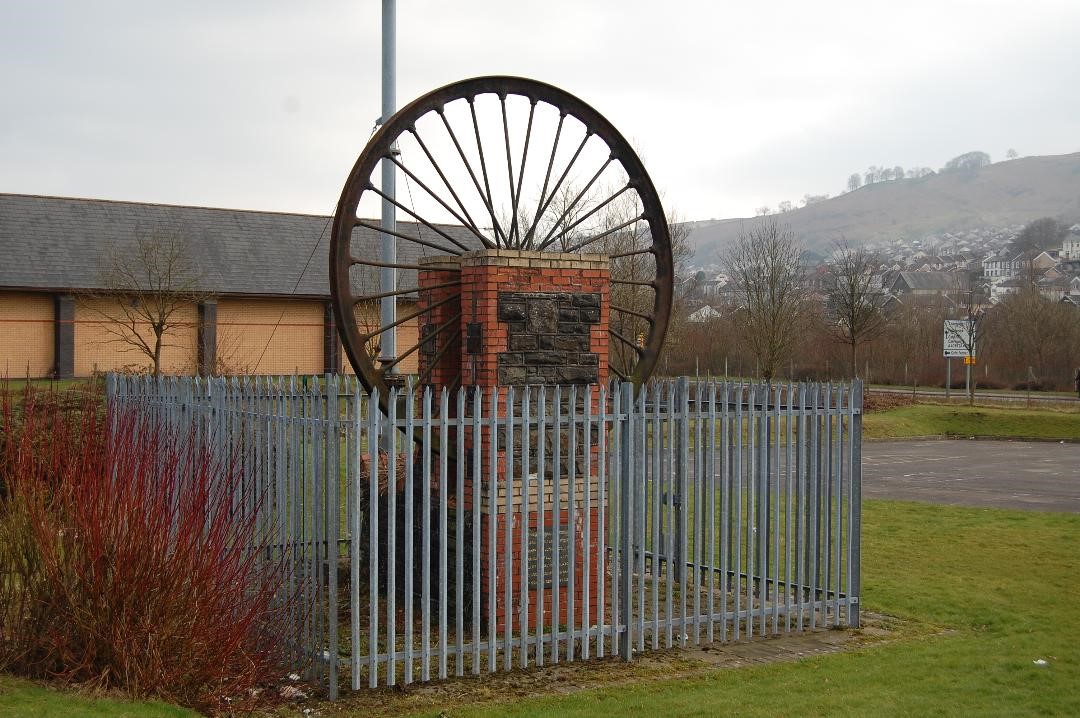 Deep Duffryn Mine - as it is today
Deep Duffryn Mine - Memorial
To work in Aberpergwm Colliery, Glynneath (1860-1985), was the reason for William Henry Rowlands to leave Mountain Ash. An interesting fact is that the mine reopened in the early 21st Century after years of inactivity, however, it has again been recently mothballed. The colliery is currently owned by an American company.*
Voyage to the USA from Liverpool on the ship 'Cedric'
on 16th September 1907 Manifest
Elizabeth Ann and Thomas William set sail for the USA on the 26th September 1907, fifteen months after their marriage and seven months after their application for immigration was accepted. They sailed on the ship 'Cedric' from Liverpool, Lancashire, England.

Extract from the 'Cedric' Manifest
The Relevant Extract from the Manifest is as follows:-
| | | | | | | |
| --- | --- | --- | --- | --- | --- | --- |
| Surname | Christian Name | Age | Occupation | Residence | Next of Kin | Destination |
| Thomas | Thomas | 26 | Engineer | Glyn Neath | (Father-William Thomas, 86 Duffryn Street, Mountain Ash) | Pittsburgh |
| Thomas | Elizabeth | 23 | Wife | ditto | - | ditto |
Part 3 covers their settlement in Pennsylvania 1906-1910
I am grateful to Malcolm King for this information.
---
SEE ALSO ALTOONA (PA) POSTCARD