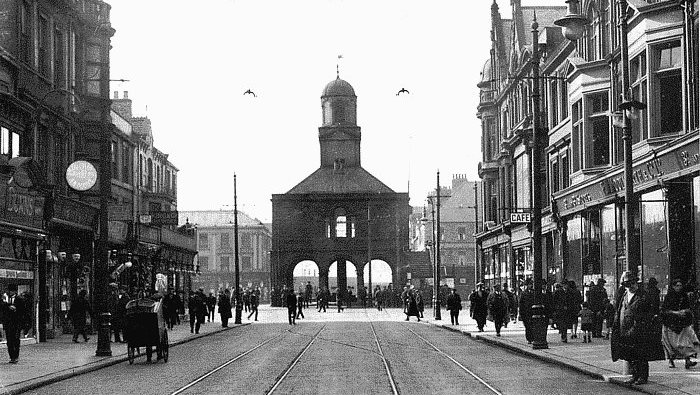 Thomas William Thomas (1881-1923)
The American Dream that ended in Tragedy
UPDATED: 26 SEPTEMBER 2020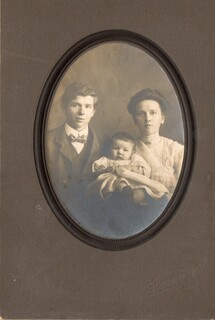 Part 6: Mountain Ash to New Kensington, Pennsylvania
Altoona
Thomas William remained in Altoona working as a storeman. When as a family, we visited Altoona library in 2005, we found an entry for him living in 9th Avenue in 1913. In 1914 he returned to Wales staying at 86 Duffryn Street, Mountain Ash whilst his five-year-old son, 'Rowland' was living with his maternal grandparents in Glynneath, almost 12 miles away. This was not an ideal situation as it must have been almost impossible for the father and son to develop a lasting relationship.
New York Passenger and Crew Lists 1820-1957: Ship: Adriatic (William T Thomas)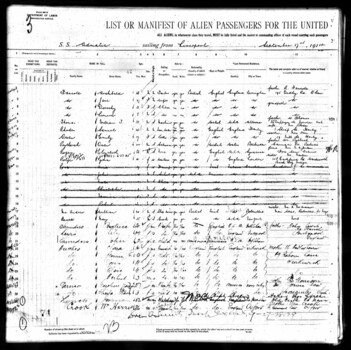 List or Manifest of Alien Passengers for the United States (1)
Arrival date: 26/09/1914; Birth Date: 1881; Last Permanent Address: USA
Other Last Permanent Address: Mountain Ash; Age: 33; Gender: Male; Ethnicity/ Nationality: Welsh
Port of Departure: Liverpool, England; Port of Arrival: New York.
I have included this record in its entirety in part because this is the most detailed record of the four referenced in this 6th Part; it has been problematic sourcing the manifests for Thomas William's final visit.
World War 1-1914-1918
Since Thomas William departed for the USA after the beginning of the war and was in Wales when war was declared on Germany in August 1914, he probably gave thought to remaining in Mountain Ash, working back at Duffryn Colliery and starting a home for his son whilst at the same time being close to his father and extended family. However, he may not have wanted to return to working in the mine and still had aspirations of realising his American dream of a better life across the Atlantic Ocean.
Whilst in Wales, he would have been subjected to but was evidently not influenced to enlist by Lord Kitchener's campaign, promoted by his famous recruitment posters, ''Your Country Needs You''. Over one million men had signed-up by January 1915.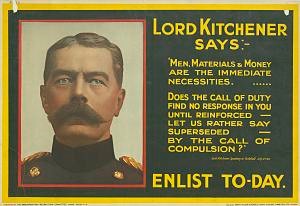 (2)
There was also the risk (which may not have been apparent at the time), that although mining was ostensibly designated as protected employment, a possibility remained of being conscripted which later proved to be the case, with the passing of the Military Service Act in 1916.
Erie, Pennsylvania 1918
After his return to Altoona in September 1914, I cannot account for his movements between then and four years later, when he had settled in Eerie working as a machinist and living in some form of shared accommodation at 124 East 5th Street (also the home of Quarter Master Sergeant Napoleon Bressard) (3).
WW1 American Registration (4)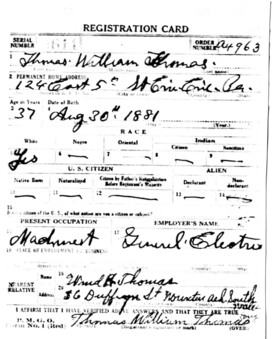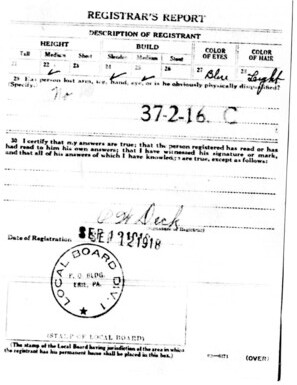 I consider this to be a valuable document in telling the story of Thomas William Thomas as not only does this display his signature but also provides details of his physical characteristics.
Registration Card
Thomas William Thomas
Race: White
Birth date: 30/08/1881
Street Address: 124 East 5th Street
Residence Place: Eerie, Eerie, Pennsylvania USA
Relative: William H Thomas, 86 Duffryn Street, Mountain Ash, South Wales
Registrar's Report
Description of Registrant
Height: Medium
Build: Slender/Medium
Colour of Eyes: Blue
Colour of Hair: Light
No physical disabilities
Registration: 37-2-16. C
Registrar: D W Deck
Date of Registration: Sept 12, 1918
Liberty Loan Parade, Eerie, Pennsylvania: Sunday, 29th September 1918
This was the ''longest and greatest'' parade ever held in the city ''A solid mass of humanity'' marched to encourage people to buy bonds to support the war effort. The soldiers and sailors home on furlough lead the parade. There were an estimated 20,000 marchers representing schools, services, industry etc. with about 50,000 people lining the streets to watch the procession. There was a strong likelihood that Thomas William was amongst marchers as a representative of General Electric or at least as a spectator.
Spanish Flu
The 1918-19 flu pandemic killed between 50 million and 100 million people worldwide, more than the Bubonic Plague and World War I combined. Soldiers on crowded military bases and troop ships were hit especially hard and helped spread the contagion.
The parade in Erie was awe-inspiring, by all accounts but it was to prove deadly because the sheer volume of people who helped to spread the virus; even one person infected could pass it on to hundreds through a cough, a sneeze or spit with complications whereby victims struggled for air and suffocated on fluids that built up in their lungs.
Within a week there were 250 cases of Spanish influenza in Erie and by the end of October, thousands were ill with more than 100 dead, and by Christmas Day, the death toll was over 500. The contagion, "once given a start, spreads like wildfire," said Dr. John W. Wright, chief of the Erie Board of Health in 1918. Presumably, Thomas William was not affected (5).
Writing at the time of the Covid-19 pandemic, there are definite parallels with regards to how the Spanish 'Flu progressed eventually amongst younger people as is the case today.
Mountain Ash for the Final Time
Thomas William returned to Wales in May 1921, sailing onboard the Adriatic and arriving in Southampton on the 13th May; he initially stayed at 84 Queens Street, London which was a small hotel (6). It was almost seven years since he had last seen his 11yr old son, Rowland and his father, William Henry. Mary Elizabeth (Bowles) Thomas his stepmother who supported his emigration, had died in 1918.
It was the sinking of RMS Lusitania, a British ocean liner with American passengers onboard on the 7th May 1915 by a German U-boat 11 miles off the southern coast of Ireland, killing 1,198 passengers and crew that resulted in the United States declaring war on Germany. Non-essential travel to and from the USA was in effect terminated. (7)
Thomas William was in Glamorgan for less than six weeks staying at the family home at 86 Duffryn Street, Rowland continued to live 12 miles away in Glynneath with his paternal grandparents.. There is no evidence of the extent of their meetings; this was the final opportunity that Thomas William had, to forge a lasting relationship with his son. Sadly, I cannot recall any reflections made by Rowland to me of his father, who was after all, his benefactor. On reflection, he was probably influenced by his maternal relatives in Glynneath, who blamed Thomas William for taking his mother, Elizabeth Ann to Altoona, ultimately resulting in her untimely death. He did tell his sons that the only Christmas present he received was a Holiday Annual, which my husband not so log ago, realised that this must have been sent from the USA, as Christmas is referred to the holiday season.
Boyhood Photograph of William Rowland in Glynneath 1920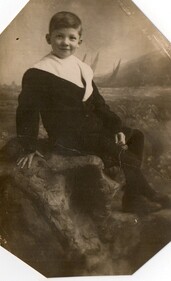 Return to Pennsylvania
According to the manifest for Thomas William's return journey, onboard the Cunard ship Aquitania which departed from Southampton for New York on the 25th June 1921, Thomas William was still working as a machinist, possibly with General Electric in Erie. In writing this tragic story, it is uplifting to learn that he travelled 2nd Class giving his last UK address as the Palace Hotel in London where he hopefully enjoyed the tourist experience (8).
The Future
Thomas William's intention was for his son, Rowland to join him in Pennsylvania when he attained the age of 21yrs (August 1930). Meanwhile, he financially supported the living expenses and education of Rowland who was still residing with his maternal grandparents in Glynneath. As I have written previously, Rowland was a clever boy and at the age of eleven, in 1920, he passed a scholarship, which did incur costs to Neath Grammar School. Without this funding, it is probable that Rowland would have worked in the mine with his paternal uncles and cousins.
Working for the Valley Camp Company
Sometime after his return to Pennsylvania, in 1921, Thomas William changed his employment as a machinist, reverting to working in the coal mines which he hadn't done so, since leaving Mountain Ash in 1906. There is no definitive explanation as to why Thomas William decided to do so, moving over 130 miles from Erie where he had lived for at least three years to New Kensington, on the Allegheny River, 18 miles from Pittsburgh. The family story is that he wanted to accrue more funds to provide a comfortable life for Rowland in the States.
He had maintained his friendship with Esther Ann (Lewis) and James Cromwell Hatch in Altoona, visiting according to Esther Ann, every Summer. On his final visit in 1922, he had assured them, that although he had returned to mining, he was not working at the coal face (see Part 7). Evidently, this was not the case.
Death in a Parnassus Coalmine 7th June 1923
The newspaper headlines for The Daily Dispatch of the 8th June
'Injuries Caused Death of Parnassus Coal Miner Yesterday'
This leads into an account of the sad and untimely death of Thomas William (referred to as William).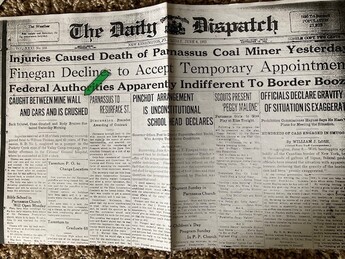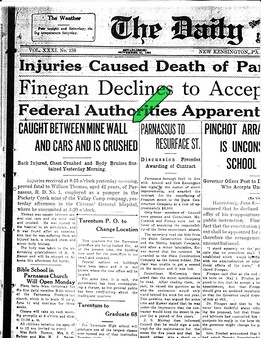 CAUGHT BETWEEN MINE WALL AND CARS AND IS CRUSHED
Back injured, Chest Crushed and body Bruises Sustained Yesterday Morning.
Injuries received at 8.15 o'clock yesterday morning, proved fatal to William Thomas aged 42 years, of Parnassus, R.D.No.1 employed as a pumper in the Puckety Creek mine of the Valley Camp company, yesterday afternoon in the Citizen's general Hospital where he succumbed at 3.20 o'clock.
Thomas was caught between several coal carts and the mine wall and crushed. He was rushed to the hospital in an ambulance, and it was found after an examination that he was suffering from an injured back, a crushed chest and miner body bruises.
The body was taken to the undertaking establishment of A A Hamer and will be shipped to Altoona this afternoon for burial (9) (See Part 7).
Pennsylvania Registers of Mine Accidents, Bituminous 1918-1924
This is a substantive document which records in alphabetical order, all of the hundreds of accidents and deaths in the bitumen mines of Pennsylvania over a six-year period. Extracted below, is the record for Thomas William which is not completely accurate.
Transcription:
Card No. 10; Mine Name: Kinloch; Operator: Valley Camp; Year: 1923; Month/Day: 6/7; Name: Thomas; First & Middle Name: Thomas W; Age: 43; Fatal/Non-Fatal: fatal; In/Outside: inside; Occupation: Pumpman; Nationality: Welsh; Citizen/Alien; citizen; Single or Married: widow; Children: 0; Mine Experience: caught between a car & rib bottom slope; Fault? (victim, others, unavoidable): victim; County: Westmoreland; Page; 114; Mining District: 29th; Film: 3596; Coal Type: Bitumen NB. He had a child and he was not a citizen (10).
Ancestry: Passenger Ships & Images Database
Wikipedia: Lord Kitchener Says
Retired List of Enlisted Men of the Marine Corps-Corrected to May 24th, 1917 (Google)
Ancestry: World War I Draft Registration Cards, 1917-1918, Erie; Roll: 2022693; Draft Board: 1
The story of Erie and the 1918-19 Spanish flu pandemic, VALERIE.MYERS@TIMESNEWS.COM
Ancestry: Passenger Ships & Images Database
Wikipedia: RMS Lusitania
Ancestry: Passenger Ships & Images Database
The Daily Dispatch, 8th June 1923-sourced by Tomi Larsen, Pittsburgh
history.denverlibrary.org > sites > history > files > PAmineRegB1918-1924: