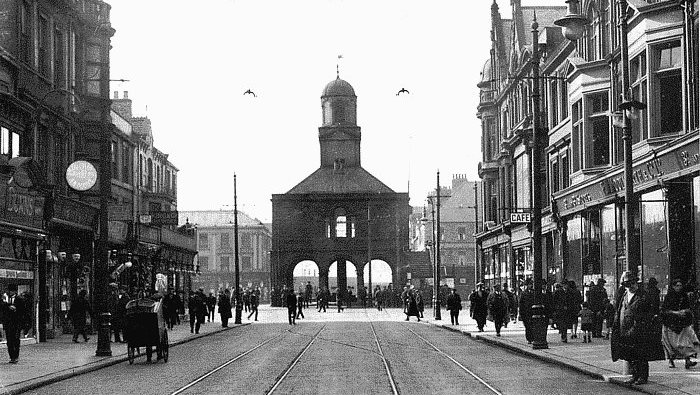 Thomas William Thomas (1881-1923)
The American Dream that ended in Tragedy
UPDATED: 29 AUGUST 2020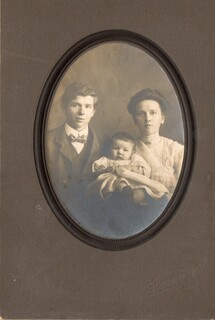 Part 5: Altoona to Glynneath
Elizabeth Ann (Rowlands) Thomas
When I visited Altoona with my husband and sons in 1997, the only record we had was the birth certificate for my husband's father as shown in Part 4. The family story was that Thomas William Thomas had whisked her away from her family in Glynneath, prevented her from pursuing her career as a school-teacher and had taken her to America to live in a place with an inclement climate causing her health to fail and ultimately her premature death. My husband was aware of the fact that there had been a severing of relationships between the Thomas and Rowlands families in Glynneath and Mountain Ash long before his birth.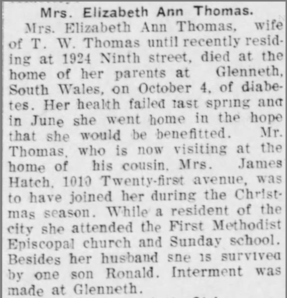 Altoona Tribune 17th Oct 1910: courtesy of Tomi (Lewis) Larsen
Transcription:
Mrs Elizabeth Ann Thomas
Mrs Elizabeth Ann Thomas, wife of T W Thomas until recently residing at 1924-Ninth Street, died at the home of her parents at Glynneath, South Wales, on October 4 of diabetes. Her health failed last Spring and in June she went home in the hope that she would be benefitted. Mr Thomas who is now visiting at the home of his cousin, Mrs James Hatch, 1010 21st Avenue, was to have joined her during the Christmas season. While a resident of the city she attended the First Methodist Episcopal Church and Sunday School. Besides her husband she is survived by one son Ronald (Rowland). Interment was made at Glynneath.
RESEARCH
With reference to the discovery of the postcards in 2008, a newspaper article, this clipping and family consensus, I am able to partly debunk the family myth and consider reasons for Elizabeth Ann's declining health.
Prior to locating this article, I had deduced that there was a connection with the First Methodist Episcopal Church; firstly, in considering the Cradle Roll Certificate (also in the Archive) and then through the documentation on-line which enabled me to link the Thomas family to Mrs Collinson. A heartening thought is that Elizabeth Ann was able to utilise her teaching skills at and Sunday School.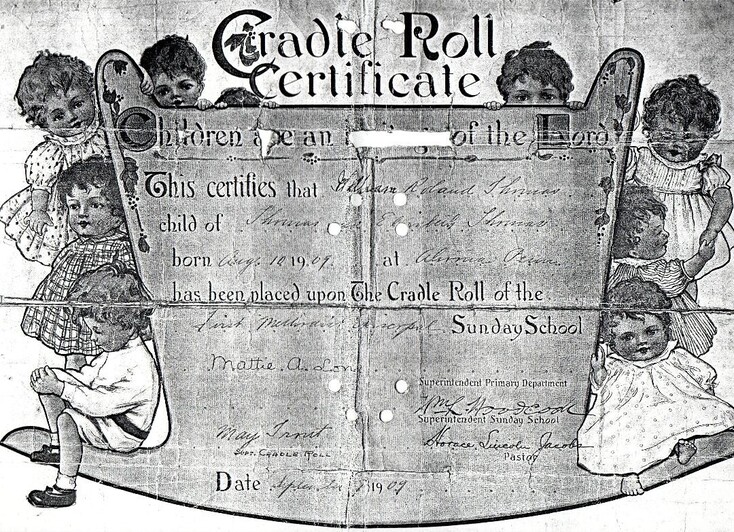 This is to certify that William Roland Thomas, child of Thomas and Elizabeth Thomas, born Altoona, Pennsylvania has been placed upon The Cradle Roll of the First Methodist Church Sunday School. NB. (Original is in colour but too fragile to photocopy).
Since 2008 and the discovery of the postcards, I have tried to identify 'Maud' who sent a post card of the Altoona Fire Station to 'Rolland' in Glynneath, Wales with the message 'With love from your little nurse'. She was in fact not a young girl as previously thought but Mary Maude (Campbell) Collinson (1874-1944), a Mum who had most likely cared for Rowland for several months, whilst his mother was enduring ill-health. Having lost an infant daughter, sadly dying of measles four years before, she could have understandably felt bereft at his departure for Glynneath in June 1910.
Esther Ann (Lewis) Hatch (1874-1970)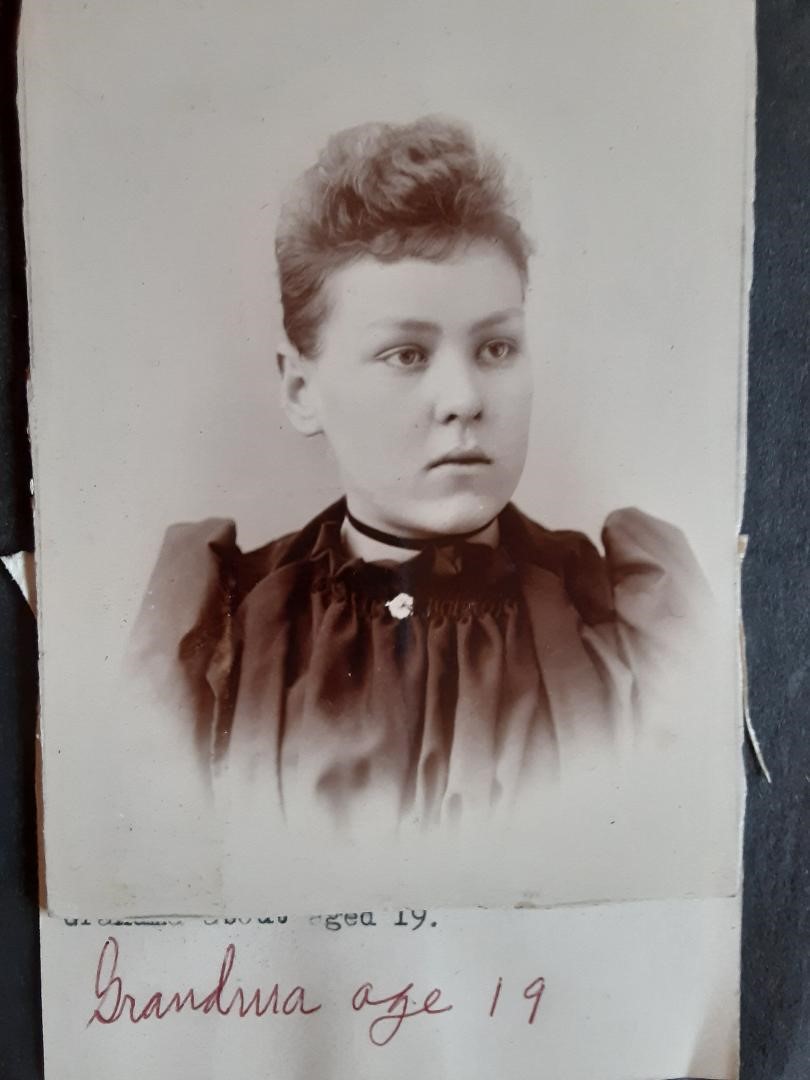 Courtesy of James Lewis Hatch 2nd.
Elizabeth Ann's failing health is referenced in a coloured postcard of 12th Street which is in the Archive; and part of the 2008 discovery. An estimation is that it was sent between July and September 1910 by Esther Ann (Lewis) Hatch referred to in the clipping above.
Transcription:
My Dear Lizzie,
I send you this word hoping it will find you improved. I cannot tell you how sorry we all are to hear you are so poorly. I do wish your dear Tom was with you and dear little Roland. Of Tom seems to be very well contented but he misses you very much Lizzie. I am trying to do as you asked me treating him the very best-I xxx he has splendid health. I do hope you soon will be better. Your dear mother must certainly feel disappointed.
With mother is the best when you are sick.
Esther
This raises some issues:
1.Elizabeth Ann had developed friendships whilst in Altoona through the church and relatives by marriage. Esther Ann was a blood relative of neither Elizabeth Ann nor Thomas William, yet he was living in the Hatch household and it is evident of a bonding between the two women.
'With mother is the best when you are sick' is perhaps it was not just diabetes that was the cause of Elizabeth Ann's ill-health but that she could have been suffering from post-natal depression (not identified as a clinical condition in 1910) and even disillusionment about her life in PA, not being the envisaged American Dream (Part 6).
Is this comment 'With Mother etc.', a touch of irony or more likely regret, as a sad fact to add, is that the mother of Esther Ann, died in Hollidaysburg when she was only 3yrs old; Elizabeth (Perry) Lewis (1842-1877).
It may well have been the case that Lizzie had died before the postcard was received.
Postscript: It was whilst staying in Pittsburgh in 2005 and searching for Esther Hatch (correspondence with Mountain Ash-1920's in Part 6) in that I commenced my initially on-line friendship with Tomi (Lewis) Larsen through our shared interests.
Lizzie sailed back to Wales with Rowland on the Mauretania in June 1910 leaving her husband Tom in Altoona, which is corroborated in the clipping. To date, I have been unable to locate the manifest for the ship and therefore I cannot establish whether there was support for the mother and child during the voyage which even if Elizabeth Ann was in good health, would nevertheless have been a daunting prospect and could not have aided her declining health.
Although, there was undoubtedly a severing of relationships between the Thomas and Rowlands families in Glynneath and Mountain Ash, this occurred, I suggest, much later after the death of Thomas William. At the funeral of the stepmother of Thomas William, Mary Elizabeth (Bowles) Thomas (1854-1918) in Mountain Ash, August 1918, 'Mr & Mrs W Rowlands, Glynneath', Elizabeth Ann's parents were in attendance and 'Rowland Thomas, Glynneath', her step-grandson aged 9yrs, provided a wreath (Mountain Ash Post 1918, August 14th, page 3).
The Grave of Elizabeth Ann (Rowlands)Thomas Maesyrarian Cemetery, Mountain Ash (Number-940)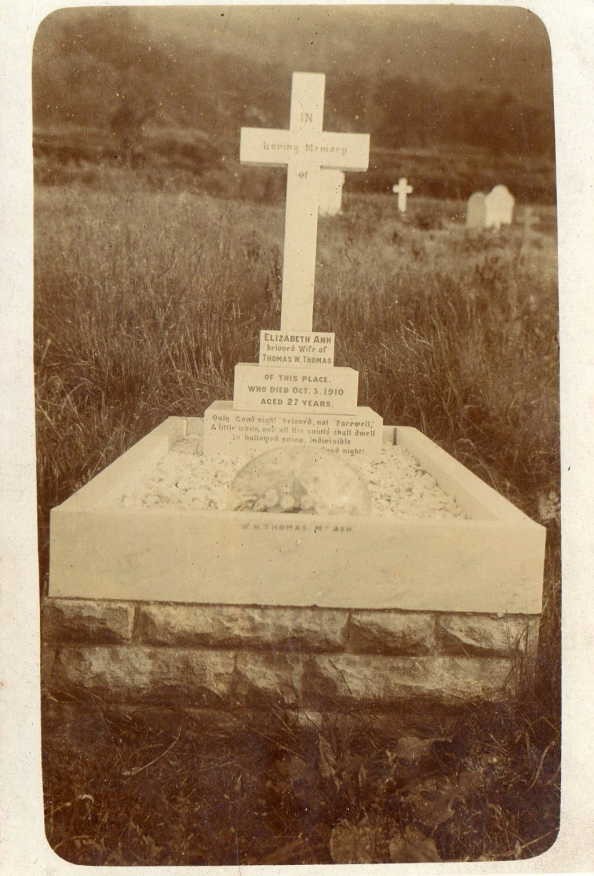 Gravestone paid for by her son, William Rowland Thomas in 1932.
Partial Transcription:
'In Loving Memory of Elizabeth Ann beloved wife of Thomas William Thomas of this place who died Oct 3rd, 1910 aged 27 Years. Ruth (Thomas) Rowlands (1862-1932), Elizabeth Anns Mother is also interred in this plot.
'W R Thomas' is inscribed at the base.
On the reverse there is reference to Thomas William's death in Altoona in 1923.
1911 Census of England and Wales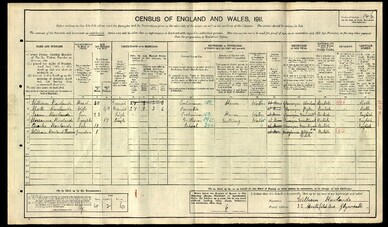 Record for 32 Heathfield Avenue, Glamorgan, Wales
Transcription
William Rowlands: Head-Aged 50yrs; Married 27yrs; Coalminer/hewer; Birthplace: Aberdare, Glamorgan Ruth Rowlands: Wife-Aged 50yrs; Married 27yrs; 9 births (3 living, 6 died); Birthplace: Pyle, Glamorgan Isaac Rowlands: Son -Aged 23yrs; Single; Coalminer/hewer; Birthplace: Mountain Ash, Glamorgan Roseanna Rowlands: Daughter-Aged 17yrs; Milliner; Single; Birthplace: Mountain Ash, Glamorgan Charles Rowlands: Son-Aged 11yrs; At School; Birthplace: Mountain Ash, Glamorgan William Rowland Thomas: Grandson-Aged 1yr; Birthplace: Altoona, Pennsylvania, USA

Accommodation: 6 rooms; Census document signed by William Rowlands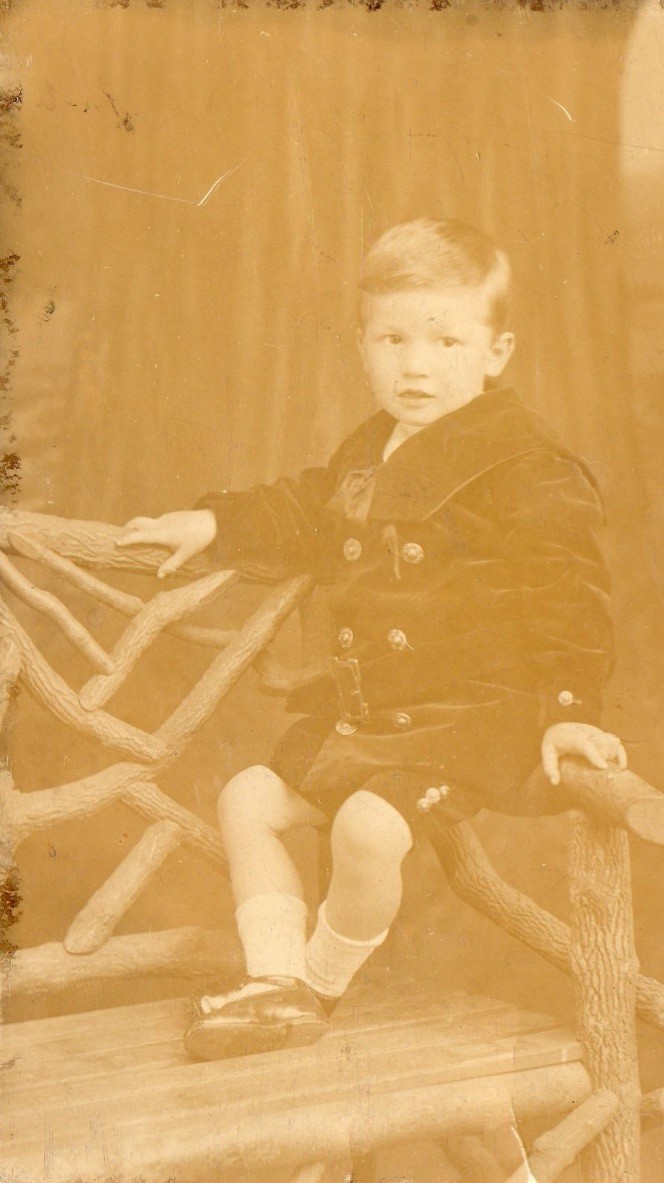 Boyhood photograph of William Rowland Thomas in Glynneath
(estimated date 1914)
Photograph possibly taken during the visit to Mountain Ash/Glynneath by his father, Thomas Henry Thomas in 1914.