Thomas William Thomas (1881-1923)
The American Dream that ended in Tragedy
UPDATED: 21 AUGUST 2020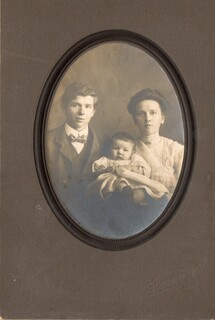 Part 4: ALTOONA - SETTLEMENT, BIRTH OF ROWLAND & SADNESS
It was a holiday post card addressed to Thomas William Thomas, c/o at Anna (Lewis) Wertz (1871-1944), 1000 21st Avenue, Altoona, sent by James Cromwell Hatch (1874-1940), husband of Esther Ann (Lewis) Hatch (1874-1970) on the 27th July 1908, that was the first indication of the move to Altoona and the temporary address. It was where Annie lived with her husband Andrew Clayton Wertz (1860-1917); she too was a cousin of Mary Elizabeth (Bowles) Thomas (1854-1918), the step-mother to Thomas William.
Altoona 1910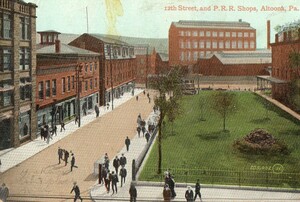 Post Card with view of 12th Street, Altoona, Pennsylvania, USA (Archive and Part 5) Sent by:- Esther (Lewis) Hatch (1874-1970) in Altoona, Pennsylvania, USA To:- Lizzie- Elizabeth Ann (Rowlands) Thomas (1883-1910) in Glynneath, Glamorgan, Wales
9th Street, Altoona
By 1909, Elizabeth Ann and Thomas William had moved to 9th Street during which time Elizabeth Ann was pregnant. I have three addresses in 9th Street between the 10th August 1909 and April 1910 as residences for Thomas William and Elizabeth Ann; presumably they lived in rental properties with short-time lettings.
On the birth certificate for their son, Thomas Rolland Thomas/aka as Rolland Thomas and William Rowland Thomas, born the 10th August 1909 the address given as his place of birth and family residence is 1908 9th Street.
Yet another post card dated 13th August 1909, sent by Mary Maude (Campbell) Collinson (1874-1944), whilst on holiday in Sharon, Pennsylvania to Elizabeth Ann (Rowlands) Thomas is addressed to 1924 9th Street, Altoona. This was 4 days after the birth of their baby son*.
Their address, according to the 1910 census, was 119 9th Street.
In the obituary for Elizabeth Ann in the Altoona Tribune 17th Oct; Elizabeth Ann's final address in Altoona in June 1910, was given as 1924 9th Street (see Part 5).
As part of a family visit to the USA in 1997, to see the birthplace of my husband's father and my sons' grandfather, William Rowland Thomas, we photographed the house at 1908 9th Street, not of course appreciating at the time that his parents had lived in three houses in this street and that this was not their final residence. Clarification is provided in the death notice for Elizabeth Ann in Part 5.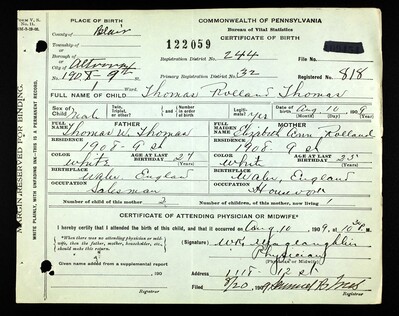 *Birth Certificate for William Rowland Thomas (1909-1994)
He was registered as that of Thomas Rolland Thomas, which he only realized in 1938, when he applied for a passport in London to travel to Czechoslovakia.
The family story is that Thomas William cycled downhill from 9th Street to the Registration Office in downtown Altoona; on his way he decided to record the birth as shown on the certificate not that of William Rowland Thomas as agreed with his wife and as is shown on his baptism record displayed in the Archive and Part 5.
I have tried to establish if William Rowland had a sibling as suggested in this record; however, to no avail and furthermore, in the 1910 USA census, the record states that Elizabeth Ann was mother to only one child, contradicting the earlier statistic. By the date of the 1911 UK Census, Elizabeth Ann was deceased, Thomas William remained in Altoona and William Rowland was in Glynneath, Glamorgan, Wales (see Part 5).
It is interesting to note, that o reference is not made to Charlotte Elizabeth's half-sister Tryphena Pearl (Lewis) Rickabaugh (1882-1943).
CENSUSES
It is to me, a fascinating fact that William Rowland is recorded on three censuses whilst his parents are recorded only on the American records:
Pennsylvania Miracode 1910
United States Census 1910
UK Census 1911
Pennsylvania 1910 Miracode Index
Name: Thomas W Thomas: Birthplace: England; State: PA; Age: 28; Colour: W
Enumeration District: 0059; Visit:0122; County: Blair, Altoona Relation: Head of Household
Other Residents:
Name: Elizabeth A; Age: 26; Birthplace: England; Relation: Wife
Name: William R; Age: NR; Birthplace: Pennsylvania; Relation: Son
1910 United States Federal Census
Name: Elizabeth A Thomas Age in 1910 26 Birth Year 1884 Birthplace Wales
Home 1910 :Altoona Ward 11 Blair Pa: Street Ninth 8t :Race White: Gender Female
Relation-Head-House Wife : Marital Status Married: Spouse's Name Thomas W Thomas
Father's Birthplace Wales :Mother's Birthplace Wales: Native Tongue English
Able to read Yes : Able to Write Yes: Years Married 4
Number of Children Born 1 Number of Children Living 1
Household: Thomas W Thomas Age28 :Elizabeth A Thomas Age26: William R Thomas 0
By the date of the 1911 UK Census, Elizabeth Ann was deceased, Thomas William remained in Altoona and William Rowland was in Glynneath, Glamorgan, Wales (see Part 5).
Poignant Photograph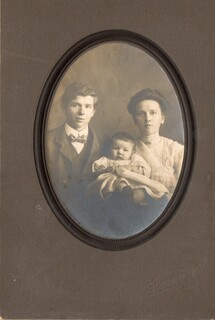 ---
SEE ALSO ALTOONA (PA) POSTCARD