William Young (1788-1832)
Master Mariner of South Shields and Shadwell
A story of coincidences, tragedies, churches, gravestones and the ship 'Nancy'
UPDATED: 15 JUNE 2020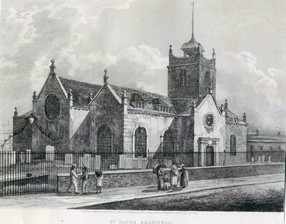 Part 2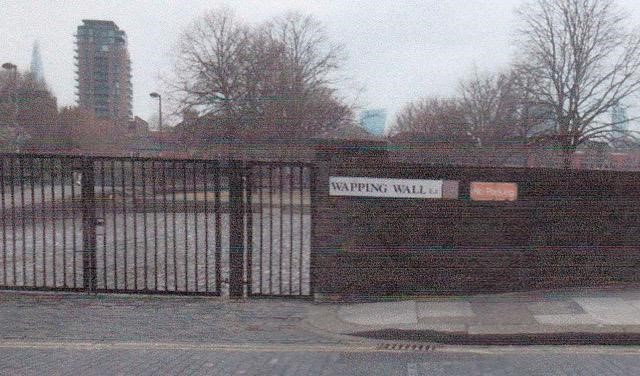 IMAGE 1
WAPPING WALL, LONDON
It was somewhat of a surprise as the ancient riverside pub, The Prospect of Whitby came into view which I had visited several years before with my husband and sons Alexander and Dominick. Tyne Colliers used to berth next to this building on the River Thames so there is a possibility that William Young enjoyed a drink or two with his son, also William Young.
The Prospect of Whitby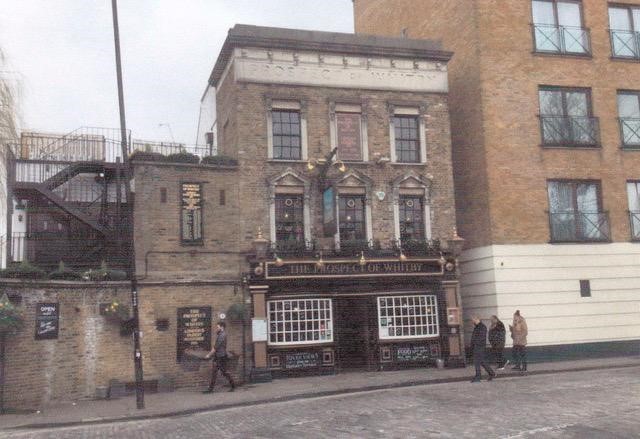 IMAGE 2
PROSPECT OF WHITBY PUB
This quaint and fabulous pub was a favourite of Samuel Pepys (1633-1703) (3), the great diarist who from 1660 for a decade wrote about life in London. In writing this at the heart of the Coronavirus-19, I recall Claire Tomalin's biography of Pepys's written in 2002, 'The Unequalled Self'. The account of the ravages of the plague of 1665, ''Great fears of the Sicknesses here in the City'' has parallels to the tragic circumstances of today.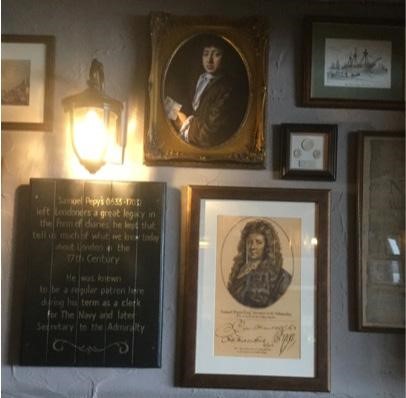 IMAGE 3
SAMUEL PEPYS'S SHRINE IN THE PROSPECT OF WHITBY
Family Tree
Whilst enjoying lunch, seated in the lovely bow window facing the River Thames I checked my Ancestry tree because I was almost certain that I knew of the London burial of a Young family father & son. Indeed, another a coincidence, as previous research I had undertaken related to this William Young.
I refer to him as such, because this name reoccurs several times; my late Mother Vera's maiden name was Young, a surname that I can date back to 1620 in South Shields to another William Young, a Sea Pilot who like generations that followed guided ships into the River Tyne. Licensed by Trinity House, this was an apparent blood rite and it continued in my lineage until 1881 with the death of my great grandfather, Thomas Young who drowned when his coble boat 'Pilots' capsized near the mouth of the river aged only thirty-eight years.
There is a strong possibility that the William Youngs in Shadwell were in my bloodline; my reasons for thinking this is that there was a close connection with the Tyne Pilots especially with regard to the location of his family in South Shields. However, I could not make a direct connection. It was through Ann (Annie) Young (1820-1902)(3), the daughter of the elder 'Shadwell' William Young that I was entitled to include him in my tree. She had married John Pollard a distant ancestor although not via my Young ancestry. I had recorded the poignant inscription on a grave in Westoe Cemetery in South Shields, which provides the inextricable link between South Shields and Shadwell, the cemeteries of Sea Captains approximately 300 miles apart.
Westoe Cemetery, South Shields
A couple of days after returning home, I visited the cemetery in search of the gravestone of William Young and his family.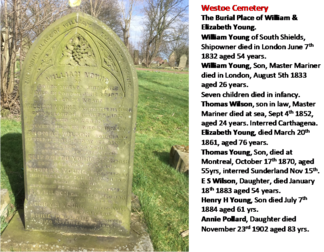 IMAGE 4
WILLIAM YOUNG'S TOMBSTONE
Background
Elizabeth Hutchinson (1785-1861) born in Monkwearmouth, Sunderland married William Young at St Hilda's Church, South Shields on the 4th August 1803. They were the parents of thirteen children all Christened at St Hilda's Church. From the St Hilda's Churchyard burial records, I learned the names of the seven children who died in infancy: -William (1804-1806); Isabella (1806-1807); Elizabeth (1810-1811); Elizabeth (1812-1815); Elizabeth (1817-1817); Henry Hutchinson (1817-1822); Isabella (1829-1830). Although new-born was often called after their deceased siblings, in the case of William & Elizabeth Young, they took this perhaps to extreme with four children called Elizabeth and two each called William, Isabella and Henry Hutchinson.
It was only three of the people whose names were inscribed that were actually interred in this plot; Elizabeth, and her daughters Elizabeth Sarah Wilson and Ann (Annie) Pollard. Most of the burials were in St Hilda's Churchyard(4).
Another coincidence is that the grave is in close proximity to that of my great great grandparents Sarah (Crowell) Pollard (1823-1885) and James Caddle Pollard (1819-1894).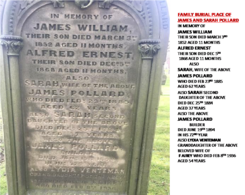 IMAGE 5
WILLIAM YOUNG'S TOMBSTONE
The names of Young & Pollard are of significance on both memorial stones. Annie Young, daughter of Elizabeth Hutchinson & William Young is referred to on her family gravestone as 'Annie Pollard'. She married John Pollard (1819-1893), a widower and retired Master Mariner on the 26th June 1884, a cousin of James Caddle Pollard. The name of Sarah (Pollard) Young (1847-1884) (5) my great grandmother and the wife of Thomas Young who drowned in 1881, is also inscribed.
Please note, photographs taken on my mobile phone: Referencing at the end of Part 5