Thomas William Thomas (1881-1923)
The American Dream that ended in Tragedy
UPDATED: 08 AUGUST 2020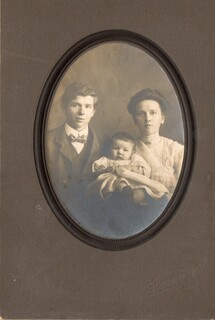 Part 3: Pennsylvania 1906-1910: Including a Visit by his Father in 1909
INTRODUCTION
It is the discovery of a collection of postcards, (perhaps forgotten about for 50 years) in the loft of my husband's family home in New Malden, Surrey in August 2008 that has enabled me to track their movements in Pennsylvania. This was indeed fortuitous as a couple of months after the 'discovery', a water-tank burst, flooding the loft and destroying the remaining contents. I have already posted on my site, photographs of some of the postcards together with transcriptions and background information.
LEWIS FAMILY: WALES AND PENNSYLVANIA
Members of this extended family were pivotal in the communication between Thomas William and Elizabeth Ann before they embarked on their journey to Pennsylvania and as this story unfolds, a greater appreciation emerges, of the support they provided throughout their lives.
William Lewis (1807-1871), a Methodist minister had emigrated to Hollidaysburg, Pennsylvania during the 1860s. His sister Mary (Lewis) Nokes (1812-1901), her husband Evan Nokes (1805-1887), a farmer and their children had preceded him in 1853. Next to cross the Atlantic was his daughter, Dorothea (Lewis) Rowlands Jenkins (1842-1913) with her husband Joseph Rowlands (1832-1869) and their two children. Thomas C Lewis (1837-1897), William Lewis's son also a Methodist Minister emigrated with his wife Elizabeth (Perry) Lewis (1842-1877) and their three children from Aberaman, Glamorganshire, Wales in 1869. Although they all initially settled in Gaysport/Hollidaysburg it was to Johnstown where Dorothea and Thomas C. eventually relocated. Later, by the end of the 19th century, many of their descendants moved to Altoona and Pittsburgh.
William Lewis and his wife Esther Ann Davies (1807-1844) had two daughters who remained in Wales; Esther Ann (Lewis) Kedward Pring (1829-1888) and Mary (Lewis) Bowles (1832-1900). Mary was the mother-in-law of William Henry Thomas (1852-1930) through his second marriage to her daughter, Mary Elizabeth Bowles (1854-1918). Thomas William was not a blood relative, yet he and benefited greatly from the support, love and friendship from his step-cousins in Pennsylvania as indeed did Elizabeth Ann.
PITTSBURGH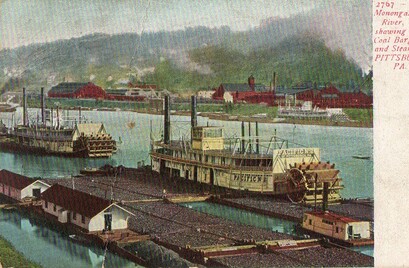 Post Card: Coal Barges & Steam ships on Monongah River, Pittsburgh, sent by William Edward Andrews (1885-1958) 28th October 1909 to Thomas William Thomas (1881-1923) in Altoona.
I have deduced that it was the Andrews family, who provided their accommodation which according to the censuses of 1900 and 1910 respectively, was at either 650 East Ohio Street, Allegheny Ward 4, PA or 58 East Street, Pittsburgh Ward 26. Charlotte Elizabeth (Lewis) Andrews (1861-1940) was the cousin of Thomas William Thomas's stepmother, Mary Elizabeth (Bowles) Thomas and the wife of William Andrews (1862-1910). It was post cards from their son, William Edward Andrews (1885-1958), including the one above, to Thomas William whilst he lived in Altoona, that enabled me to make this connection. There is no indication as to why the couple moved from Pittsburgh other than perhaps there were better employment opportunities for Thomas William who had specified on the 'Cedric' manifest that he was an engineer, so perhaps no such work was forthcoming.
NEWSPAPER OBITUARY FOR CHARLOTTE ELIZABETH (LEWIS) ANDREWS (1861-1940)
I am including this snapshot of the life of Charlotte at this point because it also provides information about her four siblings, all of whom were significant to the settlement of Thomas William and his wife.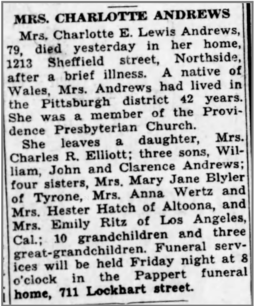 Transcription:Mrs Charlotte Elizabeth (Lewis) Andrews, 79, died yesterday at her home, 1213 Sheffield Street, Northside (Pittsburgh) after a brief illness. A native of Wales, Mrs Andrews had lived in the Pittsburgh district 42 years…. She leaves a daughter, Mrs Charles R Elliott (Charlotte Irene Andrews (1887-1963); three sons, William E Andrews (1885-1958), John Alfred Andrews (1893-1951), and Clarence David Andrews (1898-1965); four sisters, Mary Jane (Lewis) Blyler (1863-1950) of Tyrone, PA., Anna (Lewis) Wertz (1871-1944) and Esther Ann (Lewis) Hatch of Altoona, and Emily (Emma Lewis) Ritz (1868-1941) of Los Angeles, California; 10 grandchildren and three great-grandchildren.
It is interesting to note, that o reference is not made to Charlotte Elizabeth's half-sister Tryphena Pearl (Lewis) Rickabaugh (1882-1943).
Postscript (dated 18th March 1925-see details below)
Tell Cousin Billy (William Henry Bowles) … Charlotte buried her eldest girl Annie (Anna E (Andrews) 0'Neil (1881-1924) right after Christmas and she feels pretty bad now…. Emily's (Emma (Lewis) Ritz) girl (Myrtle B (Ritz ) Helms –(1890-1925) she is an invalid and will never get well they live a long way off from here out in California on the coast of the Pacific Ocean (Los Angeles)..
WILLIAM HENRY THOMAS AND WILLIAM HENRY BOWLES VISIT TO PENNSYLVANIA MAY-JUNE 1909
The brother-in-laws holidayed in Pennsylvania between May and July 1909 visiting most of the people in Charlotte's obituary as well as Dorothea (Lewis) Rowlands Jenkins, William Henry Bowles aunt as well as William Henry Thomas's son, Thomas William (and his wife), in Altoona.
'Tell Billy (William Henry Bowles), if he has not already been informed that Aunt Dora's (Dorothea) Son, Bill Rolland (William Joseph Rowland-1863-1924) died last Summer he lived in Johnstown, the fellow that picked you and Mr Thomas (Bowles!) out on 11th Avenue when you were here you remember him I am sure'.
It was this postscript in a letter to William Henry Thomas at 'Snowdrop Cottage' in Mountain Ash from;

Yours Cousins, James & Esther Hatch, 1008-21 Ave, Altoona, Pennsylvania, dated 18th March 1925 regarding the estate of his son (Thomas William Thomas) that alerted me to the fact that William Henry Thomas had visited Pennsylvania and I presumed that this was with his brother-in-law. This, I was able to confirm, from ship's manifests as follows:
VOYAGE TO THE USA
They sailed onboard the 'Cedric' on the 30th April 1909, the very same ship that William Henry's son had set sail on with his wife, less than three years previously.
Manifest
Extract

Both the men gave their addresses as Mountain Ash:- James Henry Thomas, his son, was named as the older (age 56) William Henry's contact together with the address of 'Clement House' High Street, for Noah Bowles (a significant intermediary in Part 6). Norah Bowles, the wife of the younger (age 49), William Henry, at 27 Oakland Street, Miskin was listed as his next of kin.
The two Williams destination is given as Johnstown, a place of settlement for cousins of William Henry Bowles via his Mother, Mary (Lewis) Bowles (1833-1900). Thomas M Lewis (1837-1897), her brother, the father of the sisters mentioned in the death notice for Charlotte Ann (Lewis) Andrews, died in Johnstown in Spruce Street, Central Johnstown, Cambria. In 1910, Dorothea, 'Billy' and her other two children lived in Johnstown; Harriet Selina (Rowlands) Warsing (1860-1910) and Thomas Lewis Rowlands (1935-1869). With at least twenty Lewis relatives living there, it has been impossible to determine where the Welsh visitors stayed.
Whilst in Pennsylvania they also visited Pittsburgh probably staying with the family of Charlotte (Lewis) Andrews, the starting point for Thomas William and Elizabeth Ann's settlement and then moved on to Altoona.
ALTOONA
In 1909, Altoona was where three of Thomas C Lewis's children lived; Annie (Lewis) Wertz (1871-1940), Esther Ann (Lewis) Hatch (1874-1970) and Tryphena Pearl (Lewis) Rickabaugh (1882-1943). By then it was also the residence of Elizabeth Ann and Thomas William.
RETURN TO MOUNTAIN ASH - 28TH JUNE 1909
Both men sailed from New York to Southampton, on board the 'Oceanic', part of the White Star Line. Surely. This must have been a holiday of a lifetime! They would have seen countless members of the extended Lewis family including Dorothea, the only surviving child of William Lewis who was to die three years later. I have proof that contact was maintained for at least 50 years (Part 6).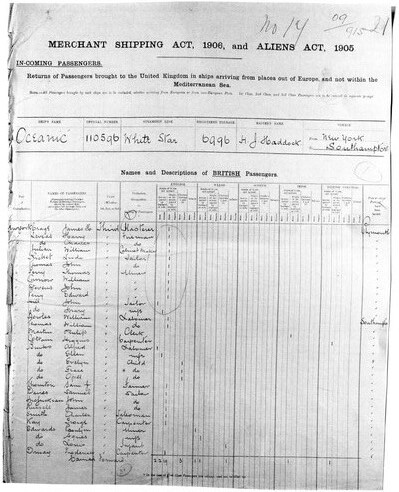 Extract

Date of embarkation was early in June. Little data was evidently required for the return journey; travel was 3rd Class with both men listed as labourers.